Can a Baby Choke on Breast Milk? It Happened to This Mom

We list down the ways you can prevent putting your baby at risk from choking or gagging while nursing.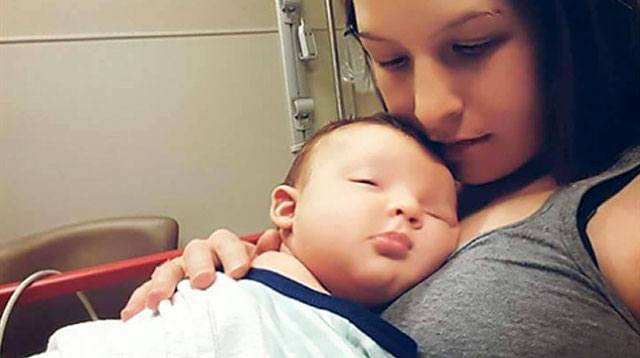 Many moms especially first-time moms usually worry about low supply of milk and if their baby is getting enough milk during the first few days of weeks. An overflowing breast milk supply isn't often seen as a problem, but as one mom's experience shows, it can become a potentially dangerous problem.  

Rebecca Taylor found herself calling for an ambulance when she noticed that her son couldn't catch his breath during a feeding and went limp. She discovered she and her baby experienced what is called an "overactive letdown," or the forceful ejection of milk from the breast due to an oversupply of milk. Rebecca's letdown was so strong that her son practically choked from the overabundance of breast milk.

"He had to get a chest X-ray, and I'm told to monitor him for aspiration pneumonia. He turned blue, and I really thought I was going to lose him," she wrote on the Facebook page of Breastfeeding Mama Talk. "I had no idea this was possible, I mean, I understand how, I just can't believe it. I breastfed my daughter for 18 months, and nothing like this ever happened to us," she added. 

ADVERTISEMENT - CONTINUE READING BELOW

What other parents are reading

An overactive letdown, or forceful letdown can naturally occur during the first four to six weeks after birth. There are a lot of factors involved: having too much breast milk, the baby isn't latching properly, nursing positioning issues, or baby's overactive sucking reflex, to name a few.

Newkidscenter.com lists the possible signs that your baby is dealing with an overactive letdown:

Baby appears to gag or choke during feeding
Baby is gulping, coughing, or gasping while nursing
Baby makes a clicking sound while nursing
Baby clamps down on your nipple to slow down milk flow, or milk is dribbling down on the side of baby's mouth
Baby is spitting up or hiccupping often
Baby is excessively gassy
Baby pulls off your breast often, or sometimes resisting or refusing your breast

You can prevent baby from choking while breastfeeding by using two approaches. You either help your baby deal with your milk flow, or adjust your milk supply to make feedings easier for your baby. Here are some of the things you can do to make sure baby is safe:

1. Try laid-back nursing positions. Use the cradle hold or the football hold, but lean back or sit on a reclined surface when feeding. Have the baby sit up and face you while nursing instead of lying down. Side-lying position works, too, to let extra milk could just dribble down his mouth. Another option is to lie down on your back and position the baby on top of you (tummy-to-tummy) while he feeds. (Read more abotu nursing positions here.)

2. Nurse more frequently. Shorter breaks in between nursing could lessen accumulated milk in the breast, so feeding is more manageable for baby, explains KellyMom.

3. Try clamping on your areola. Use your index and middle finger to squeeze down hard on your areola to slow down milk flow, advises Genevieve Howland of mamanatural.com.

4. Don't forget to burp baby frequently so make sure he's not swallowing a lot of air while feeding.

5. Use a nipple shield. Nipple shields are made of thin, soft, silicone that is worn during breastfeeding. They almost cover the whole areola and have hole on the tip for milk to pass through. Usually, it's used for breastfeeding preemies, but it could also help manage breast milk flow. 

CONTINUE READING BELOW

Recommended Videos

What other parents are reading

6. Nurse baby when he's sleepy or relaxed, so he sucks more gently. Waiting to nurse when the baby is too hungry could make him suck more aggressively, which could be risky when you have an abundant supply of milk.

7. Pull the baby off the breast when letdown occurs (make sure to have a handy cup or towel ready to catch breast milk) and wait for letdown to subside before putting the baby back on the breast also works. 

8. Express a small amount of milk before putting the baby to breast. You can either hand-express or use a pump and let the milk flow slow down before putting the baby to breast. Careful, though, as this could also stimulate and increase milk production, warns Anne Smith, International Board Certified Lactation Consultant (IBCLC) at Breastfeeding Basics.

9. Try block feeding. If baby already emptied one breast but still wants to feed, offer the same breast. On his second feeding, you can also offer the same breast until it completely drains before you offer the second breast. You may have to express milk and apply a cool compress to ease discomfort on the second breast.  

10. Apply cool compress on the breast in between feedings. Warning: This could decrease your milk supply and if your baby is only four to six weeks old, don't do this, streses KellyMom.

If you're unsure if your baby has an overactive sucking reflex or simply couldn't handle your overactive letdown, don't hesitate to consult a lactation counselor. Not all of the tips mentioned above would work on all mom-and-baby duos. With the lactation consultant's training and experience, she can recommend a technique to try out first or what medical intervention may be needed.

Having a choking baby in your arms is a scenario no mom would want to be in. Schedule a one-on-one consultation with your doctor or a lactation counselor as soon as you have issues. 

ADVERTISEMENT - CONTINUE READING BELOW

What other parents are reading

Celebrate your pregnancy milestones!


Enter your details below and receive weekly email guides on your baby's weight and height in cute illustration of Filipino fruits. PLUS get helpful tips from experts, freebies and more!

You're almost there! Check your inbox.


We sent a verification email. Can't find it? Check your spam, junk, and promotions folder.

Trending in Summit Network