'My Expressed Breast Milk Tastes Like Soap. Is It Safe for Baby?'

One mom from our Smart Parenting Village described her breast milk as "soapy." Was that normal?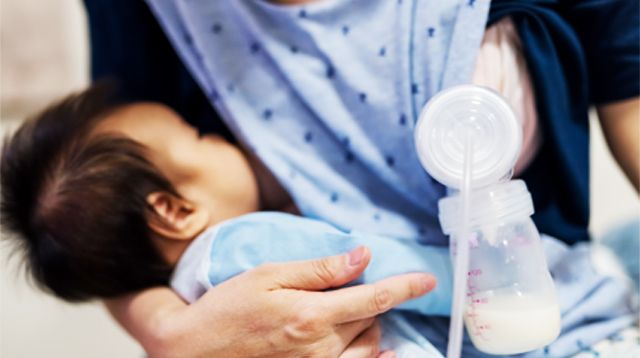 Moms who choose to exclusively breastfeed know just how precious this "liquid gold" is, and every drop counts when it comes to pumping and storing your breast milk stash. But how do we really know if expressed breast milk is still safe for baby to consume?

On our Facebook group, Smart Parenting Village, one mom decided to taste her thawed breast milk and shared, "Napakasama ng lasa niya compared sa fresh breast milk ko." She noted, however, that it did not emit a foul odor. She said she stored her milk properly in the freezer but wondered if anyone had encountered a similar experience.

Breast milk that's been frozen and defrosted may have a slightly sour smell, but it is typical. Human milk that has truly soured has a very distinct sour taste and odor — just like cow's milk, according to breastfeeding and parenting website KellyMom.

What other parents are reading

A member of our Village noted that breast milk thawed from the freezer does taste differently than fresh breast milk. It might smell or taste soapy, even when stored correctly, according to KellyMom. The reason for this might be because some moms have an excess of the enzyme lipase, which is responsible for breaking down the fats in your milk to help baby digest it, says San Diego Breastfeeding Center (SDBFC). When lipase occurs in excess, the process happens faster and may alter the taste of the milk, making it taste off or sour after a period of time. Milk with excess lipase is safe to drink, but some babies dislike the taste and refuse it.

ADVERTISEMENT - CONTINUE READING BELOW

If you suspect that you have excess lipase, the SDBFC advises to scald your milk (see below how) since lipase can be deactivated at high temperatures before freezing and storing. You can also try and determine how much time it takes before your milk starts to taste funny — is it an hour after pumping or can it last for three hours? This way, you can make a plan for scalding your milk.

What other parents are reading

How do you scald your milk?

KellyMom suggests heating newly expressed milk in a pan on the stovetop to about 82 degrees Celsius, or until you see little bubbles around the edge of the pan. Afterward, cool and quickly store the milk.

You may also use a bottle warmer according to Helen Anderson, a registered nurse, in her article for Fairhaven Health. Pour your milk into a metal bottle and submerge it entirely in the warmer. Test with a digital thermometer to see if it has reached the correct temperature before cooling.

What if the baby rejects the thawed milk?

Try mixing the thawed milk with fresh milk but make sure they are both the same temperature. Start with half thawed and half fresh and slowly increase or decrease the amount of thawed milk depending on what your baby prefers.

If the problem is not excess lipase, you might want to revisit your storage process to ensure that you will not be wasting any more breast milk in the future.

What other parents are reading

What to use

There are various disposable breast milk storage bags out in the market (read here for 5 mom-recommended bags) that are able to withstand freezing, thawing, and warming milk. For extra protection, place the bags in a hard-plastic food storage container with a tightly sealed lid, advises Mayo Clinic. If you want reusable containers, choose capped glass or hard plastic containers that are BPA-free.

CONTINUE READING BELOW

Recommended Videos

How to store and thaw expressed breast milk

If stored properly and carefully in the freezer, breast milk can last anywhere between three to six months, says Dr. Teresa Maria Ribaño, a pediatrician and lactation consultant at Makati Medical Center. "If the milk stays in the room temperature up to 30 degrees, it's good for three hours. If you put it in the refrigerator, it's good for three days."

Place the milk in the ref or freezer in the far back where it's coldest. If you're using an icebox or insulated bag, make sure ice packs are always in contact with the milk and try not to open the bag often. When you take the milk bags out of storage, you need to use the "first-in, first out" rule: Consume first the milk bag labeled with oldest date and time expressed. 

What other parents are reading

When thawing, you can leave the frozen expressed milk in the refrigerator overnight or hold the milk container under running water. Once thawed, place it in a bowl of warm water. This process may take time, so it helps to plan. (Remember: first in, first out.)

If you're still having difficulties feeding your baby with your expressed breast milk after all these, don't hesitate to talk to your doctor or a lactation consultant. You can even join our Facebook group! Remember: it takes a village to raise a child — you don't have to do this alone.

What other parents are reading

Celebrate your pregnancy milestones!


Enter your details below and receive weekly email guides on your baby's weight and height in cute illustration of Filipino fruits. PLUS get helpful tips from experts, freebies and more!

You're almost there! Check your inbox.


We sent a verification email. Can't find it? Check your spam, junk, and promotions folder.

Trending in Summit Network