Iya Villania Brought Home A Week's Worth of Frozen Breast Milk She Pumped While In Mexico

Iya Villania's frozen liquid gold survived the 19-hour journey from Mexico to Manila via Los Angeles.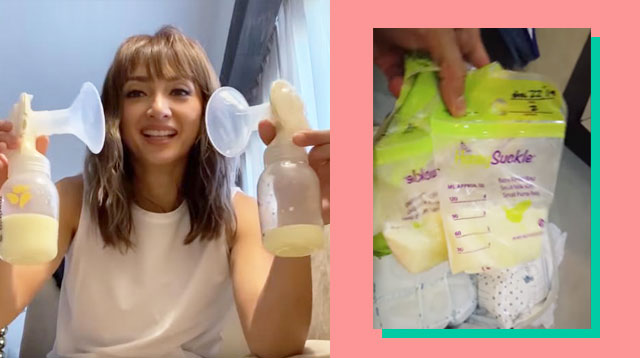 In November 2019, Iya Villania attended a press junket for the movie Jumanji: The Next Level in Mexico. The mom of two was thankful for alone-time, but she'd be away from her kids, Primo and Leon, and husband, Drew Arellano. But Iya was more concerned about bringing home breast milk she pumped while she's on the other side of the world home to her younger son, whom she still breastfeeds.

How can Iya's precious breast milk stay frozen fresh during her week-long stay in a hotel? Will she be able to bring it with her as carry-on luggage even if Leon is not traveling with her? Will frozen breast milk still be good after a 19-hour flight?

"Dahil nagpapadede pa rin ako, kailangan ko pa rin mag-express ng milk kahit na andito ako para hindi tayo mawalan ng gatas ng breast milk," Iya said before leaving her hotel room in Mexico.

ADVERTISEMENT - CONTINUE READING BELOW

The mom of two is determined to try to bring home a week's worth of breast milk. But If all else fails, Iya looks to the bright side: she'll still have the milk she'd pump on the way home. Still, she's hopeful she can have pasalubong for her baby when she gets home.

What other parents are reading

Cleaning breast pump essentials and bottle during travels

Getting to Mexico via Los Angeles was non-eventful, to say the least. Iya pumps breast milk whenever needed and even on the plane and then stores them in her a handy freezer bag. She's done it several times before, and it has not failed her.

Her pumping essentials are her Medela double breast pump and bottles and Honeysuckle breast milk bags. (Find out where to get them as they are included in our list of electric breast pumps here and mom-recommended breast milk bags here.)

After arriving at her destination, Iya doesn't just store her pumped breast milk in her hotel's room refrigerator because it's small, for starters. Second, the hotel room refrigerator is not that cold enough to store breast milk to last for weeks without spoiling. (Click here to know how long breast milk stays good when stored at room temperature, refrigerator, or freezer.)

"When I've collected maybe a few bags through the day, I call the receptionist or the lobby, and I have someone pick them up so that they can put the milk bags in their freezer," the mom of two shared.

On cleaning her breast milk paraphernalia during her travels, Iya admitted not sterilizing bottles anymore since Leon is already more than a year old. She revealed her must-have essentials:

hot water (from the hotel's faucet, to better remove fatty breast milk residue)
bottle wash
bottle brush, sponge, or cloth cleaner (cloth, Iya says, cleans bottles better and helps them dry faster)
a good quality drying rack (attached via suction on the bathroom mirror, removable)

Iya prefers to wash the pump's bottles with hot water and soap. Still, if left with no other choice, Medela Quick Clean Wipes for Breast Pump and Accessories is her go-to bottle cleaning secret.

Packing breast milk to survive a 19-hour flight

The TV host, of course, did her research and asked several moms tips on how to successfully bring home breast milk in good condition through a 19-hour flight from Mexico to Los Angeles and then home to Manila. She essentially double-bagged her precious liquid gold.

Here's how she packed: First, Iya retrieves her breast milk bags she had asked them to put in the hotel's freezer. She placed them in her PackIt bag (from Rustan's) surrounded with dry ice and seals it. Then, she set her PackIt bag inside a Coleman bag with thicker insulation and, again, slides packets of dry ice all around it.

Going through airport security to transport frozen breast milk

Departing from Los Cabos airport in Mexico, Iya had to check in her insulated bag with frozen breast milk. It's not allowed as a carry-on since she doesn't have Leon traveling with her, as per the rules of the U.S. Transportation Security Administration (TSA).

At the Los Angeles International Airport (LAX), the mom of two once again tried to bring her frozen breast milk with her as carry-on baggage. The check-in attendant informed Iya that if it would be checked-in, it would just be cooped up with the rest of the other bags. There is no special freezer compartment on the plane.

ADVERTISEMENT - CONTINUE READING BELOW

Iya was able to bring her breast milk as carry-on luggage with her only after going through the all TSA checks and approval. "Man, that took forever," Iya exclaimed as she filmed herself safely onboard the plane bound for Manila. "Let me just warn you, guys that who are flying out from LAX, you guys need a lot of time to get through TSA," she added.

Thankfully, people were kind enough to let her go ahead of the line since it was crunch time that she was literally sprinting to the boarding gate. "I thought like I was doing the Crossfit Open and that every second counted," she shared.

Iya was so happy her efforts weren't wasted. You should see her expression when she opened her insulated bag when she got home and found her bags of breast milk still frozen! Watch below.

For more tips about pumping and storing breast milk and checking if it's still safe for baby, click here.

Trending in Summit Network