Single Mom Kylie Padilla Says She Delayed Working Again To Breastfeed Her Kids Directly

The actress has two sons with ex-husband Aljur Abrenica.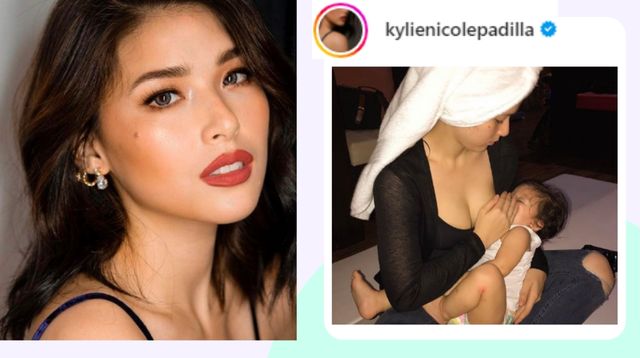 Kylie Padilla revealed a major factor in her decision to delay her comeback to showbiz after giving birth to her and her ex-husband Aljur Abrenica's sons Alas (2017) and Axl (2020).

"I remember part of why I delayed going back to work right away was because I wanted to breastfeed my kids directly," said the actress, who plays the lead role in GMA-7's drama series Bolera.

Kylie recently shared a photo of her breastfeeding one of her sons on Instagram, in time with the celebration of Breastfeeding Month this August 2022.

"Personally I hated pumping," she admitted. "For me, the intimacy and connection I built with my kids through breastfeeding was so hard to give up kahit sobrang hirap to be available anytime and all the time."

"I had no control over my body," she added, "but the eye contact, the skin to skin and the slowly watching my kids fall asleep and feeling their heartbeat slow is the closest physical feeling of love I've ever experienced."

The mom of 2 said in reflection," Now when I look back on it I'm happy I did it. Both boys I was able to breastfeed for over a year. It's still one of my favourite parts of motherhood. Would do it all over again in a heartbeat."

ADVERTISEMENT - CONTINUE READING BELOW

Benefits of breastfeeding

Aside from the intimacy and connection that Kylie felt while nursing her kids, there are many reasons why breastfeeding is important.

Provides complete nutrition

The World Health Organization (WHO) recommends exclusive breastfeeding for the first six months of a baby's life. Breast milk contains all the nutrients your baby needs during this time. In fact, it is the sole nutrition s/he needs until he's ready to start solid foods at around 6 months.

You see, doctors strongly advise against giving water to infants from birth to six months. If you are not exclusively breastfeeding, make sure to follow instructions of your formula milk. Never add extra water to stretch the baby milk formula.

Saves lives

Breast milk changes daily and adapts to your baby's needs. Breastfeeding ensures that your baby gets antibodies present in breast milk to help your little one from getting sick when exposed to bacteria or viruses. This is crucial in the first three months of a baby's life when her/his immune system is still developing, and s/he is still not old enough to be vaccinated against certain illnesses.

Helps your child to grow strong and intelligent

The longer you breastfeed, the more advantages it provides for your child's cognitive development (read here). One study suggests breast milk contains essential fatty acids that help shape a child's brain and central nervous system.

Another study showed that feeding a baby on demand, which is easier to achieve when nursing, helps kids score higher intelligence quotients (IQ) and perform better academically once they go to school.

ADVERTISEMENT - CONTINUE READING BELOW

Recommended Videos

Strengthens the child's immunity

This goes beyond the first six months of life. If a child is healthy and less sick, s/he is less likely to miss school and more likely to be in better shape to learn.

Breaks the cycle of diarrhea and malnutrition

As a baby passes through the birth canal, he instantly becomes a magnet for microbes, including trillions of bacteria, fungi, and viruses, which make up the human microbiome.

Bacteria that reside in the gut, in particular, are believed to play a crucial role in digestion, metabolism, and the development of the immune system. The more diverse a human's microbiome is, the better.

Breast milk has been shown to "plant good bacteria" in a baby's digestive system. "Breast milk protects the gut, and so breastfed babies are less likely to have cases of severe diarrhea," according to breastfeeding doula Noelle Pollack.

Protects mom's and baby's mental health

Aside from triggering the release of the love hormone, breastfeeding also helps release prolactin or the hormone responsible for milk production. They help to relax the mother and make her feel more nurturing toward her baby, which is good for her mental health. These hormones have also been proven to reduce inflammation response in the body, which has also been associated with depression.

Breastfeeding also helps moms sleep longer and promotes lower stress levels. Both are things that can help lessen a mom's chances of experiencing baby blues, depression, and other perinatal mood anxieties and disorders.

A 14-year-long study also shows that the longer you breastfeed your child, the more it contributes to the better mental health for the child, according to another breastfeeding doula, Ros Padua.

ADVERTISEMENT - CONTINUE READING BELOW

This attachment to the mom through breastfeeding also helps build a child's resiliency.

Reduces the mom's risk for ovarian and breast cancer

These breastfeeding perks have been associated with extended breastfeeding of nursing your baby up to two years and beyond. Nursing may also lower the chances of breast cancer coming back after successful treatment.

Having fewer menstrual cycles (ergo, less exposure to estrogen) is one of the theories why it lowers breast cancer risk. Nursing also delays ovulation and thus lessens the chance of cell mutation, which triggers ovarian cancer.

Apart from these cancers, extended breastfeeding has also been linked with reduced risks for developing endometrial cancer, hypertension, type 2 diabetes, and several conditions such as Alzheimer's disease, muscle degeneration, osteoporosis, and rheumatoid arthritis.

Read also: Breastfeeding Mom Diet

Celebrate your pregnancy milestones!


Enter your details below and receive weekly email guides on your baby's weight and height in cute illustration of Filipino fruits. PLUS get helpful tips from experts, freebies and more!

You're almost there! Check your inbox.


We sent a verification email. Can't find it? Check your spam, junk, and promotions folder.

Trending in Summit Network