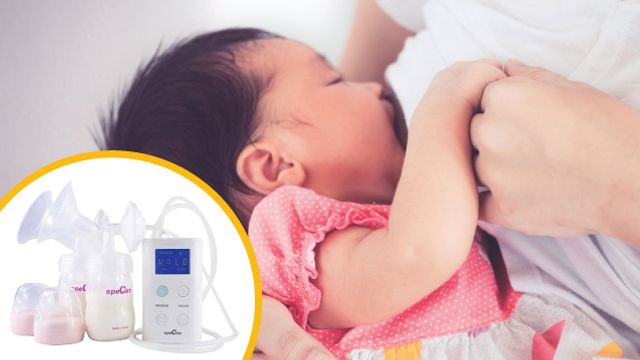 New moms who are looking forward to breastfeeding might be intimidated by the price points of some breast pumps in the market, especially if it's an electric type. But for those who want to prolong breastfeeding (especially if they are going back to work), the appeal of an electric breast pump is its portability, suction level, and ease of use.
A double electric breast pump that's worth the price
Breastfeeding moms now have more options for manual and electric pumps that fit every budget (see our list here). But if you're looking for a pump that you can use for a long time, moms on our Facebook community, Smart Parenting Villlage, lists the Spectra 9 Plus Double Electric Breast Pump (Php9,500) among their recommendations.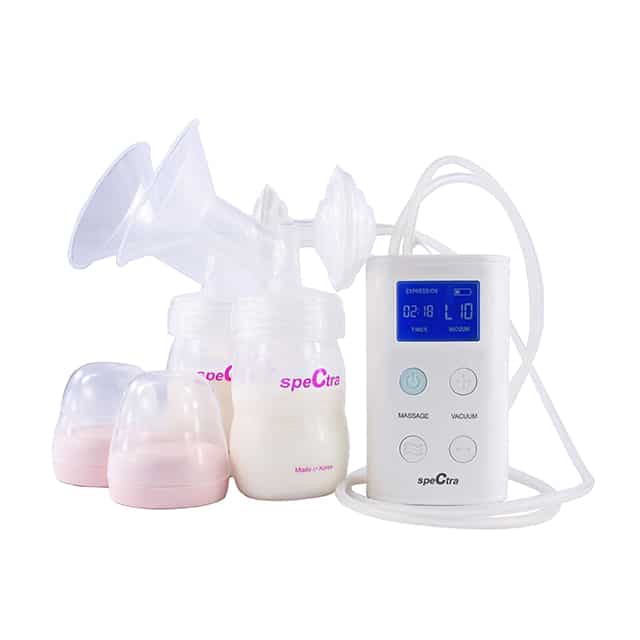 What makes it sulit? It's portable, rechargeable, and it has a quiet motor, so you can use it even while you're in the middle of a meeting. It also has two modes: letdown/massage mode and expression mode. The strength of its suction can also be adjusted — as you increase the suction, the speed will slow down.
A fully charged battery lasts 2 hours' worth of pumping time, or up to 12 sessions a day. It has an auto-off feature so pumping automatically stops after half an hour. You can choose to use it on single or double mode. It comes with 2 breast kits that include wide neck bottles, valves, flanges, tubing, and a backflow preventor.
Buy it on Lazada here.
Spectra electric breast pump reviews from moms
Here are more reasons why moms love the Spectra 9 Plus Double Electric Breast Pump. One dad even gives it a thumbs up!
"From a Daddy's POV: easy to assemble and disassemble. Easy to clean. Portable, we could bring it anywhere wifey needs to pump. Obvious ba na ako ang tagalinis? Hehe. Enjoy si wifey gamitin. So kung happy siya, happy rin ako." — Irone Boquiron
"Very helpful for me. It has a massage option and vacuum that's why it prevents mastitis. And easy to carry wherever you go!" — Asia Li
"Nagustuhan ko siya kasi portable. Nagagamit ko while stuck in traffic. Okay din ang suction, pwede mamili ng level. Although kaya niya double (pumping), ginamit ko lang siya as single para tipid sa gamit ng flange." — Ninia Domingo
"Nagustuhan ko siya over sa isang brand dahil easier to use at automatic off 'pag 30 mins na into pumping. Bumili rin ako ng additional flange at handsfree para isahang hugasan na lang sa gabi." — Ayesa Pascual
"I've been using it for 18 months now and I can say it helped me succeed in exclusively breastfeeding my son. It's portable and easy to use with a minimal vibrating sound. It's easy to assemble and parts can be bought separately in case you want to keep an extra set at work and at home. It also has a timer so you can keep track how long you've been pumping and it automatically turns off after 30 minutes so you don't overdo it." — Khirsty Mae Filio
"Been using mine since bumalik ako sa work. So easy to use and its portable. Very gentle yet effective din ang suction niya. It also has massage option to help stimulate letdown." — Valerie Calimbas
"I used it for relactation and it did increase my supply. But not as much as I used to before I was breastfeeding exclusively. Okay suction power niya and hindi gaanong maingay. Battery life is longer also so nakaka 2-3 sessions ako overnight. It helps that you know your flange size. Though, sana mas wearable siya so I can move while naka-attach sakin. Medyo mabigat din kasi yung motor niya and there is no way I can hang it like the Wisemom Pocket." — Helen Oli
"Yes! Sulit kahit around Php9,000. Portable and kasya sa maliit na working bag. You can use it everywhere nasa labas man, traffic or nasa resto. Silent compared to other brands since I experienced using it in the lactation room in our office with other moms. I like the suction since I was able to pump 600ml in 15mins when I wake up in the morning. I can use it for 3 to 4 times before I recharge it. It's easy to clean plus the parts are readily available if you need to buy it." — Daryll Morales
What's your recommended breast pump? Share it with us in the comments! Prefer manual breast pumps? Click here for a list!