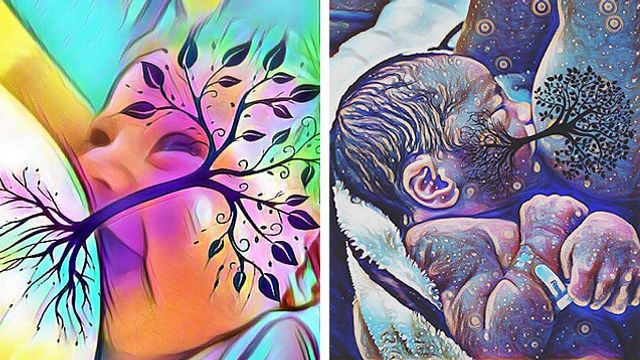 Social media platforms such as Facebook and Instagram used to take down breastfeeding photos because it had breast or nipple exposure, never mind the fact that this was not a lewd act. To put a stop to this illogical censorship, nursing moms posted "brelfies" or breastfeeding selfies to support the cause of normalizing breastfeeding. Thankfully, the social media platforms learned their lesson. 

Now the latest trend in breastfeeding selfies is, well, an enchanting upgrade. With the help of an app and using the #TreeofLife hashtag, nursing moms have gained a new sense of power and beauty.
The stunning brelfies are created with the photo-editing app PicsArt where the resulting images feature tree branches. These illustrate the life-giving connection between moms and their babies through breastfeeding. The photos take on an otherworldly quality that certainly breathes a new life at presenting breastfeeding as a normal occurrence in everyday life. Look:
"What we love even more is how these women are editing photos not just for themselves, but as gifts for each other. The spirit of collaboration and the celebration of life is definitely something PicsArt supports 100-percent," according to PicsArt's blog. "Recounted in folklore, culture and fiction, [the tree of life] has often related to immortality or fertility. Today, it has become a representation of the #normalizebreastfeeding movement." 
If you'd like your own #TreeofLife brelfie, all you need to do is follow these steps. Don't worry, it's so easy.

1. Download the PicsArt app and the free Tree of Life sticker pack.

2. Open the app and tap on "Edit," then select your breast-feeding photo/brelfie.

3. On the bottom panel, tap on the Sticker icon, and choose a tree from the Tree Of Life sticker pack. Add the sticker on and adjust to your liking.

4. Adjust your image or sticker to your preference. You can also tap on the eraser button and erase parts that extend out too far. Then, tap on "Apply."

5. Go to "Magic Effects" and choose the effect you like. Rainbow, Flare, and Midnight are the most popular. You can also adjust the blending modes or opacity. Then, tap on "Apply."

6. Save to your device and share on PicsArt photo editor or any social media platform!
#TreeofLife is currently trending on Facebook and a lot of other moms have posted their photos on Instagram, Twitter, and PicsArt. It doesn't matter if you're breastfeeding a baby, a toddler, tandem breastfeeding, or pumping.

Have you had your own version of the #TreeofLife photo, created with the same app or another one? Share them with us with the hashtag #SPbrelfieinspiration or send it to on Facebook Messages. Let the world know that breastfeeding is as normal as having breakfast like anyone else!