'Stop Making Moms Feel Like a Criminal When It Comes to Formula Milk'

A new mom writes to her baby why she's become an advocate for formula milk and breastfeeding.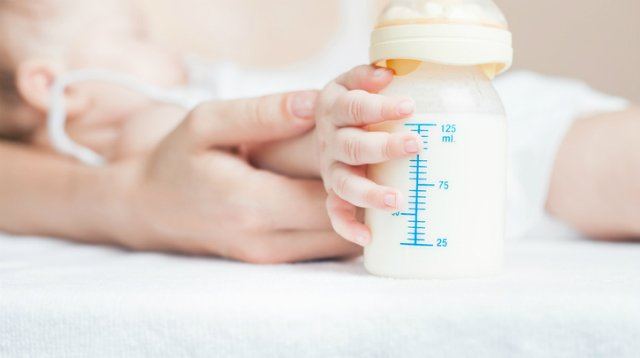 (Editor's note: This piece was submitted by SmartParenting.com.ph reader Kath C. Eustaquio-Derla and first appeared on her blog, "Dear Peanut."  Edits have been made by Smart Parenting editors.) 

Dear Peanut,

Let me explain to you my beef with exclusively breastfeeding hardcores.

When you left NICU, we saw the big changes almost immediately. The physiological jaundice was gone. You didn't look like a turmeric chicken anymore — your skin now had a healthy tocino glow. You also seemed less irritated. You appeared well-fed, well-rested, and a happy, healthy, baby boy!

We were advised na paarawan ka at 6 a.m. for the next few days and as much as we can. We also got your feeding schedule from NICU and was taught how to dropper feed you. So that's what we did when we got home.

What other parents are reading

Since you couldn't get my milk out yet, we just continued your formula feeding schedule. My breasts became so engorged that we had to call Ate Zsa Zsa, one of the midwives who attended to us at The Medical City (TMC). She came to our home and did a lactation massage on my super engorged breasts. And, miracle of all miracles, she was able to express 40ml of breast milk in that one session alone. It was science, not a miracle, but it felt like the latter because it was the first time I've seen my "jugs" let out colostrum by the milliliter.

For one whole hour, she milked me like the postpartum cow that I was while your father attended to your needs (changing your diapers, soothing your cries, and dropper-feeding the milk that we just expressed). After Ate Zsa Zsa left, I was able to hand express 30ml more!

ADVERTISEMENT - CONTINUE READING BELOW

Hand expressing was painful, but Ate Zsa Zsa kept on saying that I had a very high tolerance for pain because usually, most women would be crying right then and there because of the painful sensation.

In the past weeks, we also tried nearly all of the tricks and tips to increase my milk supply. Nalulunod na ako sa sabaw at napupurga na ako sa malunggay. I also ordered those expensive (but worth it) lactation treats and took malunggay capsules twice a day. I did hand expressions, direct latching (but still got the same results), and boob massages.

But the nipple shield, which you place on your natural nipple to create that "protruded" shape babies can latch onto properly, totally changed the game. On the first try, you were able to direct latch and breastfeed on my left breast for 15 whole minutes!

What other parents are reading

Those who exclusively breastfeed will probably say, "Artificial nipple pa din yan. You should do direct latching only because…blah blah blah blah…" or "Naku, dapat hindi mo ginawa yan, mako-confuse yung baby mo sa nipples…mali yan...blah blah blah…"

The pressure to exclusively breastfeed (as in direct latch, no bottle feeding breast milk) has become so EXTRA that many people now think feeding your baby formula milk is synonymous with giving poison.

ADVERTISEMENT - CONTINUE READING BELOW

Recommended Videos

Come on, formula milk is a suitable option if breast milk is not available.

I've joined several mommy groups and breastfeeding groups on Facebook. I've read the comments and questions, and I couldn't help but do an eye roll every time I see a comment from those who keep pushing direct latching and exclusive breastfeeding as if they've seen the concerned person's issues firsthand.

Take this for instance: One of the "counselors" I talked to from an exclusive breastfeeding group kept on telling me that direct latching your baby is the only sure way to increase your milk supply. She's right, but what if you're having problems with direct latching in the first place at hindi ka naman nagkukulang?

What other parents are reading

Sure, she shared a lot of tips and comforting words. But when I told her the story about how we supplemented with milk formula when we were at NICU, she made me feel like I did a great injustice to my baby. She even asked for the name of the hospital and the pediatrician who advised it. I was like, "Wow, do you have the power to fire the doctor or shut down the hospital? Kung makatanong ka, wagas eh."

Here's another example. A lactation consultant sent me an SMS asking if I was exclusively breastfeeding. She also asked how many feedings I give, how long the baby breastfeeds, how many wet diapers, etc.

I wasn't exclusively breastfeeding, and I wondered if I should even reply. But I did, and I explained all about the need to supplement with formula at the hospital. I gave a very detailed response. And you know what? The response I got was, "Okay ma'am. Thank you, God bless."

ADVERTISEMENT - CONTINUE READING BELOW

What other parents are reading

Nagdilim yung paningin ko, I swear! That response felt like a door was slammed on my face. I was expecting to be told to still try direct latching and breastfeeding. That would have been a warm response.

The best response would be an encouraging reminder that it's okay to supplement with formula if breast milk isn't available at the moment and I was still building up my milk supply. The best response would have been a reminder that I was doing the best I could as a first-time mother and that I shouldn't feel guilty at all. The best response would have been an invitation to call them in case I needed to talk to a lactation therapist (even if I need to pay a professional fee) and that their doors were open for my baby and me anytime.

I know that there is absolutely no substitute for breast milk. But don't judge women who formula feed or make them feel like they're committing a crime whenever they buy formula milk at the stores. You see the stares, you somehow feel the whispers, and you feel the judgment. And maybe that's why many mothers, especially first-time moms, don't post on social media that they're supplementing their breast milk with formula milk if they need to "top up."  

Mothers shouldn't be made to feel they're committing a crime or an injustice if they give their babies formula milk.

What other parents are reading

I read this article at a time when I needed it most. One of the captions read, "My dear fellow queens, breastfeeding is good for our babies, but it is not the be-all and end-all of motherhood. Please, please know that our mental health is as important as our babies' physical well-being."

The night before I snapped and cried again because you wouldn't latch onto me, and I felt that my milk supply would dry out before we could even begin to enjoy the joys of feeding. That night, we decided to finally use the feeding bottles your ninang sent from the U.S. and stop dropper-feeding you. Right then and there, your father ordered the breast pump and nipple shield we needed.

ADVERTISEMENT - CONTINUE READING BELOW

"Breastfeeding is good for our babies, but it is not the be-all and end-all of motherhood."




These past few days, we have both started to enjoy the perks of feeding. I pump breast milk for you, and we feed it to you using a bottle. We also supplement with formula milk while I'm still working on building my supply. The goal is not to give you just breast milk. The goal is to continue giving you breast milk for as long as I can while topping up with formula milk until we no longer need the latter.

I have become a strong advocate for mixed feeding, a style, I think, that many mothers are either ashamed to admit or don't know at all. I think the pressure to breastfeed has led many new mothers to believe that if they can't produce the milk their baby needs on day 1, they can't do anything about it anymore and that they should start feeding formula milk, and when they do, they are total failures.

ADVERTISEMENT - CONTINUE READING BELOW

This is just utterly wrong. Don't we all want the best for our babies? I think there's an urgent need for stronger support for women who formula feed but still want to give breast milk for as long as they can.

If there are mixed breastfeeding groups, let's talk, sagot ko na ang printing ng brochures ninyo.



Kath is a journalism graduate of the University of Santo Tomas. She wrote "Bedroom Blog by Veronica," a relationship blog for Cosmo.ph  from 2009 to 2011, which covered most of her single dating life. In 2015, she published her first book Before I Do. She stopped collecting hearts when she got married in 2013 and went back to collecting Archie Comics ever since.

What other parents are reading

Celebrate your pregnancy milestones!


Enter your details below and receive weekly email guides on your baby's weight and height in cute illustration of Filipino fruits. PLUS get helpful tips from experts, freebies and more!

You're almost there! Check your inbox.


We sent a verification email. Can't find it? Check your spam, junk, and promotions folder.

Trending in Summit Network