Winwyn Tells New Moms, 'Don't Be Too Hard On Yourself, Mama'

The breastfeeding mom and beauty queen validates that every mom's journey is unique.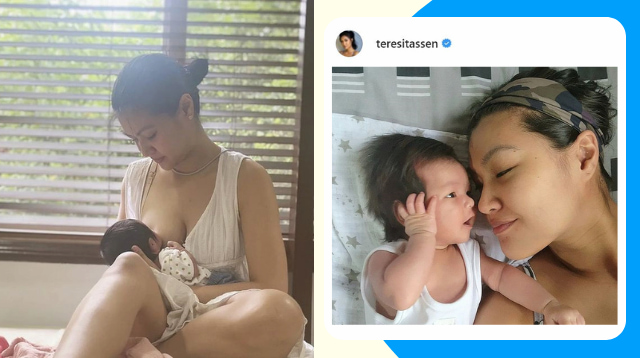 Just like every new mom, Winwyn Marquez is slowly but surely navigating her parenting journey. That's how it's supposed to be done, right? After all, babies don't come with a manual.

The actress and beauty queen has been generously sharing weekly updates about her new life as a mom on social media - from her pregnancy announcement last December to Baby Luna's newborn photo shoot last month.

Her honesty and authenticity has been evident in her posts that show the raw and unfiltered experiences as a first-time mom. Her no-makeup look, her postpartum struggles, and recently, her perfectly imperfect breastfeeding journey.

On June 14, Winwyn shared a photo of her breastfeeding her almost 2 month old daughter, Luna Teresita Rayn.

The actress said, "Breast milk is still the best milk you can give your little one, but there are many factors involved to its possibility and supply."

It can be recalled that Winwyn expressed her commitment to breastfeed her baby in her vlog, where she shared the contents of her hospital bag.

"Ang pinakamarami kong laman sa bag, breastfeeding stuff. Yung hospital kasi they are an advocate of breastfeeding moms. Para sure tayong magkamilk, sana talaga magka-milk," she said.

Winwyn has also been posting in her Instagram stories that she has been pumping, taking in lactation supplements, and eating healthy. 

PHOTO BY

INSTAGRAM /TERESITASSEN

ADVERTISEMENT - CONTINUE READING BELOW

Like a true queen, it is admirable for Winwyn that in her advocacy to promote breastfeeding, she didn't want to alienate moms who choose other ways to feed their babies. 

She continues, "So whether you give breast milk, formula, or combination - know that as long as you're trying your best to be a good mother, you're already doing a great job."

READ ALSO: 'Stop Making Moms Feel Like a Criminal When It Comes to Formula Milk'

Posts like Winwyn's are a good reminder that while every breastfeeding mom's journey is hard, it is also unique. Every effort to promote breastfeeding helps, even stories like Coleen Garcia saying her body is no longer hers, and Kryz Uy describing her experience with mastitis. 

The Milk Code, which has been around for more than 30 years now, was enacted to promote breastfeeding and the benefits of breast milk to the mother and child. Every new mother is encouraged to breastfeed and receive all the support she needs to nurse her child successfully.

However, there are moms who are advised by health professionals to mix feed their children, due to various circumstances, to supplement breast milk. 

READ ALSO: What Is the 'Milk Code' and What It Means for Your Baby

According to Raising Children, mixed feeding is recommended for only a short period of time, usually when babies

have a very low birth weight (under 1500 gm)
are born very premature (at less than 32 weeks of gestational age)
are very ill
aren't gaining weight well

ADVERTISEMENT - CONTINUE READING BELOW

Recommended Videos

'Don't be too hard on yourself, mama'

Winwyn assures all moms, new or not, "Don't be too hard on yourself, mama."

There are moms who say that they are proud of their breastfeeding journey. There are moms who find no problem with giving formula milk to their babies since day 1. 

And then there are also moms who are ashamed. Ashamed because they feel that they are less of a mom for breastfeeding their child for only a few days, weeks, or months.

As a breastfeeding mom myself, I've encountered a lot of new moms who said that they feel judged for their choices when it comes to feeding their babies. Some shared that they joined online support groups to learn more about breastfeeding, but ended up feeling shamed and guilty when they decided to mix feed due to circumstances.

There is no shame in struggling to breastfeed. At the end of the day, it's the mother's choice whether to breastfeed her child or to supplement, as long as it's the best for them, and with the advice of their pediatrician.

Why moms struggle to breastfeed, and what can we do:

Sometimes, a little push can create a big impact in a mom's breastfeeding journey. Here are some reasons why moms struggle to breastfeed, and what can we do to help them overcome.

1. Going back to work

The thought of going back to the office after the maternity leave, carrying and setting up heavy and intricate breast pumps, and excusing yourself from meeting to pump when your breasts feel heavy - it's hard. 

ADVERTISEMENT - CONTINUE READING BELOW

According to the Milk Code, and amplified by the Expanded Breastfeeding Promotion Act, employers are mandated to give breastfeeding employees lactation break to allow them time to express milk. This is on top of the usual snack and lunch break times.

Employers can be better in understanding and accommodating the needs of new mothers, and supporting them in their transition.

READ ALSO: Nursing Moms Going Back to Work Can Demand for Lactation Breaks

2. Not enough support 

After giving birth, the focus of check-ups goes from the mother to the child. 

According to Dr. Teresa Maria Ribaño, a pediatrician and IBCLC who is on the breastfeeding committee of both Makati Medical Center and Asian Hospital, "It is important for mothers to have a good relationship with their doctors. Mothers should not be afraid to talk to their doctors because it is their health at stake and more importantly their child's health especially since children cannot advocate for themselves."

The family's support, particularly the husband, is important too. Moms who breastfeed for a long time reveal that one of their secrets is their husband's support.

READ ALSO: Why I Support My Breastfeeding Wife: 'Hindi Pinag-Uusapan Pero Kailangan I-Normalize'

3. Painful breastfeeding experience

La Leche League International, a breastfeeding advocacy organization said breastfeeding isn't supposed to hurt. "There are a number of possible causes for persistent pain in breastfeeding."

In the Philippines, moms can seek help from lactation consultants who can provide information on common breastfeeding-related reasons for pain. They can also refer mothers to health professionals for diagnosis or treatment.

ADVERTISEMENT - CONTINUE READING BELOW

READ ALSO: Crying In Pain When Breastfeeding? Moms Share Tried-and-Tested Tips Apart From 'Tiis Lang'

4. Impact on mother's health and wellbeing

According to La Leche League, "Research over the past decade has shown that breastfeeding and depression intersect in some interesting and surprising ways. All of this work has shown something that makes sense. Breastfeeding does not deplete mothers, nor does it cause depression."

The organization adds, "Breastfeeding problems certainly can do both of these things – all the more reason why women need good support and accurate information. But it does not make sense for something so critical to the survival of our species to be harmful for mothers. And it is not."

When it comes to sleep, which is very important to new moms, studies also show that moms who breastfeed tend to have more sleep, which contributes to their overall well-being.

READ ALSO: Experts Say Women Who Feel Pressured To Breastfeed Need Emotional Support

5. Fear of being shamed 

While every mom's journey is unique, their choice on how they will feed their child is entirely dependent on them, but remember that the Milk Code hopes you do so with the advice of a health professional.

We at Smart Parenting will keep on reminding moms that there is no shame in struggling to breastfeed. Help is always available, and we exist to help parents in every step of your journey.

All moms and dads are welcome to join the Smart Parenting Village, our safe space for parents online. Let's keep communicating and talking about breastfeeding, and learn how we can better support each other.

ADVERTISEMENT - CONTINUE READING BELOW

What other parents are reading

Celebrate your pregnancy milestones!


Enter your details below and receive weekly email guides on your baby's weight and height in cute illustration of Filipino fruits. PLUS get helpful tips from experts, freebies and more!

You're almost there! Check your inbox.


We sent a verification email. Can't find it? Check your spam, junk, and promotions folder.

Trending in Summit Network