8 Pregnancy Perks You Should Take Advantage Of

You're only pregnant for nine months, so make the most out of it!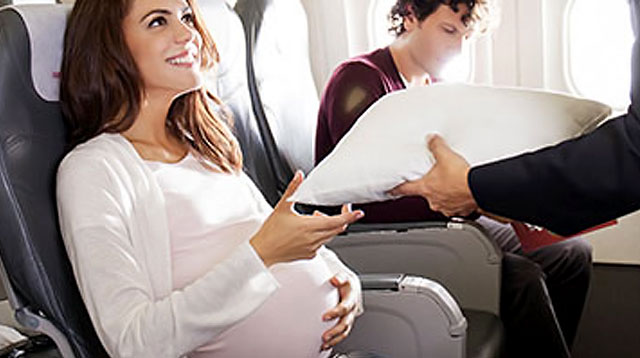 Being pregnant can be overwhelming, yes, but it is a privilege and a blessing to nurture a life inside you. While the physical changes that come with it can be a lot ot endure for some women, like getting all-day 'morning sickness' everyday (it happens), there are still many advantages to being pregnant. We asked real moms what actual perks they got to enjoy while they were on the family way, and these are what they shared:

Priority parking space
When you're pregnant, you can actually park at spaces provided and reserved for persons with disabilities -- not that you are one (because preggos can be perfectly capable of a lot of things) -- but using parking spaces near the entrance of your building destination means a shorter distance to cover for you and your tired legs. Similar to this, a preggo could also get priority status on first-choice seats, or the most comfortable seats on plane rides and the like.

Not having to line up
You get priority at public transportation queues, banks, government offices, cashiers, and even restrooms (this is especially helpful this holiday season!). We all know that lining up is a necessary policy to ensure order and effectivity, but having to do so when you're pregnant is just torture. Establishments usually have a dedicated line for preggos, along with senior citizens and persons with disabilities. One mom even shared that a certain fastfood chain had her seated first, then took her order so that she didn't have to fall in line.

People are generally nicer to you.
We say generally, because not all people are sensitive enough to offer you a seat in the bus or train, or would smile and pick up something you've accidentally dropped on the floor, or carry your bags. One mom-to-be shared that a traffic enforcer helped her cross the street. Denelyn Marquez shared that when she stood up to get a macaroni salad refill at a restaurant, "The manager approached us with a bowl of macaroni salad and said 'pregnant women deserve to have what they crave for'". Aww.



What other parents are reading
ADVERTISEMENT - CONTINUE READING BELOW
You get a lot of freebies. 
Among them: free access to lounge rooms and pay-toilets at malls (yes, we know it's just P10, but not having to worry about rummaging coins in your bag when your bladder is about to pop makes a big difference!). During long flights, you could request for pillows, if available. There are a few restaurants who fulfill a preggo's sometimes-odd food requests, too. Most women receive free food from thoughtful officemates and the like.

While this is such a nice gesture (not to mention not having to shell out money for snacks), a pregnant woman should remember that she's not eating for two, but rather, she should eat healthier for her and her baby.

You get a pass for being late, or even better, you're allowed flexible working hours.
While this is on a case-to-case basis (you have to check with your immediate supervisor or human resource officer if this can apply to you), many women shared that they were able to get away with it at work, even if it was as simple as not having to participate in an emergency drill run-through, or even eat at your cube (so long as you keep it clean!). 

"Power nap during work hours when you really need it," wrote Zel Senen. Anna Angelica  Centeno shares she was able to choose her preferred work schedule. "I was allowed to work from home half of the day, because I was having a very difficult pregnancy," Bailey Agustin Dava shared. Lucky preggo Joanna Mejia Ilog shared she was allowed to work from home starting her 7th month. I can actually request for it as early as the first month. I just don't want to abuse the privilege," she says.
What other parents are reading
Not worrying about periods. 
Claire Gan shares that she considers not getting her menstruation as an advantage. "Imagine the savings on napkins and tampons and not worrying about stains and all!" she wrote. It's also a welcome blessing for women who get extreme cramps and dysmenorrhea when they have their period. But beware how pregnancy changes could affect your body (though having vava-voom cleavage is a plus!).

You're exempted from doing house chores!
Especially those that require you to bend down, such as emptying your pet cat's litter, etc. Some preggos also delight that they don't have to do the laundry or clean the house, as someone willingly does it for them. Otherwise, you can have these chores done by companies that specialize on them until you give birth, so you can relax and focus on your approaching birth, or taking care of your baby, not in keeping the house clean and organized.

You get pampered like a queen. 
The extra attention from family, especially from hubby, wins the best pregnancy perk in our books. It's different when it's someone dear to you that goes out of his way to make sure you're comfortable, safe and happy throughout the whole nine months. And it's the little things that count, even that simple compliment about your gorgeousness, or that foot or back massage the hubby gives you after a long day out. Everyone agree? We thought so!.  
ADVERTISEMENT - CONTINUE READING BELOW
Did we miss something? Share yours in the comments below! 
What other parents are reading

Trending in Summit Network