This Mom Fought Against Five of the Most Severe Pregnancy Complications

Her doctor was amazed she managed to give birth to a healthy baby!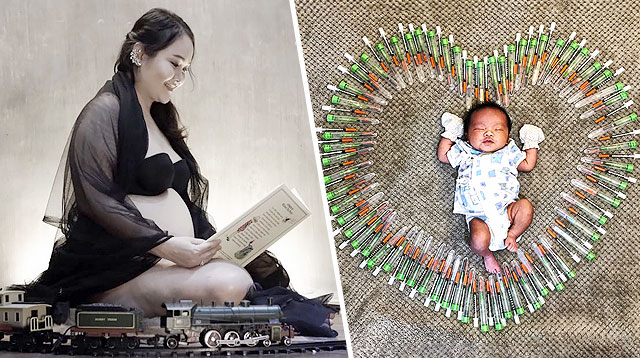 "If I had a hard time conceiving naturally, sustaining a pregnancy was a whole new level of difficulty," Abi Ong-Pizarro shared on her blog. At that time, she was 37 weeks into her pregnancy, only a week away from cradling her rainbow baby in her arms.

Abi and her husband Enzo Pizarro had been trying for about six years to conceive before confirming she had antiphospholipid antibody syndrome (APAS), one of the five reproductive autoimmune disorders (RID). When she finally got pregnant again after two miscarriages, she had five of the most severe pregnancy complications that threatened her unborn baby's life.

Abi stands today, however, a mom finally who is treasuring every minute she can spend with her 2-month-old son.

After struggling to conceive, a new challenge: APAS

Abi had difficulty getting pregnant due to polyps and polycystic ovary syndrome (PCOS). "After my second miscarriage in 2016, my OB suggested that I get tested for APAS," Abi shared with SmartParenting.com.ph via e-mail.

"I shrugged it off because I truly didn't want to try to conceive again," she admitted. But then, after focusing on positive lifestyle changes, she got pregnant again in 2018.

Abi's doctor stopped all her medication when she was 37 weeks pregnant.

PHOTO BY

courtesy of Abi Ong-Pizarro

ADVERTISEMENT - CONTINUE READING BELOW

"All the fears of my past miscarriages overwhelmed me. I just had to know...if I did have APAS, I knew I had to manage it right away to keep my baby alive," she wrote.

Tests confirmed Abi had the most common RID. She felt scared and at the same time, relieved. "It was like, 'Now I know why I keep losing my babies. Now I can do something about it," she explained.

"My husband and I knew it would be a difficult and expensive pregnancy. But from the start, we told ourselves that we would give our all because this is now our best — and possibly only — shot at having a baby."

The determined soon-to-be mom first consulted a perinatologist, an OB-gyn specializing in high-risk pregnancies, and an immunologist to help her manage APAS. She also armed herself with every other available resource that could help her understand APAS, even reaching out to a stranger who has the same condition on social media. She joined a Facebook group where she was inspired by stories of moms who overcame APAS and now have healthy full-term babies.

Pregnant but with a lot of complications

Abi had a game plan: strictly follow her doctors' advice, take whatever pills necessary, endure daily injections, and undergo monthly intra-lipid infusion. "I thought APAS was actually quite manageable. But having the other complications was unexpected, and it frustrated me," Abi said.

Her 6-week ultrasound scan showed her baby's strong heartbeat, but she also had a small subchorionic hemorrhage forming in her uterus. "Aside from the shock of seeing blood on my underwear, I believe I lost my last pregnancy because of this. I was put on strict bed rest as I was spotting on and off for about four weeks." The blood clot went away after a round of intra-lipid infusion.

CONTINUE READING BELOW

Recommended Videos

In one of her routine blood tests, Abi also tested positive for gestational diabetes. Her doctor referred her to an endocrinologist who then recommended she also see a nutritionist to manage her blood sugar levels.

"During my second trimester, I was seeing four specialists: a perinatologist, immunologist, endocrinologist, and nutritionist," she shared.

Abi (pictured on the left with husband Enzo) spent most of her third-trimester days admitted in the hospital that she had her baby shower and birthday celebration (right) there with family and friends.

PHOTO BY

courtesy of Abi Ong-Pizarro

On her 27th week, Abi was admitted to the hospital because her cervix was shortening and funneling — she was already at risk for pre-term labor. Doctors injected steroids so her baby's lungs could develop further just in case she had to give birth. But the steroids made Abi's blood sugar higher, so she had to start injecting insulin four times a day. A urogynecologist inserted a pessary (a prosthetic device) that temporarily closed her cervix to buy her and her baby more time.

ADVERTISEMENT - CONTINUE READING BELOW

Abi found herself back on bed rest, and when her doctor allowed her to get up, her husband got her a wheelchair so she could get around. At this point, Abi admitted her body could feel the effects of all the drugs she needed to protect her pregnancy. Apart from her emotional exhaustion and distress, they were getting drained financially.

"I did not like the feeling of being lethargic and drug-induced, but I had to be diligent for the baby's safety. I vowed to de-toxify after the pregnancy to regain my strength and chi."

On her 29th week, her amniotic fluid was getting alarmingly low and had to be readmitted to the hospital for more than a month. "I spent a big part of my third trimester confined in the hospital," Abi shared.

While in the hospital, Abi's blood pressure spiked, and she tested positive for preeclampsia. She also started having mild but regular contractions, which she needed to control more with meds.

Delivering baby at full-term via C-section

Abi's doctor tried to keep the baby in her womb as long as possible. On her 37th week, she was discharged from the hospital, and all her medications were put on hold. "No one expected me to reach this far, not even my doctors. As my OB said, I've been dealt with every complication she could imagine, but my baby and I made it through," she shared.

On her next prenatal check just a week later, Abi was already three centimeters dilated and was prepped for labor and delivery. After 24 hours of labor, her doctor decided to perform an emergency C-section. Her cervix dilation stopped progressing at five centimeters, her amniotic fluid was already dangerously low, and her baby's umbilical cord was also coiled around his neck.

ADVERTISEMENT - CONTINUE READING BELOW

Abi delivered Baby Lucas at full-term (38 weeks) via C-section. He weighed 7.4 pounds at birth and an almost APGAR score of 9.9!

PHOTO BY

courtesy of Abi Ong-Pizarro

Abi and her husband Enzo welcomed their first child, a healthy, full-term baby boy, on March 26. "He's turning 2 months now, and I realize that motherhood is a totally different ballgame! Caring for a newborn is more tiring and exhausting than dealing with APAS! But it's also more rewarding and fulfilling," she said. "I'm so, so thankful that Lucas was born a strong and healthy baby despite all the complications he and I went through," Abi said.

"I'm also glad that he's a happy baby. That was my prayer all along — that he would not absorb all the fears and worries I felt while carrying him."

While having another baby is the last thing on Abi's mind, she wants to remember her pregnancy as a positive one because it brought them their miracle baby. "It's been a series of complications, but it's also been a series of answered prayers," she said.

ADVERTISEMENT - CONTINUE READING BELOW

Baby Lucas with all the needles mom Abi needed to inject to have a successful pregnancy.

PHOTO BY

courtesy of Abi Ong-Pizarro

"I would encourage those who are having difficulty conceiving to get tested. If you test positive, don't despair. Dealing with APAS may be difficult, but it's better than being in the dark," she said. "I also want to remind women that motherhood comes in so many ways. I personally know that trying to conceive can be so draining; in the midst of it all, don't forget that the most important thing is to focus on yourself and your marriage," Abi added.

Look! Baby Lucas marked his first-month milestone.

PHOTO BY

courtesy of Abi Ong-Pizarro

ADVERTISEMENT - CONTINUE READING BELOW

What other parents are reading

Celebrate your pregnancy milestones!


Enter your details below and receive weekly email guides on your baby's weight and height in cute illustration of Filipino fruits. PLUS get helpful tips from experts, freebies and more!

You're almost there! Check your inbox.


We sent a verification email. Can't find it? Check your spam, junk, and promotions folder.

Trending in Summit Network