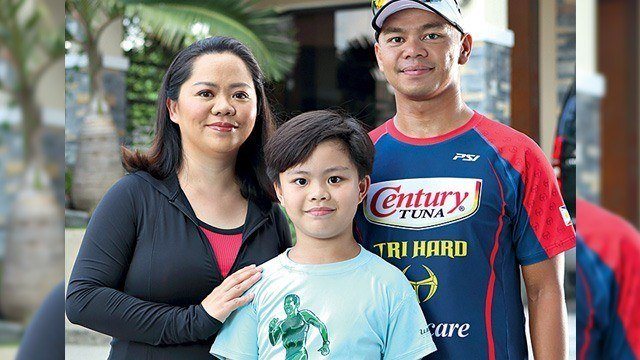 When Connie Mangahas got married to her college sweetheart, Richard Cabreros, on March 20, 2004, she couldn't wait to start a family. The couple were thus ecstatic when they found out Connie, who was 29 at the time, got pregnant just a month after the wedding.

Unfortunately, their joy was short-lived. Connie had a miscarriage due to a blighted ovum, which occurs when a fertilized egg doesn't grow into an embryo. "Sobra kaming devastated kasi gusto talaga namin magkaroon na ng anak," she shares. "After that, hindi na okay yung lifestyle namin."As IT professionals in the semiconductor industry, Connie and Richard were completely devoted to their work. "Our eating habits weren't good. Lumaki talaga kami pareho," she says.

In 2005, Connie and Richard were assigned to work in China, where they continued trying to get pregnant. For a year, nothing happened. When they returned to the Philippines in 2006, they decided it was time to go back to the doctor for a checkup. "Binigyan niya kami ng fertility pills, pero hindi naging okay," Connie shares.

By this time, Connie already weighed 165 pounds—40 pounds heavier than when she got married in 2004. She learned that she had polycystic ovaries, which caused her to have irregular periods. Though Richard's tests came back normal, he was also overweight.

"The doctor recommended we change our lifestyle," Connie says. "Kaya lang, hindi namin siya naging priority. So we relied on science." Connie's OB-GYN referred them to an infertility specialist, who suggested they undergo an intrauterine insemination (IUI), a treatment where the sperm is placed directly into the uterus to aid in fertilization. The couple had high hopes for IUI, but it was a physically and emotionally draining process, which involved frequent trips to the hospital, taking a number of medications, and dealing with mounting costs.

"On the first try, we were so excited," shares Connie. "We thought mangyayari kaagad. Nung wala pa rin on the second try, we started to lose hope. Lalo na on the third try. My husband was also giving up. Naisip namin baka we were not destined to have a baby."

ADVERTISEMENT - CONTINUE READING BELOW

On their fourth try, Connie finally got pregnant. But their difficulties were far from over. "On the second month of the pregnancy, nag-bleeding ako," she shares. "Na-bed rest ako and I had to take medication again."

When the doctor gave Connie clearance on the fourth month, the excited couple went to the mall to shop for baby stuff. But as soon as they got home, she started bleeding again. "I had to go back to the hospital and stay there for three days. When I got home, I was on full bed rest for the next two months. So parang six months total bed rest."

What other parents are reading

Lifestyle change
Connie gave birth to a healthy baby boy, Christian, on December 20, 2007 via Cesarean section (CS). Though she lost some weight before the pregnancy due to the medication her doctor had given her, it didn't take long before she gained it all back. "I had to focus on taking good care of my baby and husband," she says. "I also went back to work, so I forgot about myself again. Lumaki na naman ako."

In 2010, Connie moved to a new company and experienced health problems. "High blood, laging pagod," she says. "Nagpa-check up ako, and I found out I was pre-hypertensive and pre-diabetic." Meanwhile, her husband Richard was slowly becoming more active. He started biking, running, and joining triathlons. But it wasn't until 2014 when Connie finally decided to get her health back on track as well. With the help of his coach, Richard designed a running program for Connie—and signed her up for her very first marathon.

"In terms of maintenance and time management, running is easier," she says.  "He's the one who signed me up sa TBR [The Bull Runner Dream Marathon]. So wala na akong naging choice." Connie started running three times a week, and strength-training twice a week. She also changed some of her eating habits. "Colored drinks yung first na tinanggal ko. I also cut down on carbs and chips kasi mahilig ako dati," she says. "From 75 kilos [165 pounds], I went down to 55 kilos [121 pounds]. Naging regular na din yung period ko."

ADVERTISEMENT - CONTINUE READING BELOW

What other parents are reading

A happy suprise
Connie successfully ran her first marathon in February 2015 with a time of 5 hours, 41 minutes. "After the first loop [21 kilometers], my husband was waiting for me," she recalls. "Umiiyak na ako, kahit hindi pa ako tapos. But I know matatapos ko kasi feeling ko sa katawan ko, okay pa, wala pang masakit sa akin eh. Nakita ko na kakayanin ko."

A month later, Connie joined her husband in Subic, where he was participating in a triathlon. It was also an opportunity to celebrate their anniversary. "Doon yata nabuo yung second baby," she laughs.

The couple were shocked when they found out a few weeks later that Connie, already 39, was pregnant. "Nung nalaman namin, mixed emotions. We didn't know if ready kami for another baby. But of course, it's a surprise blessing." This time around, Connie did not have any problems with her pregnancy, and she continued walking around their village to keep fit.

ADVERTISEMENT - CONTINUE READING BELOW

She gave birth via CS to Matthew on December 3, 2015—eight years after having her first boy. Because she was healthier and stronger, Connie also recovered faster.




Because of her healthy lifestyle, Connie has enough energy to run, work, and take care of the two children, Christian, 8, and Matthew, 10 months (above).

ADVERTISEMENT - CONTINUE READING BELOW

"Dati after ko manganak from CS, after two or three days pa ako nakatayo. But for this one, next day, nakatayo na ako." Connie went back to running two months after she gave birth. With her fit and healthy lifestyle, who knows? She may even get pregnant again in the future. She says, "If God blesses us with one more, then we will be very happy with that blessing."

What other parents are reading

Health check
Connie gives the following tips for getting pregnant and being healthy:

Eat right. "Science can help, but you need to have a healthy lifestyle. Change your eating habits and start exercising." 

See your OB-GYN. "Nung dalaga pa ako, I thought part lang ng pagdadalaga yung irregular period, pero hindi pala. Visit the doctor more often. It would help to know what's going on."

Know your priorities. "When you prioritize, it's easier to decide kung ano talaga ang gagawin mo. My husband and I decided to settle down in a company where we would have time for the kids and running."

ADVERTISEMENT - CONTINUE READING BELOW

Have a strong support system. "Ang importante, my mom was with us. She took care of my son while I was training for the marathon."

This story originally appeared in the October 2016 issue of Good Housekeeping Philippines magazine. Minor edits have been made by the Smartparenting.com.ph editors.

Trending in Summit Network