Women Who Had Miscarriages Feel Angry and Doubtful: We Blame Ourselves

We honor the moms who went through pregnancy loss, and those who still yearn to be mothers despite it.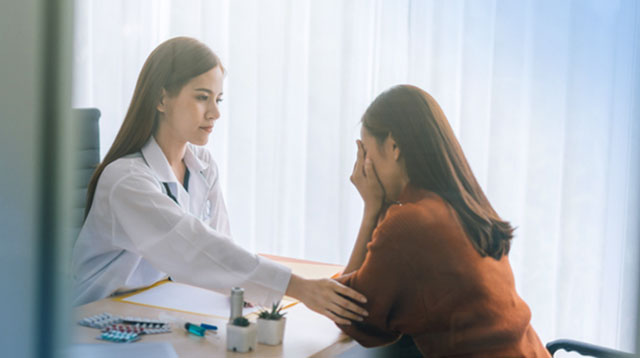 October marks Pregnancy and Infant Loss Awareness Month in many countries around the globe. I feel extra emotional whenever I see posts from women who I know have suffered from a miscarriage or who have lost their babies. The pain is just too real, and the journey can be isolating.

In my book, Lost but Found, I had bared my soul and told my story when I lost Basti and Basti (my angel babies). I lost my first pregnancy at five weeks and my second, during the tenth week. My husband and I went through hell and back, almost at the brink of annulment. I had bouts of depression: hating God, hating myself, hating my husband, and everyone around me.

I was so lost, and it didn't help when people tried to console me with "just try again." (Read more about her motherhood joourney here.)




When one goes through a miscarriage, we just do not lose our baby; we lose the dreams that came with that pregnancy – the crib we were supposed to paint baby blue, the labor of love we imagined we would dedicate ourselves to through breastfeeding our little one, the nutritious food that we would delicately prepare when they start eating. These lost dreams bear the same weight as lost realities, but more than that, these losses create heart-shaped holes that no one can ever fill.

"I felt angry, but I didn't know where or to whom I should be angry at."

Barbie Buenaobra, a good friend of mine and also an group administrator of the Facebook Support Group for APAS and RID patients, shares about losing her baby, Sky. "I felt angry, but I didn't know where or to whom I should be angry at. I felt lost as to why it took us a long time to have a baby, and it was taken away from us so early. I tried to exercise and eat well prior, and during the time I got pregnant. I ate all the veggies and fruits that I hated so much. I took all the needed checkups and vitamins. But just like that, I still lost my baby."

Regrets and resentment always cloud the hearts of women who suffer through miscarriages. We blame ourselves, going through all the possible reasons over and over again on why we miscarried. Were we not careful? Did we deserve to experience this pain?

ADVERTISEMENT - CONTINUE READING BELOW

"I always asked myself why I could not keep my baby. It's the worst thing that can happen to a parent."

Mel Cabello, who lost three pregnancies, recalls, "I always asked myself why I could not keep my baby. It was very painful to lose a child, even if they were still in their first trimesters when I lost them. It's the worst thing that can happen to a parent."

While more women speak up about their pregnancies now, it is still taboo to most. People always assume that it is the fault of the mother why she cannot keep her babies, as if any mother would intentionally bring harm to that seed of life growing inside her tummy.

In the past, recurrent pregnancy losses are attributed to reasons such as 'mababa ang matres,' or 'bugok lang talaga yung itlog,' 'matanda ka na' or 'hindi talaga para sa'yo.' These comments actually cause more harm than good.

What other parents are reading

But for many of us, we soldier on despite the pain, the negative comments from friends and family, the emotional and physical toll on our body — all for want of that little bundle of joy. Despite all these, the heart of a mother always sees the light at the end of the tunnel.

With the advancements in the medical field, more and more women who suffer from recurrent pregnancy losses are diagnosed with the right condition. One reason could be attributed to reproductive-immune problems where one's immune system attacks the baby, thinking it is an altered self or, worse, a cancer cell that it needs to annihilate. The good thing about this is that with the right treatments, the chances of having a successful pregnancy despite having repro-immune disorders are high.

When I hear women lament about their situation, I always comfort them with the fact that, at least, we know the problem and we can take steps in addressing that problem. We just do what we can do and let God take care of the rest.

As of today, Barbie is now a happy mother to two rainbow babies, Bea and Lexus, and Mel is the doting mother of Lukas. As for myself, my life is ever complete with my Santiago and Lucia Gabrielle.

ADVERTISEMENT - CONTINUE READING BELOW

Balot Del Rosario is the author of the book, Lost but Found (available here), and the mom-of-two behind the blog Chronicles of The Happy APAS Mama (www.callmebalot.com).

Know more about reproductive-immune disorders here.

Trending in Summit Network