Baby-making Talk With The Hubby: Explaining How Ovulation Calendars Work

Thought you didn't need to have a sex talk with your hubby? Recheck his baby-making knowledge.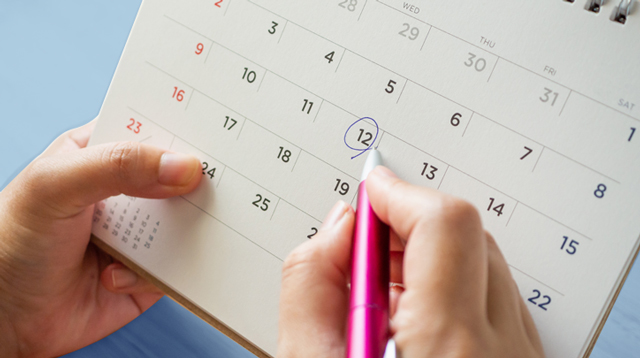 I didn't know trying for a second baby would be more difficult. I unexpectedly became a mom for the first time 15 years ago. I finally married, I questioned my readiness to have another child. I doubted my capability as a mom and often asked myself if I really want to bring another child into this world.

My husband and I have been trying to have a baby for three years now, and I know in my heart that I wanted to have just one more successful pregnancy before I give up my role in procreation. I don't want a big a family, I want only one more, or two if I get pregnant with twins.

We decided to try for a baby as soon as possible after the wedding. But I was surprised to find out that my husband, who's a self-declared genius (to be fair, many other peers see him as one and say it to his face) didn't know a critical aspect of human reproduction. He thought we should just have sex as many times as possible to conceive.

I don't know what topics about female reproductive health private all-boys schools teach their students. Maybe they focused on telling them not to engage in premarital sex or to use a condom to prevent pregnancy. It was then my pleasure (and bragging right!) to school my husband.

Women have higher chances of getting pregnant when she and her partner engage in sexual intercourse during ovulation or fertile days. Ovulation happens when a mature egg is released from one of a woman's ovaries and moves to the fallopian tube where it can be fertilized by a sperm. A woman's fertile days cover a few days before ovulation until a day after it.

ADVERTISEMENT - CONTINUE READING BELOW

Not that it would stop up from getting busy under the sheets on days that I am not fertile, right? We're still honeymooners then, after all. The Smart Parenting's Ovulation Calendar helped me explain to him how successful baby-making actually works. (Yes, we're technically already parents, and we read Smartparenting.com.ph.)

screenshot from SmartparentinG.com.ph

It was easy enough for my husband to understand and navigate. All he needed was the date of the first day of my last menstrual period and my cycle length. I taught him how to do it himself, so he doesn't have to always ask me lots of questions like a toddler asking, "Are we there yet?" during a road trip.

Once you enter the required data, the Ovulation Calendar shows a woman's fertile days and her estimated ovulation day, since it's hard to predict. The calendar also marks when a woman's next period should arrive, one piece of information my husband delights himself with leveled expectation and anticipation. It also tells when a woman may take an at-home pregnancy test in case her period does not come, one thing my husband has permission to nag me about.

CONTINUE READING BELOW

Recommended Videos

screenshot from Smartparentin.com.ph

The Ovulation Calendar also explains all of the data it has presented through links to articles by Smart Parenting. Okay, the articles practically did the job of schooling my husband for me.

Using an ovulation calendar is more crucial than we thought

At first, I'd patiently wait five to seven days before taking a pregnancy test for more accurate results. However, knowing when to test, even if it's a day after my expected period, has proven to be more crucial in our situation.

We had already gotten twice and lost both pregnancies seven to nine weeks into it. Our third miscarriage happened after we confirmed that we have a reproductive-immune disorder (RID). My Lymphocyte Antibody Test (LAT) confirmed that we are positive for Category 1. (Read more about RIDs here).

Here's the way our perinatologist explained our condition. Our tissues are too compatible that my immune system is not recognizing the growing placenta as such, but as a foreign body that it needs to eliminate. The placenta should be fully developed by Week 8 into the pregnancy, and the fetus couldn't survive without it. It's the reason my pregnancies couldn't progress after that timeframe.

ADVERTISEMENT - CONTINUE READING BELOW

I'm not sure if it was my miscarriages, my age, or stress, but my usually normal and on-the-dot 30-day cycle is passed behind me. The Ovulation App became an essential tool for us to know when to have sex, though we try not to let it restrict our fun in the bedroom. Also, with our condition, it's vital to take a pregnancy test as early as possible, even if the test kit shows a faint positive.

The treatment for Category 1 RID is Lymphocyte Immunization Therapy (LIT). It's a procedure wherein white blood cells from my husband are injected into my skin to assist my immune system in developing tolerance to support my pregnancy instead of attacking it.

Since my husband and I can conceive naturally, my doctor opted for LIT to be performed as early as we test positive for pregnancy. The number of LIT therapies I would need will depend on how my pregnancy progresses. They're usually all performed only during the first trimester to help my body produce a fully-functional placenta.

Many times my husband and I had wished it was as easy as having sex many and any number of times we want to be able to conceive. We didn't expect baby-making to be this complicated for us. Knowing that I've gotten pregnant and had given birth before and that he had gotten me pregnant three times are, I guess, the positives we cling to for hope that our rainbow baby will arrive one day. I'm also glad there are things like ovulation apps and calendars that can help.

ADVERTISEMENT - CONTINUE READING BELOW

What other parents are reading

Celebrate your pregnancy milestones!


Enter your details below and receive weekly email guides on your baby's weight and height in cute illustration of Filipino fruits. PLUS get helpful tips from experts, freebies and more!

You're almost there! Check your inbox.


We sent a verification email. Can't find it? Check your spam, junk, and promotions folder.
Trending in Summit Network