Kris Bernal On Pregnancy: 'Hay Nako! Pare-Pareho Lang Tayo! Not Because I'm An Actress, It's Always Beautiful'

Plus, the soon-to-be mama shared how she's controlling herself from splurging on baby items.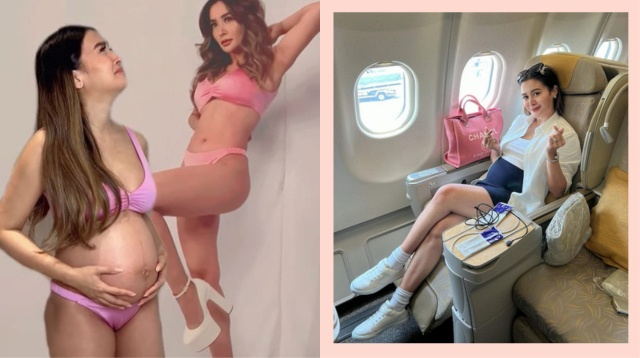 While pregnancy is considered a blessing and happy news for most women, actress Kris Bernal sheds light on the importance of discussing the challenges that come with it.

In an exclusive interview with Smart Parenting, the soon-to-be first-time mother opened up on why she has been talking about the ups and downs of pregnancy on social media. 

"I think it's important also that we acknowledge the difficulties of pregnancy because not all women naman experience butterflies and rainbows throughout their pregnancy," Kris said.

She further explains, "Actually the reason why I wanted to share the difficulties of pregnancy is because I wanted to let other pregnant women know that you're not alone. I'm also experiencing the same, not because I'm an actress it's always beautiful, it's always masaya, but I also have my struggles and it's normal because you're human."

READ ALSO: Kris Bernal Surprised To Find Out Baby's Gender, 'Hindi Pala Totoo Yung Mga Haka-Haka!'

Sharing her pregnancy struggles

On social media, Kris has been documenting her journey into motherhood, including experiences having nausea and weird cravings. In a recent Instagram reel that garnered 16 million views and counting, Kris humorously portrays her longing for her pre-pregnancy body. However, some people misunderstood her intention.

In the post, Kris shared "a little fun bump update." She said her linea negra is starting to become more visible, and she can barely see anything beneath her belly. If she's not experiencing pregnancy insomnia, she is having the wildest, weirdest dreams of her life. 

ADVERTISEMENT - CONTINUE READING BELOW

"I was actually also surprised with the changes, not just my life as a whole, but emotionally, physically, mentally ang daming nagbabago," she said.

READ ALSO: 'Felt Cute, Might Throw Up Later': Kris Bernal On Dealing With 'Nausea All Day, Every Day'

On being a blooming pregnant woman

When receiving compliments about her pregnancy glow, she dismissed it, saying, "Hindi totoo yun! Naka-makeup lang ako, pero as a pregnant woman, I'm also experiencing the ups and downs of pregnancy, so when people tell me, ang ganda mo ang blooming mo, hay nako! Pare-pareho lang tayo! May mga araw na haggard din ako, may mga araw na hirap din ako, but most days, happy and feeling blessed talaga," she told the crowd during the Ready, Safe, Go event at the SM Megamall last May 13.

Currently in her sixth month of pregnancy, Kris expresses gratitude and admiration for all mothers. She acknowledges the journey from conception to birth and the nurturing and growth of a child, paying tribute to the incredible efforts of moms. Kris eagerly awaits experiencing all these moments herself.

As a strong, independent, and workaholic woman, Kris said she plans to go back to work after giving birth, but she emphasizes that her baby girl will be her priority.

On having a support system

Approaching her third trimester, Kris said she's been busy and excited about completing her list of baby items. She has been asking her followers what products to buy and invest in since baby gear doesn't come cheap!

"I make sure I look for products that are best for babies, I look for high-quality products, long-lasting, and most especially safe and designed for children," she told Smart Parenting.

Kris also underscores the significance of having a supportive partner like Perry Choi throughout her pregnancy journey. She emphasizes the need for not just giving in to pregnancy cravings but also emotional support and constant presence.

"To all pregnant women out there, you are amazing, we are capable of creating a life and growing a human inside us. Always stay positive no matter how hard it is, it is going to be okay, it's going to be worth it in the end, and our top priority now is a healthy baby. The sacrifices, it's there, once we see the baby, it's all going to be worth it," Kris concludes.

If you need a support system on your parenthood journey, join our Facebook group, Smart Parenting Village. We got you, Kris and Perry!

Trending in Summit Network