Buntis Ba Ako? How To Spot The Difference Between Your Period And Having A Baby

The signs can be tricky, but here's how you can distinguish each.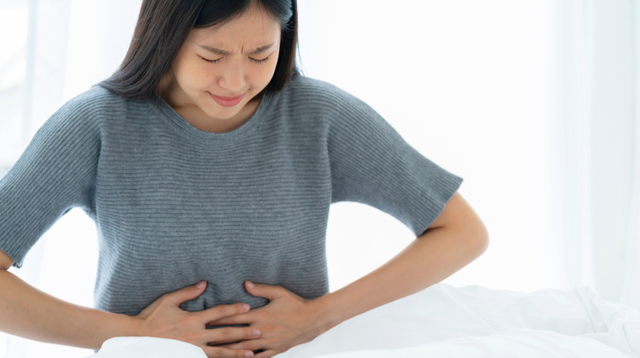 Your breasts are feeling tender and later on, you feel your stomach cramping. It's natural to think, "Oh, it's that time of the month again!"

But did you know that the symptoms of pregnancy, PMS, and your period are similar? If that's the case, how can you tell the difference? We're here to help.

What is premenstrual syndrome or PMS?

Most women will associate it with mood swings before or during menstruation, but PMS does not just refer to being cranky before your period. It is actually a condition and a collective term for all the physical and psychological symptoms you feel before you get your menstruation. These symptoms usually stop when your period starts.

While 90 percent of women are believed to have a few symptoms related to their period, true PMS is more severe and will likely occur in 20 to 30 percent of women, according to MedicineNet. Symptoms of PMS include the following:

1. Breast pain

During PMS, breast swelling and tenderness can occur during the second half of your menstrual cycle. Tenderness ranges from mild to severe, and is usually the most painful right before your period. Women in their childbearing years tend to have more severe symptoms.

Breast tissue may feel bumpy and dense, especially in the outer areas. You may have a feeling of breast fullness with tenderness and a heavy, dull pain. The pain often improves during your period or right after, as your progesterone levels decrease.

2. Mood changes

You may be irritable and a bit grouchy during PMS. You may also have crying spells and feel anxious. These symptoms typically go away after your period starts.

ADVERTISEMENT - CONTINUE READING BELOW

Getting some exercise and plenty of sleep may help take the edge off of your moodiness. However, if you feel sad, overwhelmed, hopeless, or lack energy for two weeks or more, be sure to talk to your doctor.

3. Fatigue

Tiredness or fatigue is common during PMS, as is trouble sleeping. Getting some exercise can help improve your sleep and lessen your fatigue.

4. Nausea

You shouldn't expect nausea or vomiting if your period is late but some digestive discomfort such as nausea can accompany symptoms of PMS.

5. Food cravings and aversions

When you have PMS, you'll likely notice that your eating habits change. You may crave chocolate, carbohydrates, sugars, sweets, or salty foods. Or you may have a ravenous appetite.

6. Cramping

If you have PMS, you may experience dysmenorrhea, which are cramps that happen 24 to 48 hours before your period. The pain will like decrease during your period and eventually go away by the end of your flow.

Pregnancy Symptoms

How soon do pregnancy symptoms start? It's easy to overlook being pregnant during the first few weeks because you might be thinking that you are about to get your period. Funny enough, the symptoms mentioned above may become pregnancy symptoms, too.

The only way to find out if you're expecting is through a pregnancy test. However, there may be specific and unusual early signs of pregnancy that you can look out for.

1. Early pregnancy discharge

If you are pregnant, the increase in hormones may cause you to release a sticky, white, or pale-yellow substance. This occurs as early as one to two weeks after conception. However, not many women notice it.

CONTINUE READING BELOW

Recommended Videos

Vaginal discharge is common in pregnant women. It increases during pregnancy to prevent infections as your cervix and vaginal walls soften. The discharge starts from the first trimester and lasts until you give birth.

2. Increase in body temperature

One of the moms in our parenting community, Smart Parenting Village, shared in a previous SmartParenting.com.ph article that one symptom that made her believe she was pregnant was that she felt hot all the time. 

"Super lamigin ako, then I felt something is different kasi sobrang init ng pakiramdam ko. Yung mga kasama ko nilalamig na pero ako nagpapaypay pa."," shares Jaz Carpio Pulvera.

Your body has this thing called the 'basal body temperature'. It's the slight rise in your body temperature when you first wake up in the morning after ovulation. It apparently stays like that until your next period starts. So, if you continue to experience having elevated body temperature for two weeks, there is a possibility that you may be pregnant.

3. Headache, constipation, heartburn, and… tasting metal?

Here are more symptoms that moms felt which clued them in on their first month of pregnancy symptoms. 

"Yung napansin ko na bakit ako laging nagpi-pee lalo na 'pag madaling araw. It was very unusual for me." — Cloud Pael

"Headache kahit hindi puyat, gutom, or stressed. Then after a few days para na akong lalagnatin. Nawala lang nung nakapagpa-checkup na ako at nakapag-take ng vitamins and folic acid. After nun lihi stage naman, mas malala pa pala yung pakiramdam." — Joya Tardaguela – Lagrason

ADVERTISEMENT - CONTINUE READING BELOW

Sounds crazy? That's how your hormones change when you get pregnant.

Due to hormonal and blood volume changes during pregnancy, you may experience headaches. You may also experience cramps on either side of your lower abdomen.

The never-ending trips to the restroom to pee? It can happen as early as four weeks after conception, according to WhatToExpect. That's because your bladder is being pressed by your growing uterus. 

Another way your hormones affect your body is that it makes you feel bloated. The hormonal changes can lead to constipation. Your digestive system also slows down during pregnancy, providing nutrients just enough extra time to be absorbed into your bloodstream and reach your little one.

Changes in your hormones also affect the valve between your stomach and esophagus, which becomes relaxed during pregnancy. This can cause stomach acid to leak into your esophagus, causing heartburn.

You may also experience having metallic taste called 'dysegusia'. There is an increase in estrogen and progesterone during pregnancy, which can lead to changes in taste for many pregnant women, including you. (Find out how you can get comfort from pregnancy symptoms here.)

4. Dizziness

One of the earliest symptoms of pregnancy is dizziness. During pregnancy, your blood pressure drops and your blood vessels expand, which causes the dizziness.

Consult your doctor if you experience severe dizziness coupled with vaginal bleeding and severe abdominal pain. It could be a sign that your fertilized egg has implanted outside the uterus, commonly known as ectopic pregnancy.

ADVERTISEMENT - CONTINUE READING BELOW

5. Weaker immunity

Did you ever wonder why pregnant women had the same restrictions as children and senior citizens during the lockdown? That's because pregnancy lowers your immunity, making you more likely to develop illnesses like cough, colds, and the flu. 

What are some unusual signs of early pregnancy? 

To know the key differences in the symptoms that both PMS and pregnancy share, you must remember the following (we included some things that moms said about their first month of pregnancy, too!).

PMS symptoms stop as your period starts. Pregnancy symptoms last longer than the usual PMS.

"Since irregular yung period ko hindi ko agad naisip na buntis ako, pero nakaramdam na ako ng kakaiba sa katawan ko, like parang lumaki boobs ko, then antukin ako masyado, and lastly tamad na tamad akong maligo." — Vhengskie Majistrado

There's no bleeding or spotting during PMS.

Period flows are noticeably heavier, and may last up to a week. On the other hand, spotting may occur as one of the first signs of pregnancy, which lasts for only a day or two, and usually not heavy enough to fill your sanitary pad or tampon.

"Cramps sa puson na di ko maexplain. Mas masakit kesa mentrual cramps and two weeks nang ganun tapos 'di pa ako dinadatnan." — Jennina June Leira Lanza-Brosas

Your areolas darken.

If you are pregnant, any changes that happen to your breasts will stick around rather than disappear before your period arrives. According to WhatToExpect, "your areolas — the circles around your nipples — will darken in color and increase in diameter."

ADVERTISEMENT - CONTINUE READING BELOW

The tiny bumps in your areola may also grow larger. These are the glands that produce the oils that will lubricate your nipples and areolas in preparation for breastfeeding.

You might be more sensitive during pregnancy.

Although you may have highly specific, but more intense cravings like you did when experiencing PMS, you may be totally aversive to certain smells and tastes — even the ones you loved before —  when you are expecting. 

"For someone who loves to cook, natotolerate ko halos lahat ng amoy, except sa amoy ng durian. Pero that time, kahit amoy ng roast chicken or amoy ng pinipritong French fries lang e nasusuka ako." — Vanessa Palad-Salosagcol

Pregnancy cramps will feel the same as period cramps, but they will be on your stomach or lower back instead.

These cramps can last up to months when you're pregnant.

"Cramps sa puson na di ko maexplain. Mas masakit kesa mentrual cramps and two weeks nang ganun tapos d pa ako dinadatnan." — Jennina June Leira Lanza-Brosas

Click here to learn more about early signs of pregnancy and its stages.

What other parents are reading

Celebrate your pregnancy milestones!


Enter your details below and receive weekly email guides on your baby's weight and height in cute illustration of Filipino fruits. PLUS get helpful tips from experts, freebies and more!

You're almost there! Check your inbox.


We sent a verification email. Can't find it? Check your spam, junk, and promotions folder.

Trending in Summit Network