Erika Padilla-Cariaso: Yes to Epidural if Labor Will Be Painful

We sat down for an exclusive interview to talk about birthing plans, how she met Jeffrey Cariaso, and their forthcoming church wedding.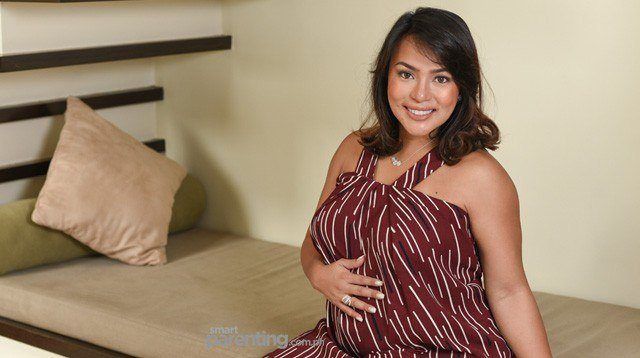 This multi-talented woman may be a familiar face to many for her stint in primetime TV teleseryes, but befor Erika Padilla-Cariaso became famous as "Betty Mae' in ABS-CBN's Pangako Sa 'Yo, she has long been making a name for herself as a yoga instructor, a model, a host, and a Philippine Basketball Association (PBA) courtside reporter.


Erika's love for basketball since she was young paved the way for a career where she met the love of her life, former Alaska Aces star player and now assistant coach, Jeffrey "Jeff" Cariaso, who is 14 years her senior. Two years after she started dating the divorced PBA star, who has two biological and two adopted kids with his former wife, Erika found herself pregnant and embarking on yet another role: motherhood. Is she prepared for it?


SmartParenting.com.ph sat down for an exclusive interview with the fresh-faced morena to talk about birthing plans (there is nothing specific at the moment), how their romance led to "I do's" (they wed in civil rites in June in the U.S.), and their forthcoming church wedding.  




ADVERTISEMENT - CONTINUE READING BELOW

SP: Was the pregnancy planned or was it a surprise?
Erika: The pregnancy was a surprise because I'm mildly polycystic. So for the longest time I've been taking the pill to regularize my period. Earlier this year, I went to the States to attend a wedding, and maybe because of the schedule, I wasn't able to take the correct number of pills at the right time so it kind of disrupted my cycle. When I got home, I started feeling strange. I was feeling acidic and gassy. I went to the hospital and found out I was five weeks pregnant. 

SP: What other symptoms did you feel that made you take a pregnancy test? 
Erika: I just started burping and burping incessantly. I thought I had ameobiasis or something like it because yun nga, it's been weird. I recently interviewed this basketball player who just got amoebiasis so I started to think, "Did I drink the right water when I went to the province? Should I just have taken mineral water instead?" I had no inkling at all that I was already pregnant simply because I was on the pill up until I went to the hospital. 

SP: What were your first thoughts when you learned it was positive? 
Erika: At the hospital, the nurse told me that it's standard operating procedure to include the pregnancy test whenever women came in and complained of stomach discomfort. I was really shocked when I saw the results. Of course, it was a very good surprise -- I love babies, I love playing with them. So when I found out that I was pregnant, the very first thing that popped into my head was: "I will now have my own to play with." That was so exciting, but I also had mixed feelings because hours before I went to the hospital, I had just brought my husband (my boyfriend at that time), Jeff, to the airport. As people are aware, Jeff already has kids, and the purpose of his trip was to visit them in the U.S. [where they reside]. After finding out we were having one of our own, I thought how should I tell him. When was a good time to tell him? I just wanted to be able to do it properly without preempting anything.

CONTINUE READING BELOW

Recommended Videos

SP: So how did you finally tell Jeff? 
Erika: Well, I had a good number of hours to think about it (because of the time difference). I decided I should just tell him. It was best for him to know right away. Number one, I could already see myself with him in the future and having a child with him was something we were considering. Number two, since it has happened, it was something he would have to face at some point. 

When he arrived in the U.S., he called me up, "What did the doctor say?" There was no buildup at all -- I just told him, "Okay, I went to the hospital, and I'm five weeks pregnant." Ganun lang, I said it as plainly as that, and he thought I was joking. When he realized I wasn't, he told me later that he had to stop whatever he was doing to absorb the information. 

ADVERTISEMENT - CONTINUE READING BELOW




SP: Speaking of Jeff, can you tell us how the two of you met and how you got together?
Erika: Jeff and I met at PBA. I was a courtside reporter, and he was a coach for one of the professional teams in the league. His first year as an assistant coach was also my first year as a courtside reporter. I knew of him as a personality because he is one of the PBA's legends, he is one of the well-known names in the league. As a courtside reporter, we'd go to [and interview] the head coach directly, so I didn't have a lot of interaction with him for the first three years. 

In 2014, Jeff was given the opportunity to become the head coach of Barangay Ginebra -- by the way, when I was younger, I was a huge fan of Ginebra -- so that's when I got to interview him. I found him to be very eloquent. He actually made my work a lot easier because he explains things so I don't have to ask a lot of questions anymore. He has a good head on his shoulders, and he really stood out from the people I interviewed. I found that attractive.

ADVERTISEMENT - CONTINUE READING BELOW

It became clear to me that he probably was interested as well when he invited me to the opening of one of his businesses, so, I went, and we went out after. Kinikilig ako. It was fun! From then on, he didn't stop asking me out. He didn't stop asking me to have dinner with him. Tinuluy-tuloy niya ako for one week. There was no reason for me to say "No" so, yeah, I said "Yes"! 

What other parents are reading

SP: So you learned that you were pregnant. What changes did you feel in your body?
Erika: Fortunately, I did not have morning sickness, but I wouldn't say it wasn't difficult at all. I had the sleeplessness. I also had headaches here and there but nothing too bad. Ang pinaka-reklamo ko was the burping. It's the most apparent change; up until now, I'm very acidic. I realized the things I didn't take care of before getting pregnant were the things I need to deal with now that I am pregnant. I used to take lots of coffee, and I used to eat spicy foods. I'm very lucky it's not too complicated -- I wasn't asked to stay in bed all the time. The baby is healthy and normal. I'm still teaching yoga up to my third trimester. I could do back bends up until my second trimester. I'm still doing a shoot now, and I'm about to give birth in two months. I'm just lucky that it wasn't too difficult, but it wasn't that easy either.

ADVERTISEMENT - CONTINUE READING BELOW

SP: Did you have any cravings, or food that you suddenly have to avoid because you're pregnant?
Erika: During my second trimester, I had an appreciation for pineapples -- it wasn't too sweet, and it was not too sour either. I ate any fruit, any vegetable, but I was particularly drawn to pineapples. 




SP: What has been the most challenging part of your pregnancy? 
Erika: The waiting. Aside from the fact that you still feel strange sensations up until you give birth, there's also the emotional part of it. Parang you're getting closer pero ang tagal pa and then when it happens ayun na, you're already a parent. Mas nagiging emotional ka rin kasi you're thinking of a lot of things. Pagod ka physically, but at the same time you're already starting to think of how effective will I be as a mother, as a parent and aside from that, as a wife, on top of all the other roles I'm already playing.

ADVERTISEMENT - CONTINUE READING BELOW

SP: What is the one thing you would not miss about the pregnancy?
Erika: The numbing of my hands. The burping was okay because when you release the burp it makes you feel good. In the beginning, parang feeling ko there was something wrong. I wanted to run, I wanted to sweat, I wanted to do something to get the feeling out. Minsan di mo alam, ilalagay ko ba sa malamig na tubig or sa mainit? My doctor said [this was caused by] nerves being pressed. As you get bigger, may naiipit na nerves.

SP: On the other hand, what are you going to miss the most about the pregnancy?
Erika: The movement of the baby, feeling the baby moving inside of me. It's been said time and again how miraculous pregnancy is because a woman's body is a nest for that new life, and it's such a blessing that I'm actually able to feel it in the healthiest way possible.

What other parents are reading

SP: Do you have a birthing plan?
Erika: Hopefully, 'pag bumahing ako lumabas na yung bata (laughs). Wala. A lot of people would actually say, "Are you doing Lamaze?" Uhm, no. Hopefully my yoga breathing, my Ujjayi breathing would be enough. My sister had an easy delivery with her eldest, and I'm hoping for the same. Mag-eepidural ba ako? Yes, if it's painful, I'm not gonna limit myself. I'm not gonna inhibit myself from the comfort of epidural but, again, hopefully yung isang ire ko, enough na to really get the baby out. There's no specific plan for me. Hopefully, I just do it normally.

ADVERTISEMENT - CONTINUE READING BELOW

SP: How is Jeff preparing for the baby's arrival?
Erika: He's working hard! (Laughs) He's very excited, that I would say. I think the excitement of Jeff is not just about having another baby but the fact that this baby represents both of us. He is such a planner. He's been thinking about moving to another place and how [things] should be when we get married.  

SP: Can you share with us any details about your forthcoming church wedding?
Erika: The church wedding has always been part of the plan. We are looking at [having it in] July 2018, primarily because that's the month that his kids can be here because that's summer in the States. Aya and King will have a big participation in the wedding because that is also a big thing for their dad. We've already reserved a church, other details have already been started, and Jeff just wants me to update him on the expenses.




ADVERTISEMENT - CONTINUE READING BELOW

SP: As a first-time mom, how are you preparing not just for the arrival of the baby but also for the new role?
Erika: I think the best preparation that I'm doing right now is just to remind myself that nothing in life will be perfect. You can never be too ready for anything. You just have to step up to the plate when things happen. Right now, we already have clothes for the baby. I'm ready to be puyat because I'm used to that as an actress. I've been taking care of my businesses for the financial part. I'm addressing the little things already. Inaayos ko na yung educational plan, inaayos ko na yung insurance to make sure that the day part of being a mother, of being a parent is already taken care of and that will allow me to become more reflective of how I can be as a mother.

SP: Have you already chosen a name for the baby?
Erika: More or less. I would say that we are about 80% sure that we're sticking with "Grayson Jet." Number one, we came up with "Jet" because "The Jet" is Jeff's monicker when he was still playing. Initially, when we thought the baby would be a girl, we thought of naming "Gloria" in honor of Jeff's mom who already passed. And since it's a surprise baby, we wanted "Emmanuelle," parang "the good news," something related to Jesus, so we were thinking, "Star." Estella Gloria. But, to our surprise, the baby turned out to be a boy, and we wanted to stick with a name that starts with the letter "G" not only because of Jeff's mother, but also because my mom's name is "Grace." "Grayson" sounds interesting and it's nice to be paired with "Jet."

ADVERTISEMENT - CONTINUE READING BELOW

SP: Since we're talking about you becoming a parent, and Jeff already has kids, what is the dynamics between you and his kids?
Erika: I think it's really a very interesting situation for us. Definitely, ours is not the conventional setup. But before getting into this, there were a few things I was sure of: number one, it was very clear to me that the first person in this context that I have a relationship with is my husband, and my respect for him is tantamount to also respecting the people and the situations that are a part of him. It's hypocritical if you say that I love only this person but I cannot take this because I realize that whatever made me attracted to my husband are all of these things that made him who he is. My point is, because of the respect I have for Jeff, I am able to look past the situation of him having children prior to being with me.

ADVERTISEMENT - CONTINUE READING BELOW

In the same way, I'd like to think that because of the love that Jeff's kids, Aya and King, have for him, they would also respect the choices that he will make, and trust that there is nothing he would do to hurt them. Being with Jeff for two years now, we've hurdled a lot together. It's a process.

But my decision to be with this person should not trample my own dignity and my own stand on things. If I see something wrong -- even if it was my pamangkin or my brother or a pinsan or the kids of my husband -- I will let you know that there is something wrong. It's just a matter of how to relay it. And, of course, the first person I will talk to is my husband because, between the two of us, he is the proper person to [do it].




ADVERTISEMENT - CONTINUE READING BELOW

SP: Knowing that your situation is not the most conventional, did you have fears coming into it?
Erika: (tears up) Well, you know, I don't think any woman really goes out of her way to look for an ex-married person to [have a relationship] with. But, situations happen, and it's not a bad thing. Decision ko naman ito, e. In anything that you do in life, you have a choice and whatever choice you make, you stand by it. 

On a personal end, you can't help but sometimes think [of the reality]: you are the second wife. There are a lot of things [your husband] was already able to experience: being married, having the first child, having the first this and that. You can't help but think how the second one will compare -- and it's not a matter of who does it better -- it just isn't the first time anymore. But I realize that being in this situation is a gift, because it allows me to see how strong I can be as a person and of how strong I can be as a woman for this man that I chose to be with. I may not be his first one but because I love my husband so much I'm confident enough to say that he will be my first and last. 

ADVERTISEMENT - CONTINUE READING BELOW

Non-Instagram photos by Lai de Guzman. Hair and makeup by Anne Castano. Styling by Sam Policios. Clothes from Great Expectations Maternity.

Shot on location at Picasso Boutique Serviced Residences, Makati City, in partnership with Travelbook.ph.

Celebrate your pregnancy milestones!


Enter your details below and receive weekly email guides on your baby's weight and height in cute illustration of Filipino fruits. PLUS get helpful tips from experts, freebies and more!

You're almost there! Check your inbox.


We sent a verification email. Can't find it? Check your spam, junk, and promotions folder.
Trending in Summit Network