Pregnancy Symptoms Week 1: Why You Won't Feel Them Yet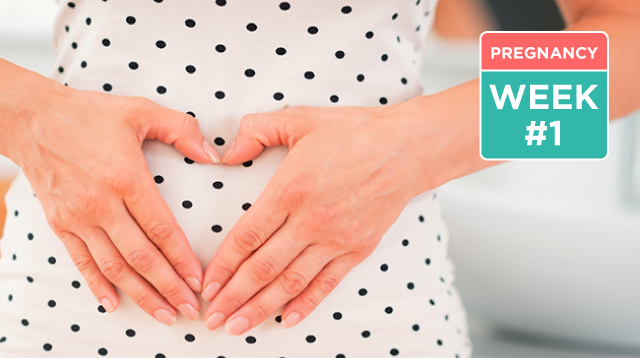 It's a bit inaccurate to talk about pregnancy symptoms at week 1 because there is no pregnancy to speak of yet. In fact, it may still take two to three weeks, depending on your menstrual cycle, before you can actually conceive. What the first week of pregnancy actually pertains to is the week immediately after the first day of your last menstrual period. Week 1 means your body is getting ready for ovulation, your fertile window. 

Since it's challenging to pinpoint exactly when conception occurs in the womb, doctors use the first day of a woman's last menstrual period (LMP) to compute for the estimated due date (EDD) of the baby's arrival. This is why a pregnant woman's due date is an estimate — she can go into labor three weeks before her EDD or two weeks after.

Pregnancy signs Week 1

When your body is gearing up for ovulation, it's encouraging your brain to produce follicle-stimulating hormone (FSH), which stimulates egg-containing follicles in your ovaries to mature. In a week or two, your body will also produce luteinizing hormones (LH), which helps the most mature egg in your ovaries to burst through the ovarian wall. Once a sperm has set its sight on this egg, and it is fertilized, then your body can begin to make a baby!

As the follicles mature, it will result in a surge of the hormone estrogen in your body, signaling your uterus to start thickening its lining or the endometrium to prepare itself for implantation if conception occurs in the next few weeks. In case, your egg is not fertilized by a sperm, you'll shed your lining in your next period.

ADVERTISEMENT - CONTINUE READING BELOW

Pregnancy symptoms Week 1

There is no fertilized egg or embryo yet so you won't experience any type of body changes or signs of pregnancy except for those that typically happens when you've finished a menstrual cycle. If there is an early symptom of pregnancy (and that is a big if), it will occur after two to three weeks when you've conceived, but these symptoms may also be just signs that you're about to get your next period.

The only way to get a more significant idea if you're expecting or not will be to take a pregnancy test, which will only show a definitive result at least a week after you've missed your next period. You don't need to take a pregnancy test this early. And even if you have an ultrasound during this period, there won't be much to see.

If your doctor advises you to get an ultrasound (and it will be a transvaginal one), it may be to check your overall reproductive health and to ensure there's nothing to hinder a pregnancy. With a transvaginal ultrasound, he can check on the condition of your ovaries, your uterus is clean, and your fallopian tubes are clear — all ready for fertilization and implantation.

Your to-do list on Week 1 of pregnancy

If you're getting your body ready for pregnancy, doctors highly advise the following

Lead a healthy lifestyle

Now is the time to make healthy changes to your lifestyle to prepare your body for conception and pregnancy. Reduce caffeine intake as much as you can, and quit any bad habits. Fouse on eating healthy and exercising regularly. This applies to your partner, too. 

ADVERTISEMENT - CONTINUE READING BELOW

Recommended Videos

Have a pre-conception checkup

If you've not been to a pre-conception checkup with your doctor, do so now to check for any underlying conditions that may hinder conception. If you've had your pre-conception checkup, your doctor may prescribefolic acid and other prenatal vitamins that can help your body get ready for pregnancy, so take them as directed.

Take note of your upcoming ovulation period

Take note of the date of the first day of your last menstrual period. It can also help you plot your ovulation period. You can use an app to track your ovulation period or use other methods, such as taking your basal body temperature or monitoring your cervical mucus, and more.

Time your sexual intercourse correctly

Plot the ideal time for sexual intercourse around your ovulation period. Your egg, once released from your ovary, can survive for up to 24 hours while sperm can survive in a woman's uterus for days. You need to time your intercourse around your ovulation period so that the sperm has a chance to meet and fertilize the egg. (Click here for more tips on how to get pregnant!)

Don't stress — have fun!

While the aim is to get pregnant, don't forget to have fun. It's not all about the science of conceiving a baby, but also your overall health and disposition. Stress is not ideal for babymaking, that's for sure.

More on your week-by-week pregnancy:
Pregnancy Symptoms Week 2: You're Ovulating

What other parents are reading

Celebrate your pregnancy milestones!


Enter your details below and receive weekly email guides on your baby's weight and height in cute illustration of Filipino fruits. PLUS get helpful tips from experts, freebies and more!

You're almost there! Check your inbox.


We sent a verification email. Can't find it? Check your spam, junk, and promotions folder.

Trending in Summit Network