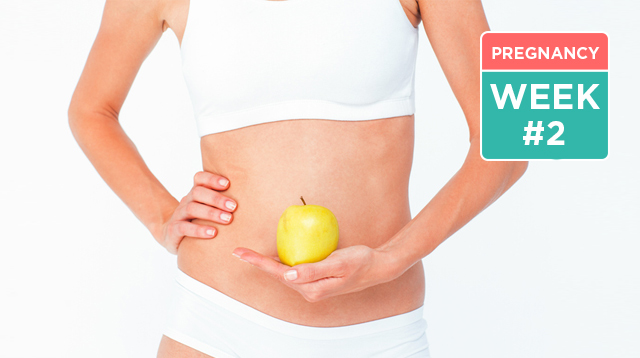 When you conceive, you actually won't know it immediately — there wouldn't even be any pregnacy symptoms in Week 2. In fact, you'll probably only look back to the first weeks of your pregnancy when you miss your period, and you're trying to remember the first day you had it.

If you're trying to get pregnant, it's essential to take note of the dates of your monthly period, which will be the basis for your estimated delivery date (EDD) when you do become pregnant. It will also help you figure out your ovulation period or your fertile window.

To compute for the dates of your ovulation, subtract 14 from the length of your cycle. If you have a 28-day cycle, your ovulation period starts on Day 14 with Day 1 as the first day of your period. You are most fertile two days before you ovulate and the day you actually ovulate.

During this period, your luteinizing hormone surges and triggers your ovary to release the egg that is most ripe to be fertilized. The egg only has 12 to 24 hours to be fertilized after your ovary releases it.

What other parents are reading

Pregnancy signs Week 2

Based on this timetable, your second week of "pregnancy" is actually just the beginning of your ovulation period. It is the time you are most fertile, and the most ideal time to have sex that will end up in pregnancy. According to The Bump, "At 2 weeks pregnant, symptoms of ovulation can clue you in on the best time to have sex and hopefully conceive a baby."

ADVERTISEMENT - CONTINUE READING BELOW

Aside from the timing, you are likely fertile when you notice the following:

Your cervical mucus thickens

Your vaginal discharge will resemble an egg white in its color and consistency.

Your breasts will feel tender

Due to hormones, your breasts will feel heavy and sore, similar to the experience when you're expecting your period.

You'll want to have sex more

Because of hormones, your sex drive will go through the roof.

You'll experience light spotting

You could expect a bit of bleeding during this time, which is caused by the eruption of the follicle around the egg.

What other parents are reading

Pregnancy symptoms Week 2

The biggest "red flag" that a woman may be pregnant is the delay or total absence of her menstrual period. However, this will only be apparent after three weeks, at the earliest (for those with a 21-day cycle). It is even more difficult to establish pregnancy if you have irregular periods (i.e., once every three months, once a year).

Some women, however, are able to already notice the following symptoms on the second week of pregnancy:

Frequent urination

You take more trips to the bathroom now, and this will become even more frequent as your pregnancy progresses.

Darker nipples and a tingling sensation in the area

There will be an increase in blood supply to your breasts brought about by the pregnancy hormones. This is your body preparing you for breastfeeding.

A feeling of exhaustion

You will want to sleep a lot more than usual, due to the fact that your body is tired from working extra to grow a baby. 

ADVERTISEMENT - CONTINUE READING BELOW

Recommended Videos

Spotting

Some women may think that this light bleeding — a few drops of red or brown blood on their underwear — is their period, but it's actually one of the first signs of pregnancy. When the embryo implants itself into the uterine lining anywhere between the 9th and 12th day of pregnancy, some tiny blood vessels may burst, causing the discharge. This is referred to as implantation bleeding. 

What other parents are reading

Your to-do list on Week 2 of pregnancy

Test if you're ovulating

There are ovulation test kits that you can but over the counter to help you pinpoint your most fertile days.

Have sex every other day

The chances of you getting pregnant are higher if you have sex every other day instead of every day, because too much sex can cause your husband's sperm count to be lower.

Load up on folic acid

Take this time to prepare your body for the life-altering task that is motherhood. Before you could hold your child in your arms, you'll need to "hold" him and keep him safe inside your womb. Your doctor will likely prescribe supplements like iron and folic acid to prevent defects caused by folate-deficiency anemia such as spina bifida, heart defects, anencephaly, etc.

More on your week-by-week pregnancy:
Pregnancy Symptoms Week 1: Why You Won't Feel Them Yet

Pregnancy Symptoms Week 3: Your Body Is Going Through Changes

What other parents are reading

Celebrate your pregnancy milestones!


Enter your details below and receive weekly email guides on your baby's weight and height in cute illustration of Filipino fruits. PLUS get helpful tips from experts, freebies and more!

You're almost there! Check your inbox.


We sent a verification email. Can't find it? Check your spam, junk, and promotions folder.

Trending in Summit Network