Pregnant Woman Gets Pregnant Again 10 Days After First Conception. Wait, What?

Strange but true! The unique diagnosis is an extremely rare pregnancy phenomenon that will leave you scratching your heads.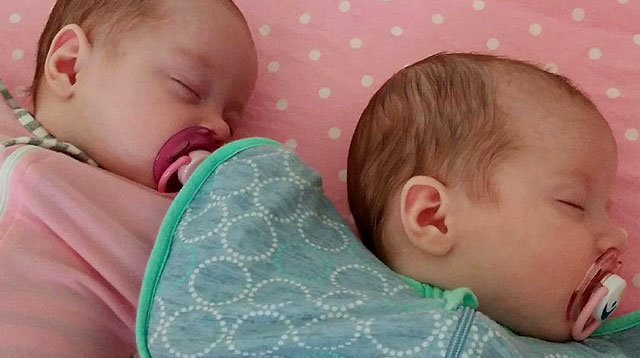 Getting pregnant can be tasking, especially if you have infertility issues. When you finally conceive, however, you see it as your rainbow after the rain. Well, for this couple, getting pregnant not only meant finally being parents, but also making global history or possibly, a miracle.

Australian couple Kate and Peter Hill was told they might not ever conceive. Kate was diagnosed with polycystic ovary syndrome (PCOS) in 2006, which means she needed to undergo hormone therapy to help jumpstart her ovulation and increase her chances of conceiving. When she finally got pregnant last year, she got pregnant twice, almost two weeks apart.

Wait, what? Yes, we know it's a bit confusing, but it is a real but extremely rare pregnancy phenomenon called "superfetation," and only 10 other cases like this are known globally.

What other parents are reading

Let us try to explain: Normally, when a woman is pregnant her body recognizes it, and her ovaries stop releasing eggs into the uterus. Pregnancy hormones kick in, and begin to prepare the body to nurture a growing baby. But, in Kate's case, she still actually ovulated, and released an egg -- after getting pregnant.

So during Kate's first pregnancy checkup, it was revealed that she was pregnant with twins, but one of the babies did not develop. Ten days later, however, her prenatal checkup revealed she was pregnant with...two babies, but this third embryo now had a different gestational age. 

"I had fallen pregnant and my body had spontaneously released another egg, giving the embryos different gestational ages," Kate told Today Tonight.

ADVERTISEMENT - CONTINUE READING BELOW




Indeed, the embryos looked differently in size in ultrasound scans. They were also given two different due dates, December 20 and December 30, 2015. 

What makes Kate's pregnancy more of a miracle is she and Peter had unprotected intercourse once. The only possible explanation is Peter's sperm from that one intercourse survived in her system (yes, sperm can do that!) for 10 days to be able to fertilize the newly released egg.

Dr. Brad Armstrong of Greenslopes Private Hospital in Brisbane, Kate's doctor, admitted he had to Google 'superfetation' to make sense of it. "It was so rare that I could not find any literature in the medical review websites at all," he told Today Tonight.  




CONTINUE READING BELOW

Recommended Videos

"We actually did not realize how special that was until they were born. They are definitely little miracles," Kate said of her daughters Charlotte and Olivia, who will celebrate their first birthday on November 29. At birth, the baby girls' size and weight had a rather sizeable difference: Charlotte who weighed 4.23 pounds and Olivia at 5.46 pounds. They were born at completely different stages of development, and also have different blood types. While Kate and Peter were a little worried about the second baby's health throughout the pregnancy, both of their daughters are healthy and thriving.

What other parents are reading

The Hill's case is also an example of fraternal twins with a twist. Normally, fraternal twins are babies conceived with two sperms and a single egg that split into two. In Charlotte and Olivia's case, they were conceived with one lone sperm and two eggs.




Medicine may be able to thoroughly explain this incredibly rare pregnancy and birth, from the couple's struggle to conceive to their bizarre journey to parenthood. But we don't mind calling it a miracle.

ADVERTISEMENT - CONTINUE READING BELOW

[h/t: Popsugar.com]

What other parents are reading
Celebrate your pregnancy milestones!

Enter your details below and receive weekly email guides on your baby's weight and height in cute illustration of Filipino fruits. PLUS get helpful tips from experts, freebies and more!
You're almost there! Check your inbox.

We sent a verification email. Can't find it? Check your spam, junk, and promotions folder.
Trending in Summit Network