Snappy Comebacks for 7 Tactless Comments Preggos Often Get

They may mean well when they say "lalaki yan, noh?" but it doesn't mean you have to put up with it.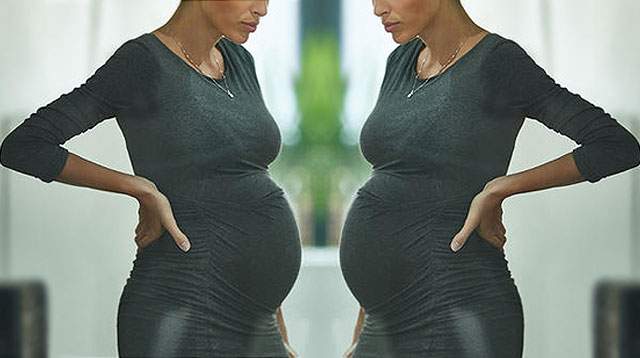 Pregnancy especially for first-timers can sometimes feel like...a community effort. Everyone, from family and friends to virtual strangers think, no, believe they have something important or helpful to say. You get a lot of unsolicited advice, which can already be annoying and adds to your paranoia. But then there are also comments, which they think are funny, but the words are not exactly pleasant to hear; at times, you even find it offensive. 

The good news is you are pregnant, which means your ability to bring a human being into this earth gives you the permission to practically say anything (you can always blame it on the hormones). So if you find these commens infuriating, these snappy comebacks may help you return to a place of calm. 

(What insensitive comments did you get while pregnant and how did you handle them? Share your story with us by sending us a message on Facebook.)

1. "Sigurado kang may laman yan? Baka taba lang yan."
SNAP BACK: "Sexy lang talaga ako magbuntis."
The well-meaning rationale behind this comment: you don't look pregnant. Right. He or she can really be implying that you look fat. Whatever the case is, smile and be prepared with the above retort. You can choose to explain how and why every pregnancy is different -- that even if he knows someone who ballooned at just four months into the pregnancy, your body is different from hers and first-timers, after all, tend to not get as big until their third trimester. But people who say things like the above, would they be even interested to hear? Don't waste your time. 

2. "I didn't know you were married."
SNAP BACK: "I'm not and that's even better."
Maybe the person just didn't really know, but it is still tactless (and judgmental if you ask us). So matter-of-factly say the above with the kindest smile possible. You need not explain yourself. This comment could also come with the question, "Who's the father?" To which you can say, "That's none of your business." Kidding -- not! (Okay, half-meant unless you want to go on full-kwento mode.)

ADVERTISEMENT - CONTINUE READING BELOW

What other parents are reading

3. "Ang tigas/tulis ng tiyan mo!" (*rubs your belly without permission*)
SNAP BACK: "My baby is objecting to you touching his/her safe space."
Belly bumps may be inviting to touch, but it doesn't make it is okay for a person to do so without your permission. And you are not obliged to say yes either! If it already happens before you can say anything, express your displeasure and explicitly say, "Huy, next time, ask me if it's okay to touch my belly." They may be taken aback at your perceived kaartehan, but it's a matter of maintaining the sanctuary of your personal space. It is still your body, and you decide what happens to it.

4. "Lalaki yan, noh?"
SNAP BACK: "Ultrasound ka ba? Yun nga may chance pa ring magkamali, ikaw pa!"
This common insensitive comment springs from the old wives' tale that if you look pretty, you're having a girl. If you look not-so-gorgeous, then you're having a boy. Doctors have stressed time and time again that there is no scientific basis that links how you look during pregnancy to the sex of your baby. You can also educate them by destroying the myth with real anecdotes of pretty preggos who had boys. Throw in your comeback: every pregnant woman is beautiful in her own way.




CONTINUE READING BELOW

Recommended Videos

5. "Masi-CS ka na niyan sa laki mo!"
SNAP BACK: "Okay lang, basta ikaw magbabayad."
The person might just be thinking of your health or the medical bills, but he or she is also may be implying that you've gotten too big for your pregnancy. Still, commenting on a woman's weight, let alone someone pregnant, is considered bad manners. If you want a kinder comeback, say your doctor says your baby is doing okay and thank her for the concern. You can also explain that you have no problem undergoing a C-section if it would mean keeping your baby safe and health while welcoming your little on in this world. 

What other parents are reading

6. "Don't eat that! Baka mamana ng baby mo ang … !"
SNAP BACK: "I will eat anything I want as long as it's healthy for me and my baby."
Again, it's one of those comments from well-meaning people who believe in pamahiins. First of all, explain that genetics will determine how your baby looks like. It can only inherit traits from genes from parents or grandparents -- never from the food you consume while you're pregnant. 

7. "Request ka na agad epidural. Di mo kakayanin ang sakit!"
SNAP BACK: "Just because you didn't doesn't mean I won't stand the pain, too."
Each person has a different pain threshold. The person probably means well by giving you a heads up on how painful labor contractions can be. However, it's still not fair to assume that you'll be begging for pain meds at the onset of your first contractions. (That can happen, but again, it's too early to tell.) Plus, it does not help to scare a pregnant mom about impending childbirth, which is a serious cause of anxiety for preggos. Oh, if you're looking for a more polite answer, try this: "I don't know yet until I actually experience it, but I appreciate the heads-up."

ADVERTISEMENT - CONTINUE READING BELOW

What other parents are reading

Celebrate your pregnancy milestones!


Enter your details below and receive weekly email guides on your baby's weight and height in cute illustration of Filipino fruits. PLUS get helpful tips from experts, freebies and more!

You're almost there! Check your inbox.


We sent a verification email. Can't find it? Check your spam, junk, and promotions folder.

Trending in Summit Network