Pregnant And Having Stomach Pain? When To Worry

The muscles in the uterus stretch and widen in the first and second trimesters.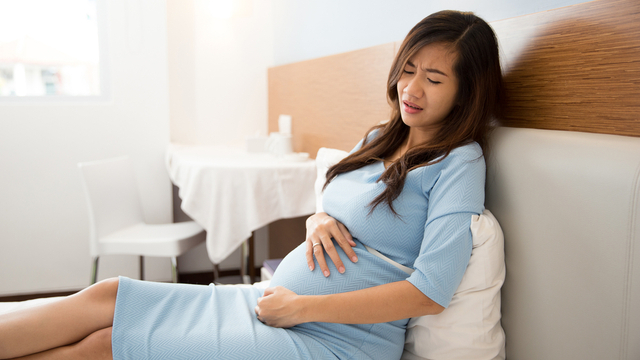 Stomach ache in pregnancy is quite common that it's considered part and parcel of having a baby. If you're a first-time mom, you may be getting overwhelmed by the many changes in your body and the pain they bring to you. That's why it's best to know when to worry and when not to worry.

Early in your first trimester and into your second trimester, the muscles in your uterus contract and widen to accommodate your growing baby. As a result, experts explain, you feel some pulling and pushing inside your belly (read here).

Fret not, according to the United Kingdom National Health Service (NHS), if the pain is mild and goes away after you:

Get some rest
Change your sitting position
Let gas pass from your stomach
Take a bathroom break

But if none of these work and the pain persists from 30 minutes to an hour, it's best for you to consult your doctor. Do this at once, especially if you feel other symptoms, such as:

Bleeding or even just spotting
Cramping
Back pain
Unusual vaginal discharge
Pain while urinating

Common causes of stomach ache in pregnancy

There are several reasons why you feel discomfort in your belly. You need not worry right away if it has something to do with other health conditions, experts point out.

Yeast infection

Having vaginal itching is not unusual in pregnancy because of the changing pH balance down there. Experts suggest using cream or ointment to relieve the irritation, but only upon your doctor's recommendation for yeast infection.

ADVERTISEMENT - CONTINUE READING BELOW

You can only use medicinal products in either cream or ointment form because your delicate condition prevents you from taking oral medications. Always consult your doctor if you have questions and doubts.

Urinary tract infection (UTI)

Research shows that almost six percent of pregnant women suffer from UTI, that's why taking the urinalysis is highly recommended. You become more susceptible to contracting UTI as you reach Week 6 up until Week 24, according to the American Pregnancy Association (APA). 

Around this time, a lot of changes happen in the urinary tract, which is situated just below the uterus. So when the uterus expands, it blocks the pathway for the release of urine from the bladder. It then causes infection.

If you have UTI, you should have it treated immediately and correctly to avoid turning it into a kidney infection. As a result, it may cause you to give birth prematurely and for your baby to be smaller than the normal size.

Constipation

During pregnancy, the progesterone level rises. It then causes you to become bloated and constipated. That's because progesterone is the hormone that relaxes the muscle in the digestive tract and slows down digestion.

Experts suggest you go for fiber-rich food and more fluids to speed up your digestion and avoid constipation. 

Braxton Hicks contractions

The so-called Braxton Hicks contractions happen around the third trimester, or when your due date is just around the corner. These are also known as episodes of "false labor" because you would think you're ready to pop. But that's just your body's way of preparing for the baby's delivery.

CONTINUE READING BELOW

Recommended Videos

Among the signs of this type of abdominal pain is having irregular and unpredictable contractions. For instance, every 10 minutes at first, and then it decreases to six minutes up to two minutes, before it increases to eight minutes.

Another is sign is having a generalized abdominal tightening, which can be easily remedied by taking a break from whatever you're doing or changing your sitting position. But be observant and take note if the pain doesn't go away.

You may also feel pain while having sex, particularly in the middle of an orgasm and after the act. This can be accompanied with mild contraction because your belly has gotten too big, causing for the rise of blood flow in the pelvic area and giving stomach ache in pregnancy.

Celebrate your pregnancy milestones!


Enter your details below and receive weekly email guides on your baby's weight and height in cute illustration of Filipino fruits. PLUS get helpful tips from experts, freebies and more!

You're almost there! Check your inbox.


We sent a verification email. Can't find it? Check your spam, junk, and promotions folder.
Trending in Summit Network