10 Things Pinay Moms Miss the Most About Being Pregnant

Pregnant women are cared for and have that pregnancy glow!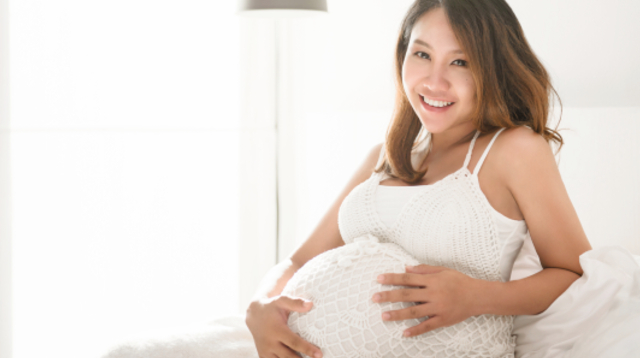 First-time moms might have mixed emotions about being pregnant — the changes your body undergoes might be overwhelming, not to mention having to deal with morning sickness, and the actual birth of your baby nine months later. But pregnancy does have its advantages and moms only realize it when it's over.

Over at our Facebook page, we asked moms what they miss the most about being pregnant and judging from the response, these moms enjoyed their pregnancy a lot. Here's a list of their top reasons that will make you reminisce, or maybe make you want to get pregnant again. If you're trying for a baby, this list will make you look forward to being preggo!

What other parents are reading

10 Things Moms Miss the Most About Being Pregnant

1. Priority lanes

Unsurprisingly, this perk was on top of every mom's list. Pregnant women are prioritized in public transportation queues, banks, government offices, cashiers, and restrooms. That's because standing for an extended period can get tedious (imagine carrying a huge weight in front of you!) most especially for moms in their second and third trimester who are experiencing "pagmamanas" and whose back and abdomen are constantly hurting.

ADVERTISEMENT - CONTINUE READING BELOW

2. Pregnancy glow

A number of moms said that they looked their best during pregnancy. They had thick, shiny hair, flawless skin, and a "bikini-worthy" chest. According to the American Pregnancy Association, the pregnancy glow is caused by the "increase of hormones during pregnancy" and an increase in blood flow. "The theory is that this increase in blood flow and circulation leads your face to be brighter or fuller."

Of course, moms are beautiful whether they are pregnant or not. There are ways to keep that glow, even after pregnancy. But they should take advantage of that extra boost — once they've delivered their baby, they have to face another challenge, called postpartum hair loss.

What other parents are reading

3. Tummy kicks

A lot of moms reminisced about their baby's movement in the womb. Feeling those tummy kicks brought inexplicable joy, and carrying your little one for nine months forges a special bond between the two of you. Mom Ina Diola notes, "Kahit may strong contractions and ang kulit [ng twins] sa tummy ko, I miss the feeling of them being so alive inside me."

4. No period

Not having to deal with your monthly period is another pregnancy perk moms miss, especially if you're one of those women who experience extreme cramps and dysmenorrhea. You can even extend that period after pregnancy — exclusive breastfeeding delays the onset of menstruation.

5. Getting ultrasounds.

A pregnant woman's first "introduction" to her baby will be an ultrasound to confirm pregnancy in its early stages. Hearing your baby's heartbeat or seeing the first images of your baby inside your womb feels surreal and is definitely memorable for first-time moms.

Of course, pregnant women also look forward to the day they will finally learn the baby's gender. One mom shared in our Facebook comments that she was a "suki" at an ultrasound clinic and had an ultrasound almost every two weeks. "I've seen my baby grow from nothing at 5 weeks to [looking like] a baby seahorse at 10 weeks. The doctor even gave a free 3D picture of my son kasi suki daw ako. I had ultrasounds up to 40 weeks."

CONTINUE READING BELOW

Recommended Videos

What other parents are reading

6. Being pampered (especially by hubby!)

They say pregnant women are spoiled rotten — the moment they announce they are expecting, they suddenly become the center of attention, with everyone concerned about their well-being. Moms really basked in that special care, especially from their husbands who made sure their partners were safe, comfortable, and happy.

7. Baby bump

Once moms start showing, they can't help but flaunt their bump for all the world to see!  A visible bump will also make people (yes, especially strangers) nicer toward you, which is always welcome. You might even get extra perks and freebies when you're out and about!

8. Cravings

In our Facebook comments, moms started mentioning their favorite things to eat while pregnant and said that they miss their paglilihi. The best part about being pregnant is having an excuse to indulge without feeling guilty (and making hubby fulfill all your weird cravings, heh). You get a few months off of not worrying about your weight, and if you get fat, so what? You know it's for the baby!

What other parents are reading

9. Peace and quiet.

Moms jokingly said that what they miss the most about being pregnant is the fact that their babies were still inside the tummy. Once they get out, it becomes a riot!

10. Lots of sleep

After taking care of a newborn, moms now understand why pregnant women feel sleepy all the time. Taking care of a growing baby means you need to get as much rest as you can, and moms do miss their daytime naps and getting quality eight hours sleep. That's because it all changes the moment your baby is born and gets older. As mom Chrissa Bonifacio puts it, "Nung buntis ako masandal lang ako tulog agad. Ngayon, antok na antok ka na hindi pwedeng [matulog] at may 2 years old na makulit!"

ADVERTISEMENT - CONTINUE READING BELOW

What do you miss the most about being pregnant? Share it with us in the comments!

What other parents are reading




Celebrate your pregnancy milestones!


Enter your details below and receive weekly email guides on your baby's weight and height in cute illustration of Filipino fruits. PLUS get helpful tips from experts, freebies and more!

You're almost there! Check your inbox.


We sent a verification email. Can't find it? Check your spam, junk, and promotions folder.
Trending in Summit Network