'Gawa Nalang Kayo Ulit,' And Other Things You Should Never Say To Someone After A Miscarriage

Don't also say 'At least sa'yo nga may nabuo, sa akin wala.'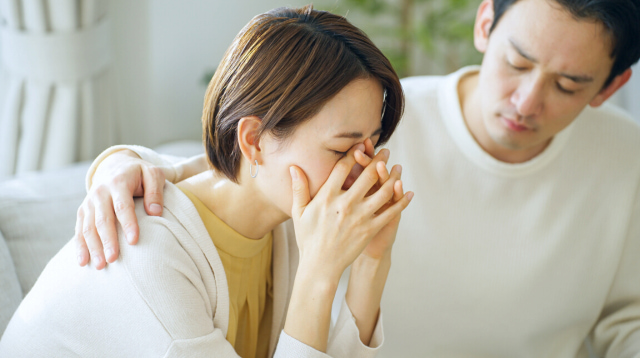 So, your relative or friend has mustered the courage to open up to you about their heartbreaking loss due to a miscarriage. Whether they delivered the news personally, through a call, or a private message, your response will have an impact on them.

It's valid if you find yourself at a loss for words on what to say to them, even if it's not your first time encountering such a situation. You might even try to lighten the situation by cracking a joke like, 'Gawa nalang kayo ulit' or something you thought would be comforting, like 'May angel na kayo.'

We've compiled this list of things that we should not say to a woman who has suffered a miscarriage so that we could comfort and empathize with them rather than add to their burden.

Things you should not say to someone after a miscarriage

Remember that if someone discloses their miscarriage or pregnancy loss to you, it doesn't mean you are entitled to hear the whole story. They don't owe you any details and you don't need to help them investigate the root cause. Your role is to listen, hear them out, and support them in a respectful way.

Start by familiarizing yourself with these statements that you should never say to anyone who has had a miscarriage:

1. 'You can always have another' or 'Gawa nalang kayo ulit'

You might think you mean well by being optimistic about the future and trying again, but it is also important to give them the space to grieve for the baby they have lost.

2. 'You have an angel looking after you' or 'Nasa heaven na siya'

Whether you share the same faith or religion, saying something like this might not be comforting because some might believe it would have been better if their baby were with them.

3. 'It's for the best' or 'Mabuti nalang rin'

No, you are not in a position to say that what happened to them is the best-case scenario for them. The person is most likely in physical and emotional pain after a miscarriage, and this could sound like the loss of their child is the lesser evil.

ADVERTISEMENT - CONTINUE READING BELOW

What other parents are reading

4. 'At least you don't know your baby yet' or 'At least maliit pa nung nawala'

Whether they lost their baby at 6 weeks or through stillbirth, their baby is their child. You cannot just drop comments like this because the moment a person is pregnant, she or the expectant couple has already developed a special relationship with them.

5. 'You might have done something wrong' or 'Baka nagpabaya ka'

No parent would ever mean harm to their unborn child. A miscarriage could be due to many factors, but the last thing the parents need is blaming and shaming.

6. 'Did you do something you weren't supposed to do?' or 'Dapat nag-ingat ka kasi'

After a miscarriage, the parents would naturally feel like they had shortcomings that led to the tragedy. However, at this point, they would appreciate being comforted rather than being bossed around and receiving unsolicited advice.

7. 'I understand how you feel' or 'Parehas tayo'

Saying this would undermine their grief, even if you also experienced a miscarriage yourself. Although you want to empathize by sharing how you felt when you were in their shoes, it's best if you can keep your mouth shut and simply listen to their story. In turn, it doesn't mean that you are required to help them just because you share the same experience.

8. 'Having no kids is okay' or 'Okay lang naman walang anak'

Please, don't say this.

9. 'At least you can get pregnant' or 'At least sa'yo nga may nabuo, sa akin wala'

The least they want to hear is you gaslighting them or trivializing what they went through. It's not about you.

10. 'Miscarriage happens to a lot of people' or 'Hindi lang ikaw ang ganyan'

You might think you mean well if you comfort them by telling them that they are not alone, but you don't have to make them feel that what they are going through is common and should be brushed off because of other people's journeys.

ADVERTISEMENT - CONTINUE READING BELOW

11. 'You'll be fine in a few days' or 'Lilipas din 'yan'

They would rather hear that they can grieve for however long or short they want to be, than to receive false assurance that they will get over it after a couple of days. You can say this instead, 'Processing what happened can take time. Please know that I'm here for you for as long as you need me.'

12. 'Count your blessings' or 'Maswerte ka pa rin'

When someone is in pain or grief, let them feel their feelings, and do not dismiss them the way you want them to. You don't have to say a lot of things to make them feel better because it will only put pressure on them rather than comfort them.

What other parents are reading

What to say and do instead to someone after a miscarriage

According to experts, the best thing you can say or offer to someone who has had a miscarriage is validating their experience. You may say, 'I'm sorry that happened,' or 'Ang hirap siguro nang pinagdadaanan mo.'

ADVERTISEMENT - CONTINUE READING BELOW

It also won't hurt if you admit that you don't know what to say and just reassure them that you are there for them.

Even though they look like they are doing fine and feeling okay, letting them know that you care about them would be appreciated.

1. Listen, and do not offer advice.

Let's leave the talking to the expert about what happened and what they should have done. Your role as a family or a friend is to be their safe space so that they can unload their feelings. Don't feel pressured to say anything substantial because sometimes, all they need is someone who will listen and not tell them what they could've done differently to prevent the miscarriage. You can also say, 'This is hard, and anything you feel right now is normal.'

2. Ask permission if you could help.

Although you have the best intentions, understand that they are coping with the death of a family member. Know your place and offer specific help that you think could make a difference in their situation. You can start by sending a cup of coffee or helping them with chores like grocery shopping or babysitting their other kids.

ADVERTISEMENT - CONTINUE READING BELOW

3. Tell them: 'It's not your fault.'

This statement offers comfort more than you could ever know for the person who just lost their child. Assure them that what happened is not their fault. Remind them that they are supported in their journey, and that their feelings are valid.

Sources: Parents.com, MiscarriageMommy.com, VeryWellFamily.com, LoveToKnow.com

What other parents are reading

"

Trending in Summit Network