This Mom Welcomed Her Baby At Age 41 After Suffering 5 Pregnancy Losses

She was diagnosed with three out of five reproductive-immune disorders.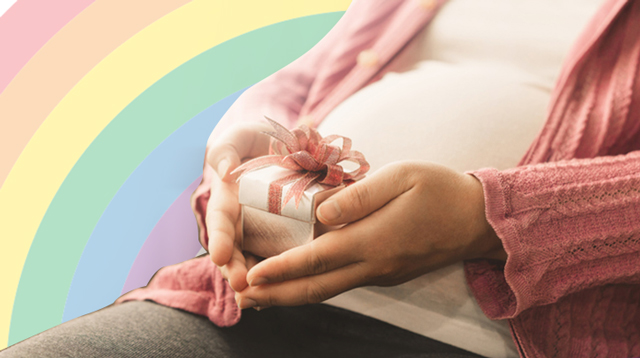 "I was contemplating what I should do with the rest of my life if I was really not meant to be a mother, and we were not meant to have a family."

These words pierced my heart. As a mother who has lost two pregnancies and who has waited for four years to finally hold my rainbow baby, I cannot imagine what Martha* had to go through to remain steadfast on her journey towards Sarah*, their sixth and only living child. 

Martha's journey to motherhood was a rollercoaster ride. She got married at age 29, but she did not start on a pregnancy work-up until she was 35 years old due to her condition. She has Hashimoto's disease, which prevented her from getting pregnant until her thyroid hormones become stable.

Hashimoto's disease is an autoimmune disorder that can cause hypothyroidism or having an underactive thyroid. The immune system attacks the thyroid and damages it, so it is unable to produce enough thyroid hormones. Thyroid hormones control how the body uses energy and affects nearly every organ in the body. Without enough thyroid hormones, many of the body's functions slow down.

Blighted ovum, unsuccessful IVF, two lost heartbeats

Martha's first pregnancy in 2012 resulted in a blighted ovum. Her first miscarriage introduced them to the world of Antiphospholipid Antibody Syndrome (APAS) and other reproductive-immune disorders (RID) and the "daunting treatments" they entailed. She was initially diagnosed to be Category 1 and 5. (There are five RID categories, as outlined by Dr. Alan Beer, and each category requires a different treatment protocol. Click here to know more.)

ADVERTISEMENT - CONTINUE READING BELOW

Armed with this knowledge, Martha and her husband prepared for their treatment plan. The couple went through their first in vitro fertilization (IVF) in 2013, but it was unsuccessful. With strength and hope in their hearts, they tried again for another IVF in the same year. She conceived identical twins, but they only survived for eight weeks. 

"Every pregnancy is full of hope, dreams, and excitement, and losing a child rips your heart into a million pieces."

"Losing a child is the most painful thing in the world," Martha shared. "Every pregnancy is full of hope, dreams, and excitement, and losing it rips your heart into a million pieces," she added.

By the end of 2014, Martha took the leap and decided to resign from her work to concentrate on getting pregnant. In February of 2015, she and her husband went through another IVF. However, much to their dismay and frustration, it resulted in a blighted ovum again.

The couple then reviewed their history and found out they were misdiagnosed. Martha was positive for Category 2, or APAS, as well, which meant she should have been prescribed blood thinners during her pregnancies.

Martha was devastated, defeated, and angry. It was maddening for a mother to lose her pregnancies because her doctor "failed to check her records." Grief, coupled with rage, made them consider pressing charges. But, they decided not to pursue it and start on a clean slate. 

Having an ectopic pregnancy and losing one fallopian tube

The couple looked for another doctor to handle their case, and Martha got pregnant naturally. She was hopeful, knowing that she was better prepared this time around. "What else could go wrong?"

CONTINUE READING BELOW

Recommended Videos

That bliss did not last. The pregnancy turned out to be ectopic, and she ended up losing her right fallopian tube.

"I kept wondering why all these failures kept happening. Everyone around us was having babies, and we stood by the sidelines watching their children grow," Martha said. "Why can't we just be a normal couple who did not have to try so hard to get pregnant? Why did we have to fall into the 1-2% who could not get pregnant?" she lamented.

After the ectopic pregnancy, Martha and her husband gave up trying to conceive and moved on from a seemingly never-ending nightmare.

"We eventually became 'that childless couple' in parties and get-togethers, and it felt very lonely and isolating," Martha revealed. "Our friends moved on with their lives with their children, and it was still just the two of us. I kept on wondering whether it was God's way of telling us that we were really not meant to have a child, no matter how many attempts or how hard we try."

"The journey was very challenging for us as a couple, and it tested our relationship several times. Negative thoughts would cross my mind," Martha admitted. "Maybe my husband would be better off with someone else who can give him a child because I am unable to since I'm the one with the problem. What if he decides to leave me for someone younger, and I would grow old, alone?"

But Martha's husband never left her side. They attended to each other's broken spirit and considered adoption at some point. But God had a different plan. 

ADVERTISEMENT - CONTINUE READING BELOW

An unexpected natural pregnancy at age 41

In September 2017, Martha, at 41, got pregnant without the help of IVF, workups, or preconception treatments. All she was taking at that point was leftover probiotics from her previous pregnancies. She and her husband immediately consulted with their medical team and started on all the necessary treatments: prenatal medication, the daily dose of blood thinners, and monthly intralipid infusions. 

In May 2018, Martha's rainbow baby, Sarah, was born. The pain, the struggles, and the unthinkable trials they had to endure for more than six years made holding little Sarah all the more precious. They are finally parents, something that Martha's heart desired for so long. 

"I hope our story gives a glimmer of hope to 40-year-old women not to stop trying [if they want a bab]. I was not ready to give up on a dream. I had faith, and I knew in my heart, we were really meant to be called Mommy and Daddy. Never ever lose hope," Martha shares.

*Names withheld upon request.

Balot Del Rosario, a member of the Smart Parenting Mom Network 2020, is a NAHA-registered, certified level 2 professional aromatherapist. She is also the author of the book, Lost but Found (available here), and the mom-of-two behind the blog Chronicles of The Happy APAS Mama (www.callmebalot.com).

Know more about the other four reproductive-immune disorders apart from APAS here.

What other parents are reading

Celebrate your pregnancy milestones!


Enter your details below and receive weekly email guides on your baby's weight and height in cute illustration of Filipino fruits. PLUS get helpful tips from experts, freebies and more!

You're almost there! Check your inbox.


We sent a verification email. Can't find it? Check your spam, junk, and promotions folder.
Trending in Summit Network