Preggos, These Natural Remedies Are Best For You When You Get A Cough and Colds

Instead of medicine, you can try these natural solutions to common symptoms.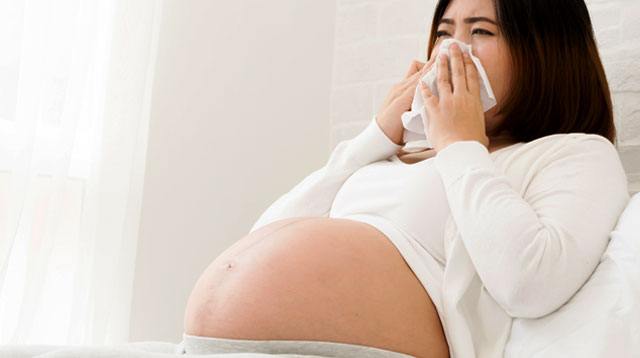 Any mom or mom to be only wants what's best for her unborn child, even if it means giving up coffee (limit your intake to one cup a day) or postponing dyeing her hair (opt for natural dye) until she has given birth. More than ever, a mother needs to be in the pink of health during her pregnancy because her unborn baby's life depends on it. But no matter how careful you are, sometimes a bug could hit you, causing cough, colds, headaches, and the like. 

Of course, any sign of illness warrants a trip to the doctor. "Your doctor will need to take a thorough history of the illness and perform a physical examination so that we have an idea of what is the cause of the disease," Dr.  Mariel S. Nevado-Gammad, M.D. told Smartparenting.com.ph. Expect to be asked questions such as, when you started exhibiting the symptoms, a previous history of allergies, and other information to rule out the possibility of a serious medical condition.

"That is why it is important to consult a doctor, so that a complete history and physical examination can be done," Dr. Nevado-Gammad said. "Please avoid consults over the phone or through text messages—we don't want a misdiagnosis, especially if we're dealing with pregnant patients," she stressed.

What other parents are reading

Once your doctor evaluates your condition, she may prescribe medication or recommend the following natural remedies:

For cough and colds
Apart from taking plenty of rest, eating healthy foods, and increasing fluid intake, Dr. Nevado-Gammad recommends sucking on ice chips, drinking warm tea, or gargling with warm salt water. She also suggests increasing your vitamin C intake. 

ADVERTISEMENT - CONTINUE READING BELOW

If you don't like the taste of salt water solution, try this alternative to relieve sore throat: Place a peeled and chopped ginger in a pot of water and bring to a boil. Pour warm ginger water in a cup and add honey (don't worry, it's safe for pregnant women) or sugar to taste. You may gargle or drink this concoction. 

Some mucolytics are safe for pregnant women to take during pregnancy, according to Dr. Nevado-Gammad, but you'll need a consultation and a prescription from your doctor. 

Using a humidifier may also help, as well as keeping your head elevated while lying down. To remedy a stuffy nose, you can also mix salt and eucalyptus oil extract (just one drop every 5mL) in a bowl of hot water. With a towel over your head, set your face over the bowl. Inhaling the steam should help relieve your clogged nose. 

For headaches
Follow a regular sleep schedule and practice relaxation techniques, both of which can help manage stress, which may cause mild headaches. Avoid headache triggers, such as certain foods or odors. Lying down and applying cold compress on your head can also help. 

Headaches during pregnancy should not be ignored. Severe headaches and those coupled with high blood pressure and dizziness at any point during the pregnancy warrant an emergency call to your doctor. 

What other parents are reading

For fever
Dr. Nevado-Gammad says paracetamol is safe for pregnant women to take. She also suggests increasing oral fluids to avoid dehydration. Having warm or lukewarm sponge baths (never use alcohol!) and lying down with a cold damp cloth on your forehead could bring down your body temperature.

CONTINUE READING BELOW

Recommended Videos

Avoid putting on layers of clothing and stay in a cool room (turn on the fan but don't point it directly at you). If you get chills, use a light blanket to help keep you warm.

For diarrhea
Constipation and having three or more loose bowel movements in a day is common for preggos. The thing about diarrhea is that you have to let it run its course while being vigilant to avoid dehydration. Symptoms of dehydration that you need to watch for, according to Dr. Nevado-Gammad, include lightheadedness, sunken eyeballs, dry mouth, excessive thirst, and decreased urine volume or urine that is dark yellow.

To avoid dehydration, Dr. Nevado-Gammad suggests drinking plenty of water. Avoid foods that usually cause it such as dairy and spicy foods. If you're on a high-fiber diet, you may need to go for other foods, such as bananas, rice, apple, and toast (BRAT) in small and frequent feedings. Fiber-rich foods are good for digestion, but they can also cause you to have runny poop as a result.

Dr. Nevado-Gammad cannot emphasize enough that you need to see—visit the clinic and not just text—your doctor so she can better evaluate what you need, be they natural remedies or other medication. Though these natural remedies may work, you still need to rule out any underlying illness. 

Don't take any over-the-counter medication unless prescribed by your doctor. Self-medication is never an option, especially when you're pregnant, and you shouldn't take chances. It's better to err on the side of caution. 

Dr. Mariel S. Nevado-Gammad, M.D. is a Fellow of the Philippine Obstetrical and Gynecological Society and the Philippine Society for the Study of Trophoblastic Disease. She holds clinics at The Asian Hospital and Medical Center (02) 771.0805; Medical Center Muntinlupa, Inc (02) 861.1670; and The Premier Medical Center (020 865.2200 loc 165.

ADVERTISEMENT - CONTINUE READING BELOW

What other parents are reading

Celebrate your pregnancy milestones!


Enter your details below and receive weekly email guides on your baby's weight and height in cute illustration of Filipino fruits. PLUS get helpful tips from experts, freebies and more!

You're almost there! Check your inbox.


We sent a verification email. Can't find it? Check your spam, junk, and promotions folder.

Trending in Summit Network