BAD*SS! Preggy With Twins, Mom Shares Why She Sticks to Her Intense Fitness Routine

Listen to your body.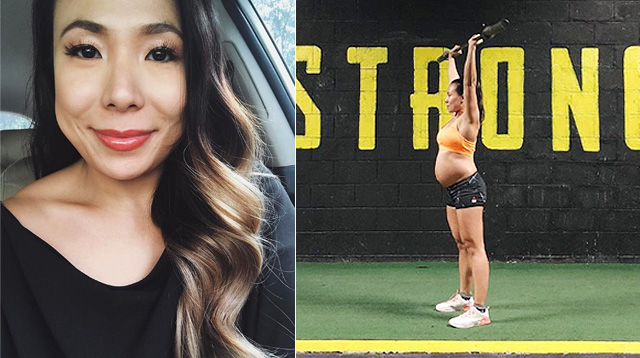 Carrying a life in your womb is as much a blessing as it is a responsibility. Pregnancy is a delicate condition, and it's why in the "olden days" a preggo engaging in physical activities was unheard of for fear of miscarriage.

Today, many still frown upon the sight of a round-bellied woman sweating it out in the gym, but we now know that carefully-executed exercises benefit not just the mom but also the unborn child. With close coordination with a qualified ob-gyn, it is actually possible to get into a fitness routine while pregnant.  

What other parents are reading

Case in point: Rachelle Que-Love, 32, has been doing Crossfit for five years. Late last year, she found out she was pregnant with her first children — she and husband Trever are expecting twins — yet she keeps on with her workout, albeit with much caution. 

"I have to hold myself back, and prioritize safety over anything else, and not putting myself to the point where it feels uncomfortable. I can feel tired, I can feel that my body is working, but not to the point of pain or discomfort," she clarifies.

ADVERTISEMENT - CONTINUE READING BELOW

Currently five months on the family way, Rachelle, who also works on the side as a fashion stylist, confesses she didn't see the pregnancy coming. "The funny thing is, I didn't know I was pregnant and we had a [Crossfit] competition. [After that], I was more tired and fatigued than usual. But then I also felt a little bit queasy, and I was late [with my period]."

Suspecting she might be pregnant, Rachelle took a home pregnancy test twice, both of which yielded a positive result. When she told Trever, "he was so shocked he couldn't react for two days."

On her third try to do the home test, she got a negative result. She decided to see her ob-gyn finally, and an ultrasound was recommended. The sonographer showed her the screen while she lay on the hospital bed. "She tells me, 'Here's one baby, and then here's the other baby' — I couldn't understand. I had no reaction," says Rachelle.

CONTINUE READING BELOW

Recommended Videos

The sonographer had to spell it out for Rachelle again: "'They're twins.' And the first thing I said was, 'That's so weird!' It never even crossed my mind that we would have twins. No one in our family [has twins], not even my cousin, no one on either side."

Rachelle's pregnancy symptoms have been relatively mild. "I only started feeling them into my sixth week: gasiness, a little bit acidic. I never had any stomach issues before. During my first trimester I was a bit queasy and a little dizzy, but not enough to make me want to throw up; it was just kind of a discomfort."

It would have been easy for Rachelle just to play out her pregnancy to the hilt and give up her active lifestyle — she is carrying twins, after all. But she says the benefits of Crossfit are far too many:

Crossfit helps your body image.
Some pregnant women sometimes feel less desirable owing to the weight they carry, or because of hormonal changes (resulting in the darkening of some body parts), causing them to lose confidence in themselves. Rachelle says, "Before Crossfit, the goal was always to look slimmer, always skinnier. I always thought my body needed more toning. When I started Crossfit, the goal shifted to 'I wanna get better, I wanna get stronger, I feel good, I'm more energetic.' My perception of my body also changed. I stopped worrying about the extra flesh here or there because I know I can do more and I feel better."

ADVERTISEMENT - CONTINUE READING BELOW

Crossfit improves your mood.
Those who have gone through pregnancy know what a terrible mood swing is — one minute you're ecstatic about having babies, and the next you could be feeling so low worrying about the future, questioning your ability to raise children, or feeling like you made a wrong decision. Rachelle says, "Sometimes I'd feel dizzy and fatigued, but when I start exercising, that's when I'd feel normal. I'd feel like my usual self again. I have the stamina and vigor for life."

Crossfit sustains your energy.
It's so easy to feel zapped of energy when you're growing tiny humans inside you. To this, Rachelle has this to say: "During the holidays I had a 4-day break and that's when I started to feel my back ache and all the cramps. When I got back here, it was the hardest to get started because of the weight itself, but afterward, I felt better again. I was more energetic. On days that I work out, I have more energy than when I don't.  The more I move, the fewer back aches I got. You think maybe you need your energy so you just rest and you preserve it, but working out releases endorphins and boosts your energy levels."

ADVERTISEMENT - CONTINUE READING BELOW

"Everything we do in Crossfit, we can apply outside. When we do lifts, [we're training to] pick a child up from the floor; overhead presses [prepare us for] putting something overhead like your luggage in an overhead bin. That's functional fitness."

Safety first 
When Rachelle first learned she was pregnant, she had no doubts she could still do Crossfit, but to be on the safe side, of course, she told her ob-gyn about it. "She was reluctant [at first], but she allowed me to continue Crossfit. She knew my background; she knew I was very active, she knew I was a fitness professional." 

"It's important to listen to your body. If you're new to exercise, then I wouldn't — especially if the OB says no. But if it's something that you've been doing and you're comfortable doing it — of course, with all the precautions — I'd encourage active moms to stay active. I know a lot of people think it's not good for the baby, but I know so many moms who stayed active during their pregnancy, whether Crossfit or something else, and it's been good for them and the baby.

ADVERTISEMENT - CONTINUE READING BELOW

What other parents are reading

"I'm super fortunate to be able to do the things that I've been doing, without complications, no spotting or anything." 

As of this interview, Rachelle has been permitted by her ob-gyn to work out up until her eighth month of pregnancy. "[The twins have] good heartbeat, good placenta side, good gestational age, everything looks good from all the scans," she tells us happily.

"Children are a blessing from the Lord. My pregnancy is a blessing, so I'm really just enjoying this process of working around it, learning how to step back, and taking it a little bit easier." 

Shot on location at Primal Ape Crossfit, Makati

What other parents are reading

Celebrate your pregnancy milestones!


Enter your details below and receive weekly email guides on your baby's weight and height in cute illustration of Filipino fruits. PLUS get helpful tips from experts, freebies and more!

You're almost there! Check your inbox.


We sent a verification email. Can't find it? Check your spam, junk, and promotions folder.
Trending in Summit Network