7 Moms Share Their 'I Didn't Expect That' Birthing Story

From awkward positions to placenta "oops" moments, these moms' childbirth experiences had them asking, "Did that just happen?"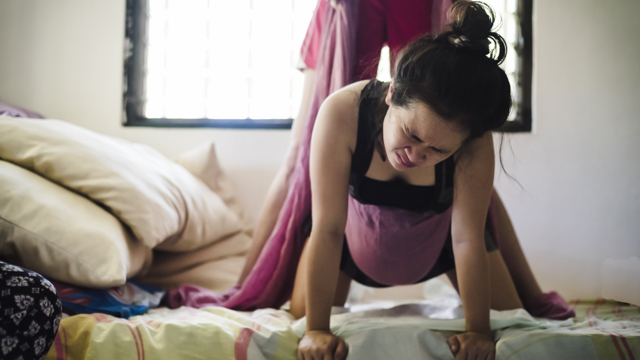 A beautiful birth is every mother's dream and aspiration. In real life though, it doesn't always go as planned -- or as you imagined. And that's what makes the anticipation scary but exciting and beautiful as well. 

As I collected these stories, I was reminded of my own birthing experience. My daughter, who was 4 at the time and already a loving ate, played a big role in her baby brother's water birth story. 

I labored for almost two days because my baby was in posterior position. My little girl didn't leave my side, sometimes stroking my face and bringing me water to drink. On the second day, when my labor stalled, my midwife suggested that we ask Ate to latch on my breasts to stimulate stronger contractions. When I progressed, I dipped into the inflatable pool in our kubo (nipa hut) -- with my little girl swimming beside me. The warm water and her gentle massage helped me relax and manage the pain. She was still wide awake when her little brother was born later that night. It was an experience she remembers fondly up to this day.

I also won't forget what happened right after my son's birth. My husband prepared an ice cream smoothie for me. When our birth photographer went into the kitchen, he offered her some ice cream, too. She thanked him and got the smoothie he prepared. My hubby stopped her just in time. She would have sipped the smoothie -- with a chunk of my baby's placenta on it! (You can read the rest of my water birth experience here.)

ADVERTISEMENT - CONTINUE READING BELOW

What other parents are reading

Here, other moms share their fondest, painful yet beautiful, and "I didn't expect that" childbirth moments.

Talk about awkward position
"With my first child, I labored actively for five hours before giving birth. With my second pregnancy, I've been told that birth would be faster compared to the first. After three hours of active labor at the hospital, I was already fully dilated. When I started feeling a strong urge to push, they hurriedly wheeled me to the delivery room. My doctor kept on telling me to wait and not to push yet. But, when I was about to inch myself to the delivery bed, I let out a painful cry, and the baby started crowning. Yes, I was crowning in an almost side-lying position with one leg in the air. My baby came out while I was in that awkward position. The doctor didn't even get to wear her gloves and no prepping was done at all. My husband tried to take a video of the birth, but it happened so fast that he forgot to push the record button!" --  Jia Rubio-Monserrat

Honey, you better wake up 
"Having naturally given birth to our first child, we wanted an unmedicated birth, but we never could have imagined just how intimate and natural our son's birth was going to be. I woke up during the night for what I thought was the usual pregnancy bathroom break, but I realized quickly that what I was feeling were not stomach pains but contractions. I went back to bed to tell my husband, thinking we had a few hours of labor ahead of us. But, having already given birth before, I was surprised at how intense my contractions already were. None of the relaxation techniques that helped with my first birth worked. 

"I concentrated on tuning in to my body, observing everything I was feeling to understand  what point of labor I was in. When I started shivering, I remembered that this was a sign of transitioning to the pushing stage. I knew then that we weren't going to make it to the hospital, but I was confident because this was an eventuality we had prepared for. 

"I pushed, despite my husband's disbelief that we could be so far ahead already. Pushing made me feel like I was in control of the powerful contractions, like I was helping my body along. I knew the baby was crowning when I felt a stinging, stretching sensation. I reached below, and sure enough I felt the baby's head. After two more pushes, Nesta was born into the waiting arms of his father, just an hour after my contractions started. My husband laid him on me, our daughter came into the room, and the four of us held each other and basked in that amazing, indescribable moment."  -- Camilla Reyes Pante

CONTINUE READING BELOW

Recommended Videos

What other parents are reading

Unique strategy, Dad 
"While I was in labor, my husband went into the labor room and thought of a strategy to encourage me to go on. In between contractions, he gave me a rundown of fees and computed the difference between vaginal and C-section birth hospital bills. What a way to dilate my cervix!" -- Lordilene Carpena

Mom's got superpower
"My micro preemie twins were born at 26 weeks, weighing less than 2 lbs. Both of them needed ventilators, and my baby girl even needed surfactants. The neonatologist was honest and explained that they were very weak and had a slim chance of survival. There is hope, I told myself, do what you can and let God do what you cannot. With the encouragement of the medical team and support of my family, I was determined to feed the twins nothing but breast milk. This would give them a fighting chance. In my search for donors, I read many inspiring stories from fellow breastfeeding mothers. I then realized that it was up to me to do what I can to keep up with my children's needs. So, despite my fresh CS wound, I expressed milk for them regularly and even breastfed other babies in the NICU. Because of this, I was able to provide my twins my own breast milk. My twins are now healthy 2-year olds." -- Rowena Rizala

What other baby?!
"Based on my facial contortions that I already reached transition, my midwife instructed me to transfer to the birthing pool where I continued to labor with the aid of warm water. Twenty three minutes and three pushes later, our baby popped out and was placed on my bosom. I was ushered to the sofa to lie down so my baby and I could initiate breastfeeding. My husband ran off to grab his camera, which left me under the care of my midwife and another friend of ours. 

"Shortly after the baby latched on, I felt this funny and familiar sensation. "Bakit parang manganganak ulit ako?" Last time I checked, I only had one baby in my womb. Still a bit confused, I felt another contraction, and with my midwife's instruction to push, out plopped the placenta. Our friend sort of 'caught' it, and, judging from her expression, she wasn't expecting that either! 

ADVERTISEMENT - CONTINUE READING BELOW

What other parents are reading

"I read pregnancy and birth preparation books, read about birth stories and even the little 'accidents' that happen with whatever was inside our bowels, but nobody told me about delivering your placenta! So, curious about what it looked like, but with the view obstructed by my baby on my chest, I asked my friend, 'Mare, ano hitsura?'

"Por kilo, Mare!" replied my friend, who looked like she was about to turn green. But like the trooper that she is, she kept her cool for a few more minutes, before finally collapsing to the couch next to mine. Boy, was I glad that my husband didn't see that blob plop out, or else we'd have problems hauling a 6'3" and 185-pound of Jell-O to the couch." -- Vanessa Liwanag-Librero

Every new mom's fervent prayer 
"While being in so much pain during labor, I doubted myself countless times if I could still pull through. My spirit and my body were in the brink of giving up. But somehow I managed to bear the pain with the support and encouragement of my loved ones and midwives. Despite all the efforts and strength I poured into labor, my baby still didn't descend after my water had broken. I surrendered it all to God. Even though my birth didn't go as planned, all I prayed for was the safety and life of my child. The first time I saw him, the child I carried inside me for so long, I had forgotten all the pain we had been through. I couldn't stop crying while I kept on thanking God for keeping him safe all throughout." -- Mace Cruz

ADVERTISEMENT - CONTINUE READING BELOW

What other parents are reading




Celebrate your pregnancy milestones!


Enter your details below and receive weekly email guides on your baby's weight and height in cute illustration of Filipino fruits. PLUS get helpful tips from experts, freebies and more!

You're almost there! Check your inbox.


We sent a verification email. Can't find it? Check your spam, junk, and promotions folder.

Trending in Summit Network