I Gave Birth In The Middle East: I Only Got To Hold My Baby After Hospital Discharge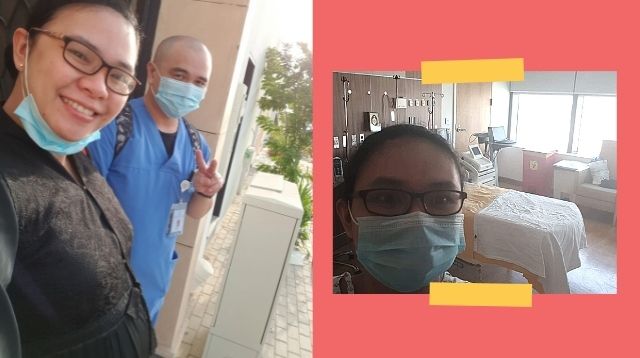 My husband and I, both nurses working in the Middle East, found out we were expecting mid-October 2019 while spending our yearly vacation in the Philippines. We decided we would come home in May 2020 for our baby's delivery in mid-June 2020.

My husband and I realized our birth plan would not materialize in mid-March 2020. The hospital we worked for announced that "at-risk employees" like the immunocompromised and pregnant women were advised to stay home.

I was six months pregnant at the time. We were not allowed to go out of our homes unless essential travel. Violators were looking at jail time and a Php13,000 fine.

No leaving the house for pregnant women

From March 16 to June 8, 2020, I was mainly inside our bedroom. A typical day consisted of meals, naps, Netflix and K-dramas, chores, video calls, and walking inside the house.

I went outside of our home four times: three times to attend my prenatal appointments in the hospital. The other time I was in the backseat of our housemate's car with a mask on for a trip to the nearby fast-food drive-thru.

On my last prenatal checkup, I was advised for an elective admission at 40 weeks and my labor induced. The night before I left for the hospital, my husband and I got our money, ATM cards, passwords, and records in order. I felt like I needed to hand over everything to him because we didn't know what could happen.

Scheduled induction of labor

ADVERTISEMENT - CONTINUE READING BELOW

On June 9, 2020, my husband watched from outside the glass door as the nurse took me inside the prenatal ward, where I would wait for the schedule to induce my labor. I was worried about the result of my COVID swab. I was just confined at home, but my husband still works at the hospital, and all our housemates were healthcare workers as well.

The author says not even her husband was allowed in her room. She only saw him after she was discharged.

PHOTO BY

courtesy of Roma Lyka F. Manangan-Velasco

It felt like forever waiting for my turn to be in the induction room.  At 8 p.m. on June 10, I was given medication to stimulate and eventually start my labor. A friend of mine advised me to walk or move about to help my labor's progress. Mild and tolerable contractions came at around nine or 10 in the evening.

ADVERTISEMENT - CONTINUE READING BELOW

Recommended Videos

Painful contractions

By midnight, now June 11, I was trying to sleep when I felt the worst of my contractions. I didn't want to call one of the nurses because I thought it was part of the labor process.

Sabi ko sa sarili ko, hindi ako pwedeng mag-inarte. But they were the worst cramps I had my entire life! Totoo pala ang kasabihan, mapapatawag ka sa kung sinu-sinong mga santo na kilala mo at tatawagin mo din ang nanay mo! 

At around 2 in the morning, the nurse made her rounds, and I reported what I felt. She hooked me to the cardiotocography (CTG) machine, which came back with uterine hyperstimulation. Three to four contractions were typical for a specific period, but I was already having around six to seven!

The nurse started me on oxygen via a face mask. The doctor came in, and she pulled out the medication administered to me prior. I was given medication to ease my pain.

Something was not right about the contractions 

At around four in the afternoon, the obstetrician came to reassess me and said that I was about four centimeters dilated. I was transferred to the labor room since our hospital's protocol dictates the patient must be transferred to the labor room at this rate.

At around five or six in the evening, I was offered to have an epidural. I immediately said yes after what I have been through. I prayed I would be spared of the effects of epidural anesthesia afterward, like lower back pain that a few of my mom-friends experienced.

ADVERTISEMENT - CONTINUE READING BELOW

This is the labor room of a hospital in the Middle East where the author stayed before her emergency cesarean section.

PHOTO BY

courtesy of Roma Lyka F. Manangan-Velasco

I was intermittently hooked to the CTG machine during this time. But at around seven in the evening, my nurse hooked me to the machine for continuous monitoring.

Something was not right with my contractions correlating to the baby's heart rate.
I had a feeling I could be headed for a Cesarean delivery. At around nine in the evening, I overheard the nurse saying I was already having several decelerations. Our baby girl's heart rate dipped to about 90 beats per minute (far from the normal range) every time I had contractions!

At around half-past nine, the consultant intervened and assessed my and the baby's condition. She knew I was one of the nurses working for the hospital -- I even worked with her for a few emergency obstetric cases. 

ADVERTISEMENT - CONTINUE READING BELOW

She asked me if I already knew. I nodded and, surprisingly calm, said, "Emergency CS, Doktora."

Emergency CS 

I was given a few moments to call my husband, who was waiting outside the hospital. He knew I was being monitored, but he was still optimistic I would have a normal spontaneous delivery.

He didn't seem to process what was happening, so I said, "Tay, piniprepare na ako ngayon, ha? I-emergency CS ako kasi sunod-sunod decelerations. Bumababa heart rate ni baby sa 90."

I knew he would understand that because he was a nurse. "Ha? Bakit? Bakit ka i-emergency CS? Okay lang kayo?" His voice was quivering over the phone.

I had to end the call because I was being wheeled already to the cesarean section-operating room (CS-OR) from the labor room. I sought help for my baby and me from Our Lady of Manaoag, Our Lady of Perpetual Help, and Our Lady of La Leche. I asked Mama Mary to take charge.

At 10:13 p.m. at the operating room, a voice announced loudly, "Baby out." It was immediately followed by a loud cry, the sweetest and most angelic sound I ever heard to this day.

Pre-COVID time, a newborn would be latched to his mom even after CS. But, in my case, my nasopharyngeal swab test for COVID-19 had no result yet, so they had to forego protocol.

Still waiting to see my baby

It also meant I couldn't appreciate how my baby looked since anything about four to five meters away looked either blurred or non-existent (it's why I wear glasses). My nurse colleagues were kind enough to let me try to see my daughter before she was wheeled away to the nursery. But all I saw was a blurry, baby-like figure wrapped in what appeared to be purple hospital linen.

ADVERTISEMENT - CONTINUE READING BELOW

Back in my room, I woke up on June 12, hoping to finally see and hold my daughter. But I still needed to wait for my COVID-19 swab test. But I was assured she was doing okay, and my husband's friends and acquaintances were the nursery nurses.

The first time I saw my baby girl was through a photo my husband forwarded and sent to him by his friends at the nursery.

On June 13, my swab test turned out to be negative, and I was cleared for discharge. But my baby was not yet cleared to go home. So I stayed until the following day when my husband welcomed me outside the hospital door that divided us for the past days.

Reunited with my family 

Together we waited for our baby. I was excited and anxious about my first formal meeting with my daughter. A few minutes before 11 in the morning, the nursery nurses presented to us the most beautiful, tiny human aboard a cot wrapped in a pink blanket.

"I felt like the hospital's main lobby was heaven on earth when I held her in my arms for the first time."

PHOTO BY

courtesy of Roma Lyka F. Manangan-Velasco

ADVERTISEMENT - CONTINUE READING BELOW

This pandemic caught everyone off guard. I learned from this experience that it is always a good idea to have a plan B (kung pwede plan C and D and so on!). Second, the wait is always worth it — gaya ng ilang araw na ipinaghintay naming para mahawakan at makita si baby! Mahirap at nakakaaburido pero worth it pa rin!

The most important thing of all, and lastly, is to pray. Never stop praying.

This story is a reader's submission and edited for clarity and brevity. 

What other parents are reading

Celebrate your pregnancy milestones!


Enter your details below and receive weekly email guides on your baby's weight and height in cute illustration of Filipino fruits. PLUS get helpful tips from experts, freebies and more!

You're almost there! Check your inbox.


We sent a verification email. Can't find it? Check your spam, junk, and promotions folder.

Trending in Summit Network