This Pinay Nurse Wanted a Gentle Birth at Home. Her Labor Lasted for 27 Hours

Giving up was not an option for this mom who wanted a gentle birth without medical intervention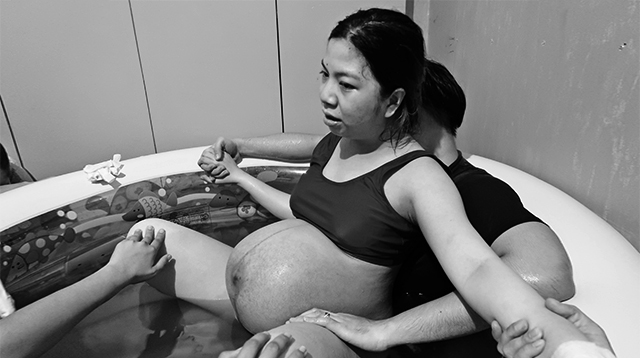 Editor's Note: Medical professionals caution against home birth because of the risks involved. A hospital is the safest setting for childbirth, especially when a life-threatening complication develops, which can happen without warning. Women have the right to make an informed decision about where they prefer to deliver, but always consult a doctor to understand the risks.

We're glad that more and more moms are becoming vocal about their birth plans, and they are not shy about sharing their unique birthing stories to the world, either. We found one mom who was adamant about choosing a gentle birth and ended up having a water birth after 27 hours of labor (wow!).

Via Tancuan, 29, wanted a gentle birth after a cousin, a mom and a breastfeeding counselor, told her about it. Her cousin gave birth to her first child in the hospital, but the second childbirth was unmedicated, and it happened in a birthing home.

"[My cousin] influenced my decision greatly," Via shares with SmartParenting.com.ph via an email interview. "She showed me different resources to read and encouraged me to do my own research."

What other parents are reading

A nurse who wanted to give birth at home

Via, a registered nurse who is also an entrepreneur and blogger, says that while she has seen and assisted many births while she was in nursing school, she still chose the option of giving birth at home. "I don't have anything against the practices done in a hospital, but a gentle birth allows me so many benefits," she shares.

ADVERTISEMENT - CONTINUE READING BELOW

Via with husband John.

PHOTO BY

courtesy of Via Tancuan

The benefits Via is referring to is delayed cord clamping, natural pain relief, and having husband John be part of the childbirth experience. "I also liked that I would be in control and involved in the procedure of my baby's birth," she says. (Clarify with the hospital where you plan to deliver if these are your wishes. Many hospitals require husbands to go through a birthing class if they want to be in the delivery room and/or to book a birthing suite, which is more expensive. Pain relief is often your choice unless there is a complication.)

Though Via consulted an ob-gyn throughout her pregnancy, she decided not to disclose the fact that she planned to give birth at home. "We had a strong feeling that he wouldn't be supportive. We were a bit apprehensive, so we opted to find a back-up ob-gyn, which our midwife recommended."

To give birth at home, Via says you have to have a healthy pregnancy and are not predisposed to complications that may need immediate medical attention like pre-eclampsia, gestational diabetes, urinary tract infection, and placenta issues.

ADVERTISEMENT - CONTINUE READING BELOW

What other parents are reading

She also prepared by being physically active. "On my second trimester, I swam a lot. I tried to be active and ensured my blood circulation was doing well," she shares. "I was practicing ways to avoid edema."

She also read stories and watched videos about what to expect when you give birth without medical intervention. Her husband had her full support. "I attended a birth class together with my husband, and it opened his eyes on the crucial role he has to play. We learned prenatal exercises, too."

Via also wrote down her birth plan and discussed it with her midwife, Aileen Vinoya and doula Jen Faiwas of Pinay Doulas Collective. 

How to mentally prepare for a water birth

Via knew she needed that extra shot of mental toughness by choosing to give birth without anesthesia and without having an episiotomy.

"I conditioned my mind that I had to endure the pain no matter how intense it would be. I had to tell myself over and over that pain and contractions are my friends," she says.

What other parents are reading

"Contractions will bring me closer to my baby — giving up is not an option."

Choosing to forego anesthesia was heavily influenced by Via's late mother. "I used to have conversations with her wherein she would tell me that she thinks anesthesia weakened her memory and made her more forgetful. She used to have a very sharp memory, and I'd like to think I inherited that trait. So I was also afraid that it may be affected by anesthesia," she shares.

As for not having an episiotomy, Via says, "Our body is capable of accommodating the baby's birth. With the right support and technique, we can give birth naturally, without an episiotomy or any vaginal tears."

ADVERTISEMENT - CONTINUE READING BELOW

Labor pain for 27 hours

Via did everything she could to prepare for the delivery day. She knew it would challenge her patience and pain tolerance. But she never imagined her labor would last for 27 hours.

By 6 p.m. on September 3, 2018, Via was 1 cm dilated. "I was already having Braxton-Hicks contractions since my 37th week, but this time, it was becoming more regular," she writes in her blog. At 9:30 the next morning, September 4, she was 2 cm dilated. By this time, the pain was intense.

What other parents are reading

Via did some squats to help dilate her cervix and was given pain reliever diluted with water to manage her labor pains.

PHOTO BY

courtesy of Via Tancuan

When her midwife arrived at 3 p.m., they found that the baby's head was not aligned with the opening of Via's cervix. Her doula helped her to do lunges and squats to correct it, but the baby changed positions.

"He was lying low in my back, with his back facing my spine, hence the anguish," she writes.

ADVERTISEMENT - CONTINUE READING BELOW

With her labor pains lasting more than a day, Via thought of just giving birth on the bed because she no longer had the strength to move.

PHOTO BY

courtesy of Via Tancuan

By 11 p.m., Via was ready to push, but 45 minutes in, there wasn't much progress. "I thought I was going to give birth on the bed, but when that didn't happen, I gathered what was left of my strength and with the assistance of my doula, I went to the pool." (She set up an inflatable pool inside their home.)

"OMG, why did I not think of giving birth here 15 minutes ago?" Via thought. She told us the warm water offered relief, making her contractions less painful. Her husband then joined her in the pool.

What other parents are reading

ADVERTISEMENT - CONTINUE READING BELOW

But after getting into the pool, Via felt a surge of relief.

PHOTO BY

courtesy of Via Tancuan

She felt the urge to push and clung to the sides of the pool. "I thought of imitating those powerful women who gave birth this way in the videos I watched on YouTube," she writes.

Still, her baby refused to budge. "I felt weak and pathetic. Maybe I wasn't cut out for this. Maybe I was not like those women."

"I didn't prepare enough, I was not strong enough. Maybe I was not meant for this."

What other parents are reading

In the last half hour of labor, Via's birth team, plus her husband, sister, mother-in-law, and father cheered her on as she pushed. Finally, at 1:05 p.m., she gave birth to her son, Davion Calum Alistair.

"He was given to me, and I felt the softest skin ever," Via recalls.

Via's son weighed 8.1 pounds and was 50 cm long at birth.

PHOTO BY

courtesy of Via Tancuan

"Ganun ang unang yakap, parang ayaw mo nang bitawan."

Despite the terrible pain and the moments she thought of just going to the hospital, the new mom was glad she stuck with her decision not to medicate. "When I delivered my baby, he was very much awake and was able to give a strong cry," she shares with Smart Parenting. "He was able to nurse easily, too! Groggy babies from medicated births tend to have difficulty breastfeeding upon birth."

ADVERTISEMENT - CONTINUE READING BELOW

Via wanted to have a semi-lotus birth where the placenta is birthed with the cord still attached to the baby.

PHOTO BY

courtesy of Via Tancuan

She was also able to have a semi-lotus birth, delaying Calum's cord clamping for a couple hours. Her husband helped cut the cord. "I thought it would be more meaningful if he did it," she says.

What other parents are reading

After giving birth in the water, Via shares her pain suddenly switched off. "When he was out, I felt a sudden gush of energy," she says. "After 15 minutes of holding him and taking photos, my midwife stitched me up (I had natural tears). Then, I stood up, walked to our dining table, and had dinner."

Via is thankful she was able to see through her birth plan to the end. "Giving birth at home allowed me to have more privacy and more freedom to do anything I wanted. I could eat, walk, dance, do prenatal exercises, listen to music, have my doula assist me in pain management, and shout as loud as I can!" she shares.

And the recovery was quick and pain-free. "People asked me, 'Nanganak ka ba talaga? Parang walang nangyari!' To this, I say, that's what happens when you trust your body and believe in your own strength. Women, you are stronger than you think!"

ADVERTISEMENT - CONTINUE READING BELOW

This story was updated on June 14, 2019.

What other parents are reading

Celebrate your pregnancy milestones!


Enter your details below and receive weekly email guides on your baby's weight and height in cute illustration of Filipino fruits. PLUS get helpful tips from experts, freebies and more!

You're almost there! Check your inbox.


We sent a verification email. Can't find it? Check your spam, junk, and promotions folder.
Trending in Summit Network