On My Mind: I Delivered via Hypnobirth-And It Was Almost Pain-free

One mom shares how this alternative birthing method allowed her to give birth sans drugs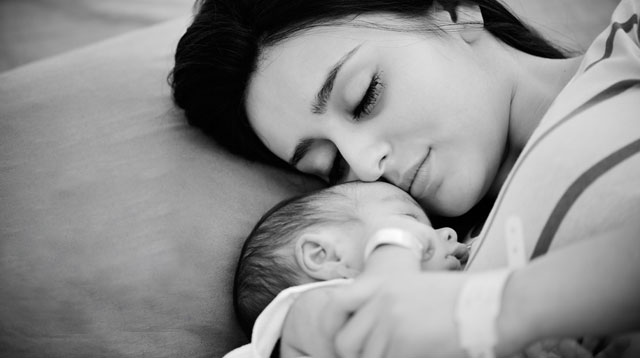 Photo from corcell.com

We waited four years before deciding to have a second child. The wait was intentional, just like my approach to everything in my life. Apart from wanting to make sure we were financially equipped and spiritually prepared for another baby (and a whole new life to nurture and care for), my husband and I also wanted to approach the second pregnancy and birth journey with a purpose. This time around, we consulted a doula, did traditional prenatal exercises (i.e., Rebozo wrapping, prenatal yoga), and made sure I ate healthily. The philosophy that tied all of these together was a birthing method I would be trying for the first time: hypnobirthing, a system that allows a birthing mother to learn special breathing techniques, deep relaxation, visualization, meditation, and physical preparation for a peaceful birth.

In preparing for the birth of my second child, I was concerned about both the pain caused by the contractions and the tearing [down there] as I pushed my baby out. While I did practice the Bradley birthing method the first time around (and had a relatively easy birth with an episiotomy), I wanted a better second experience without as much hospital "red tape" involved. With my first child, I felt like I could have prepared for a birth that nurtured my needs and desires as a mother, not so much as a patient. While I did not opt to do a home birth for my second baby, I wanted a peaceful hospital birth. Hypnobirthing honors that a birth is a shared event for the entire family and the birth team (healthcare provider and doula), whether it occurs at home, in a birthing center, or in a hospital, and I was determined to make it happen for me.

And wow, did I learn about the power of the mind from this hypnobirthing experience!

ADVERTISEMENT - CONTINUE READING BELOW

What other parents are reading

The "journey" to this sacred, drug-free, and almost pain-free birth began at around 3 a.m. last January 31 with cramp-like surges, or what we normally call contractions or labor pain. My husband and I left our son in the care of his grandparents before heading to the hospital, meeting up with our doula there. The hospital rooms and wards were fully booked when we arrived, so I labored for close to three hours in the delivery room triages. All the while, my doula massaged my back as I felt the "pressure" of my surges. She played calming music from her iPod, while I simultaneously listened to my fear-clearing affirmations on my iPhone.

I labored all the way up to noon that day, aided by my birthing audio tracks, my doula's calming affirmations, and my husband's comforting embraces and physical presence -- things I wasn't able to enjoy during my first birthing experience because of hospital protocol. Because I had specifically requested for these things to be allowed for me during labor, I felt empowered to design my labor experience in a way that would give me ample relaxation, both in mind and body.

At around quarter to 12 noon -- after being watched by the hospital labor staff as I deeply breathed and even slept off the contractions -- I fuzzily recalled my OB-gyn announce that I would see my baby in a matter of minutes. Thanks to the self-hypnosis, I was in a state of near numbness and euphoria, almost oblivious to the pain yet fully conscious of the flurry around me. I even yelled at the hospital staff to stop making so much noise, because they were drowning out the calming sounds of my hypnobirthing audio tracks, which were still playing in a loop on my iPhone.

CONTINUE READING BELOW

Recommended Videos

What other parents are reading

Finally, after less than five minutes from the time I fully dilated, I felt the most massive surge ever course through my body and my birth path. Suddenly, my body "expelled" my second baby -- a beautiful, bright-eyed baby girl. I shouted her name in pure ecstasy as I felt her surge out of my body in one warm, forceful, yet painless swoop. It's a feeling I can't describe -- my body literally spat her out. I thanked her for her good work in coming out of me at the perfect time, in her perfect time. "Thank you, Krista, thank you," I said to her as she nursed for the first time while I was still on the birthing apparatus. I was not tired at all, but rather energetic, filled with natural adrenaline and happy hormones that were off the charts. I also didn't fall asleep until the early evening of my daughter's birthday, thanks to the drug-free nature of the birth.

Hypnobirthing helped me realize my personal power to focus, to eliminate any tension-causing fear from my mind, and to relax my body at will. More than anything, it helped me, together with my birth team, in the shared journey of bringing new life into the world.

Martine de Luna is a wife, mother, and a freelance digital strategist specializing in women solopreneurs and blogger branding. She is the founder and chief blissmaker at Make it Blissful, a "lifestyle blog that believes in delighting in the imperfect yet inspired things of life." 

ADVERTISEMENT - CONTINUE READING BELOW

This article first appeared in the May 2015 issue of Smart Parenting magazine.

What other parents are reading

Celebrate your pregnancy milestones!


Enter your details below and receive weekly email guides on your baby's weight and height in cute illustration of Filipino fruits. PLUS get helpful tips from experts, freebies and more!

You're almost there! Check your inbox.


We sent a verification email. Can't find it? Check your spam, junk, and promotions folder.
Trending in Summit Network