Ina shares the birthing story of each of her kids — all of whom were born via normal vaginal delivery.
She suffered, however, from gestational diabetes and experienced intense breastfeeding pain.
Ina tells us the secret to maintaining her svelte figure (yes, she loves to dance, but there's more).
For Ina Raymundo, the story behind having each of her children — daughters Erika, Mikaela, Anika, and Minka, and only son Jakob — is unique. The 42-year-old actress recalls her different experiences to SmartParenting.com.ph in an interview at the launch of her latest campaign with Century Tuna (one that is aptly titled "ageless" last February 7).
Ina can't forget that when she had her eldest Erika in 2001. She "didn't know anything about eating healthy," and so she "ended up having gestational diabetes," a disease that develops during pregnancy and causes high blood sugar. She was only 26 years old and was then living in Canada with her now husband of 14 years, Brian Poturnak, a Canadian-Ukranian financial expert.
"I had to see a dietician to teach me to eat healthily," she says. "Kasi if not, delikado…I learned a lot from that experience. For me, it was a blessing in disguise na nagka-gestational diabetes ako. Because of that, I learned to eat well."
ADVERTISEMENT - CONTINUE READING BELOW
Once you get gestational diabetes, the risk of diabetes continues after birth, more so in Ina's case because diabetes runs in her family. "My tito just passed away because of [diabetes]." She's being extra careful by continuing to follow a diet inspired by meal plans for diabetic patients.
"Although 'yong sa kanila, mas strict," she points out. "Kasi 'yong sa kanila, bawal talaga mag-sugar. Ako, one cup lang. That's how I eat my fruits. Pero kung ano 'yong puwede sa kanila, gano'n din ang ginagawa ko."
She makes it clear, though, that she doesn't deprive herself of food, and instead, she eats six small meals a day from Monday to Friday. By the weekend, she indulges in her food cravings, such as sweets or chips.
The morena actress's beautiful face lights up as she recounts her second child Jakob's arrival; Jakob is now 13 years old.
"Napaaga!" she recalls, grinning. "Nag-break agad 'yong water ko. I was 37 weeks along, and I was on my way to my baby shower. Biglang nag-break 'yong water ko! So hindi ko na napuntahan 'yong baby shower ko. Diretso na 'ko sa hospital where I had to be induced. Pero hindi naman na-incubator 'yung only boy ko."
CONTINUE READING BELOW
Recommended Videos
Ina keeps the smile on her face as she remembers how she gave birth to her next kid, Mikaela, nine years ago. "Sa third naman, siya 'yong pinakamadali," she says. "Pag dating ko sa hospital, seven cm [centimeters] na 'ko. So mabilis akong nanganak. No pain. Napakadali lang, mabilis talaga. For me, that was my easiest labor, and ang bilis din niyang nag-latch sa breastfeeding. Siya 'yong pinaka-hindi ako nagkaproblema sa breastfeeding kasi 'yong first two talaga was so hard. I almost gave up, pero buti na lang, nag-pursige ako."
In 2010, Ina was again induced to bring her fourth child Anika into this world. "Pero madali din lang after," she nods.
Three years later, she had her bunso Minka, who, at 8.8 lbs., was her biggest baby. "For the first time, I felt pain after," she says, shaking her head. "'Yong postpartum ko, nahirapan ako, kaya sabi ko, 'Ay, naku, that it, no more babies!' Kasi parang it took me a while to recover, and it was the first time akong nag-wheelchair pauwi. 'Yong gano'n. Eh, before talagang lakad ako palagi. Ito, talagang bugbog 'yong pelvic area ko. So 'yon ang pinaka-painful ko, 'yong postpartum."
ADVERTISEMENT - CONTINUE READING BELOW
Speaking of postpartum, Ina says she experienced depression with her first child and the blues with her second. She is grateful both conditions didn't last long. Although Ina didn't tell if she sought professional help, she did share how she coped during that time.
"Na-realize ko ang solution lang do'n is to go out, go quickly to the mall or grocery store. 'Yong mabilis lang para may semi-sense of normalcy, kesa 'yong nakakulong ka lang sa bahay palagi."
Ina shares another reason why she may have experienced postpartum blues because her breastfeeding experience was painful (she breastfed all her five kids). "Kaya isa din 'yon kung bakit ayoko na magka-baby. Ang sakit!"
Ina learned that she had to prepare her nipples for breastfeeding."Kailangan, bago ka manganak at seven months, maglagay ka na ng lanolin [ointment] sa nipples mo para ma-moisturize nang husto 'yong nipples mo para very supple siya.
"So by the time na mag-breastfeed ka, very supple na, hindi dry. Kasi once nagkasugat 'yon, ang sakit talaga. And it's more painful than childbirth. I'm not kidding. Kasi you feed your babies at least 10 times a day. So every time magla-latch siya in the beginning, sobrang excruciating pain."
ADVERTISEMENT - CONTINUE READING BELOW
"Maraming mga mommies na parang gusto na nilang mag-quit because of that. So, you have to moisturize with lanolin before pa lang, two months before you give birth and 'pag nasa delivery room ka na, mag-apply ka na because right after you give birth, iro-room in na 'yong baby mo, ila-latch na. So 'yong fifth ko, hindi ko alam na gano'n na pala, so di ko nalagyan 'yong nipples ko ng lanolin, so nag-latch na agad 'yong baby ko, and the whole time nagbe-breastfeed na siya, nagsugat ang nipples ko. Ang sakit-sakit!"

After five kids and at her age now, 42, the actress feels "it's not safe anymore" to conceive again. But then again, she'd like to wait for two more years, when she hits 44, to finally say: "No more na talaga, that's it."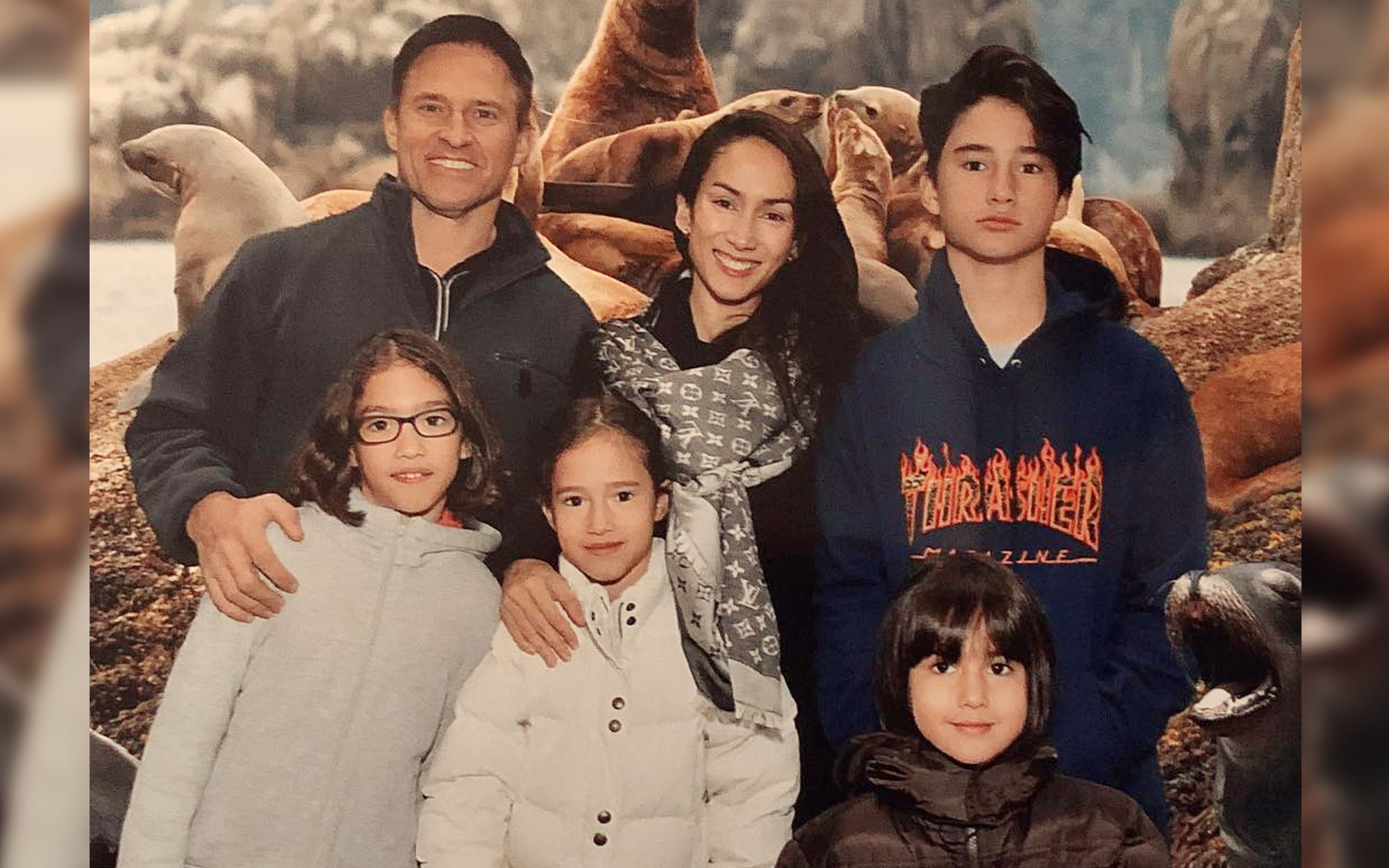 Ina with husband Brian, their son Jakob, and their daughters (from left) Mikaela, Anika, and Minka. Not in photo is eldest Erika.
PHOTO: @inaraymundo95/Insatgram
Ina believes that normal delivery helped her regain her pre-pregnancy figure, something that's not too far off from how smashing she looked in the 1995 TV ad for San Miguel Beer titled "Sabado Nights."
But she hastily adds that it also takes a lot of hard work keeping herself fit, especially after giving birth to her panganay Erika. "I gained so much weight, so that's when I started going to the gym," she explains. "It helps that my husband is very healthy and buff. He's my fitspiration. Kaya madali for me to work out because of him. Siya talaga 'yong he will get me a gym membership. Di ba, sayang naman kung hindi mo gagamitin?"
ADVERTISEMENT - CONTINUE READING BELOW
These days, Ina makes it a point to work out five times a week, but only for an hour class each day. "Hindi ako nag-i-stay nang matagal sa gym," she avers. "Talagang one class lang, then I leave. That's it. I don't stay. 'Yong iba talagang tumatambay, but me, right after I work out, I go home. I just stay there for an hour."
For Ina, achieving your fitness goals is all about mindful eating, discipline, and common sense. We know that too much sugar and carbohydrates are bad. Her suggestion: "Lessen it by half. 'Yon lang 'yon, eh. Halimbawa, 'yong mga drinks na sugary. Let's say you have two cups a day, then make it one! Bawasan mo lang, at least meron pa rin. Then, eventually, if you can only just drink it twice a week, not every day. Ang laki ng difference no'n. Sobrang laki. Talagang you will lose weight. You will reach your ideal weight.
"And try to walk, try to move. Kasi ngayon sa social media, you have a tendency to be a couch potato, so 'yon nga, labanan mo. Try to move. Pag nag-grocery, push mo 'yong grocery cart mo with feelings para nawo-work out 'yong arms."
Staying fit and having a healthy lifestyle have rubbed off on the entire Raymundo-Poturnak brood. Erika, Jakob, Mikaela, Anika, and Minka are quite active in sports like softball for girls, and baseball for the lone boy. They are future gym buffs like their parents. It's a pattern that began with the man of the house.

"Kasi 'yong husband ko, the reason why he is very fit is that he would see his parents work out," she explains. "So kaya siya into working out. Talagang mai-influence mo 'yong tao sa paligid. So, 'yong mga anak namin…I don't think we'll have to force them to go to the gym. They will naturally go to the gym. Eh, 'yong bunso ko na lang, she's almost 5 years old. Gustong-gusto na niyang mag-work out, as in gustong-gusto na niya. 'Pag dinala ko siya sa gym, 'Can I go there when I'm older?' 'Yes, yes!' So, excited na siya."
ADVERTISEMENT - CONTINUE READING BELOW
(You don't see Ina's eldest on her social media accounts because Erika expressed a desired for anonymity. In an Instagram post two years ago, Ina explains, "She doesn't want to be on my IG. I truly respect that, but I just want to share that my 14-year-old daughter is beautiful, smart, super strong like her dad and very independent.")
And while the mom of five has been earning raves for her fitness and nutrition, she does has one note of encouragement to fellow moms: "It's okay kung may puson. Kasi, you know, you're a mom. And sometimes I have that bulge, you know, after I eat. I gave birth to five. Do sit-ups and use Spanx [shapewear]."
MORE FROM Smartparenting.com.ph