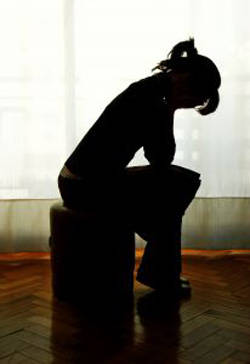 Most new mothers go through a low period after the birth of their child.  It is a natural occurrence because of the rapid drop in hormones the mother's body undergoes.  So, when is it just the baby blues and when is it postpartum depression?

Dr. Theresa Castillo-Masilungan, a clinical psychologist, gives us a deeper understanding of which is which.

Baby blues and postpartum depression have many symptoms in common.  What differentiate one from the other are the duration, the severity of the symptoms, and the factors that cause them.


DURATION and SEVERITY
Both baby blues and postpartum depression may begin a few days after childbirth.  A mom may experience mood swings, sadness, exhaustion and anxiety.  With baby blues though, this low period usually just lasts a few days to a few weeks, until the hormone levels of the mom get back to normal.  With postpartum depression, however, the low period does not resolve and may even become more severe in time.  A mom suffering from postpartum depression may have difficulty doing tasks at home and caring for herself and her child because she would feel really depressed, angry, hopeless and helpless--sometimes even fearful that she might hurt herself or the child.


FACTORS
With baby blues, the mom's hormones are the main culprit, and it is that drop in hormone levels that generally causes the symptoms.  With postpartum depression, however, it isn't just hormones anymore.  Other factors can also come into play and affect the severity of postpartum depression.  A previous history or family history of depression can affect this.  Emotional stressors like strained relationships, family problems or financial difficulties may play a role in postpartum depression as well.  Also, the preparedness of the mother for the responsibilities of parenthood, as well as the health and well-being of the child—illness, exceptionality or being premature and difficult to care for - are factors that can contribute to postpartum depression.
What can be done then?  
A new mother is usually able to overcome the baby blues on her own.  Things do get better after a few days to a few weeks after the onset, with or without professional help.  Husbands/partners, family members and friends can help her go through this difficult period by helping out in household chores or in caring for the child.  Giving the mom a few hours of 'me' time to exercise or do something she enjoys will also help a lot, too.

Having a friend take the mom out for a quick bite and chat or an hour of massage would also make her feel better.  Just getting a break from the 24/7 duties of breastfeeding and child care and the never-ending household chores can do wonders to uplift the mood.  

For postpartum depression though, there is a real need to seek professional help.  The family's doctor or OB-Gynecologist can refer the mom to a specialist, and it is important to take the doctor's advise.  Needless to say, the help and support of family members and close friends would be crucial during this period.


Photo from sxc.hu