How A Flat Tire 'Saved' Kryz Uy's 'Lucky' 2nd Baby Boy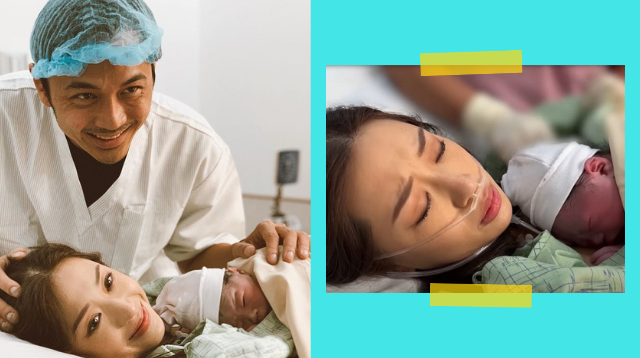 #Skyfam has officially welcomed its newest member and is now a happy family of four!

Digital content creator Kryz Uy gave birth to her second baby with her husband, Slater Young, on May 21, 2022. The couple considers their newborn "Our lucky baby," and for good reasons, which they shared on Kryz's birthing vlog on Youtube.

Kryz And Slater's 'Lucky' Baby

Kryz was able to give birth via normal delivery. However, challenges prior to and during the delivery made it extraordinary.

What happened, you ask? Well, just a series of unfortunate events that turned out to be lucky in the end.

The first luck was that the couple could get RT-PCR test results early. Hospitals now require this as an extra precaution amid the COVID-19 threat.

They were lucky to get it done already because the baby was 37 weeks old when he came out, meaning he was three weeks ahead of the 40-week full-term pregnancy.

ADVERTISEMENT - CONTINUE READING BELOW

READ ALSO: Kryz's Maternity Shoot For Baby No. 2

Kryz, however, admitted that she really wanted to give birth ahead of her due date because she says, "I really wanted the baby out na because it was so big and I was so scared na ma-CS."

"There was this one day na I watched three Youtube videos on how to naturally induce labor. I did it all three in one sitting. And then that night, I lost my mucus plug," she shared.

Kryz then shared this with her doctor, who advised her to get a PCR-Test the next day. But, it turns out, Kryz hasn't lost her mucus plug yet at that point. 

They were worried that they had wasted getting the COVID-19 test early but then, as Kryz shared, "buti na lang we were able to take it (RT-PCR test) kasi the next day, nanganak na ko!" 

How A Flat Tire Saved Kryz's Baby

Kryz and Slater went to the hospital morning of May 21. Kryz was already in the active stage of labor, and her cervix was already dilated at six cm. But the next unfortunate event was that their OB-GYN was running hours late.

The OB-GYN's direction was to hold off giving Kryz oxytocin to induce labor until she arrived in the hospital. Why was the doctor late? Good question! Kryz narrated the reasons why her doctor was behind schedule, which included surgery, banana cues, and a flat tire.

"It was like Murphy's Law," Kryz explained. "One thing led to another. First, may patient siya (OB-GYN). She had to do some surgery. Everything was okay. [But] when the patient got up nakuyapan, fainted. So she had to stay longer.

"Pagdating pa sa parking lot. Flat tire siya...She had to pay a banana cue vendor to inflate her tire. She had to buy all the banana ques just to say thank you," Kryz recounted.

"[A]t the end of the day, you realize, it was to save me, it was to save this baby."

When the doctor finally arrived, Kryz remembered how annoyed her doctor was for being late and did not even say 'hi' to her.

Kryz then narrated the fearful moment she had while delivering her baby, which almost got her to undergo an emergency C-Section. "When they broke my bag of water, she saw it was stained na. Kasi naka-poop na pala 'yung baby inside.

"I wash pushing, pushing, and they are all laughing and having a great time. Suddenly, everybody stopped talking." Slated added, "Tumahimik lahat, sobrang natakot kami."

PHOTO BY

screenshot youtube/kryzzzie

Kryz then noticed her doctor reaching for a pair of medical scissors. "Suddenly they're opening me, covering me. Doc got scissors. I'm like 'Oh my do, she's gonna cut me. What's gonna happen?'

ADVERTISEMENT - CONTINUE READING BELOW

Later on, the couple found out that the umbilical cord got wrapped around the baby's neck. "Apparently, the baby moved around so much, nag-cord coil siya. So, the umbilical cord was wrapped around his neck, and when I was pushing, it was getting the cord tighter around his neck," Kryz shared.

Read related articles on coiled umbilical cord:

The doctor then had to move fast, or else they would have to do the delivery via C-section. Slater remembered seeing the baby in an "eggplant-like color" when he came out. "Almost did not make it, choked," as they described the situation.

RELATED: 10 Reasons Why Doctors Perform Emergency C-Section

Kryz, Slater, and the whole medical staff considered it as a very fortunate moment. "Doc was saying, 'I am so sorry God, because I kept cursing at you and saying, 'Why is this happening and at the end of the day, you realize, it was to save me, it was to save this baby.'"

PHOTO BY

screenshot youtube/kryzzzie

ADVERTISEMENT - CONTINUE READING BELOW

Slater explains, "Because if napaaga daw si Doc, and they gave the oxytocin earlier, lalong mas delikado for the baby and guaranteed daw talaga emergency CS. So it was a good thing na na-delay siya at na-late siya."

Sky fam's patriarch could not reiterate how lucky they were that his family was safe after all the mishaps and whatnot. "All in all, everything worked out for the best and ang daming instances where it could have turned for the worst."

He then credited his wife's strength, enduring the pain just to make sure their baby would come out safely.

Hello, Sky fam baby no. 2!

PHOTO BY

screenshot youtube/kryzzzie

For her part, Kryz gave a massive shoutout to all the medical staff present during her delivery who cheered and supported her along the way. She says, "I don't think kaya ko 'tong ilabas kung wala yung support system don."

"All in all, everything worked out for the best and ang daming instances where it could have turned for the worst."

Slater was still very keen to have baby number 3 to which Kryz quickly disagreed and said, "Ayoko na... sobrang sakit!"

ADVERTISEMENT - CONTINUE READING BELOW

For now, the couple has yet to reveal what they named Scott's baby brother. Until then, we're one with those who are relieved that Kryz and her newborn are safe despite the eventful delivery.

Congratulations on your growing family, Sky fam!

Read more childbirth and labor tips here.

Trending in Summit Network