Mom-to-Be, 5 Things You Do That Can Make Your Labor More Difficult

These are the things you should avoid to have a quicker childbirth experience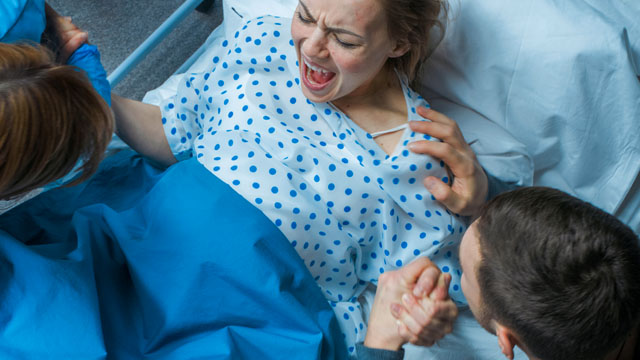 If you're a first-time mom-to-be, you've probably heard tales of how painful labor is. You've also seen movies with scenes of women giving birth (not always accurate, by the way) or watched videos of actual births (with a full view of a woman's vagina) during the family planning seminar you were required to attend before you got your marriage license. You have no doubt it can be painful — so what now?

First off, know that the birthing experience is different for every woman. And while you really can't do anything about the pain (especially if you don't want a medical intervention), there are a number of things you can avoid doing to make labor somewhat easier for you.

5 things to avoid to ease your labor pain

Don't lie flat on your back

Lying on your back is not the most optimal position for labor or for pushing the baby out. Instead, take a squatting position, a birthing stool position (where the mom sits on a low stool), or a kneeling position which may help with dilation, assist the baby in moving farther down by taking advantage of gravity, and ease back pain. When you get tired, do recline to take a break. 

ADVERTISEMENT - CONTINUE READING BELOW

CONTINUE READING BELOW

Recommended Videos

Don't stay seated or lying down

"Women who are in bed tend to experience more pain than women who move around," Rebekah Wheeler, MPH, a certified nurse-midwife in Bay Area, California, told The Bump. Simple movements like walking pushes the baby down and speeds up labor and delivery. According to Baby Centre, "As you walk, it's thought that the rhythmic pressure of your baby's head on your cervix stimulates the release of oxytocin. Oxytocin is a hormone that helps to trigger and regulate your contractions."

What other parents are reading

Avoid crying or screaming

It's normal to make whimpering or moaning sounds when you are in pain, and it is actually encouraged to help you focus and direct your pushes from your diaphragm downwards. However, according to an article on Babygaga, that force is redirected upwards to your mouth instead when you scream (or cry), making your pushes innefective. 

Do not panic

Fear of the unknown usually puts one in panic mode, all the more if someone's life depends on you — in this case, your child's! Especially in a situation like this, panic won't do you any good, so trust your medical team and will your mind and body to relax (so labor could progress as normal). Early on in your pregnancy, you could take birthing classes so you'd know what to expect (and prevent from freaking out while in labor). In addition, having someone on your side who knows how to calm you down, like your husband or a doula, may give you peace of mind. 

ADVERTISEMENT - CONTINUE READING BELOW

Don't go to the hospital at the first sign of a contraction

As a clueless first-time parent, your instinct when you start feeling contractions would probably be to rush to the hospital, especially if your due date is near. However, it is better to wait it out where you could comfortably monitor your contractions. Call your doctor, and unless you have a high-risk pregnancy or you've been specifically instructed by your doctor to go, stay put.  

Trending in Summit Network