An Emergency Hysterectomy Saved This Mom's Life After Childbirth

In a matter of minutes, the operating room was filled with doctors, all in a state of panic.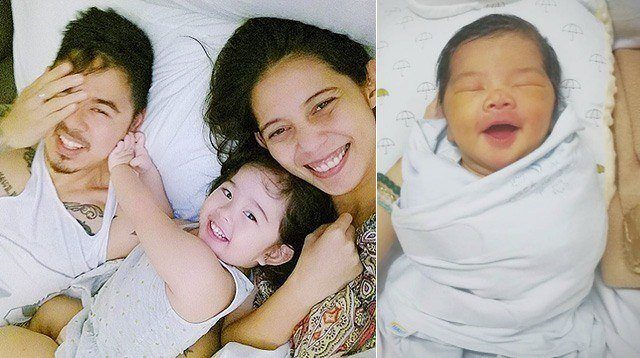 Nothing in life is as big a decision as to have kids. For entrepreneur and makeup artist Jasmine Mendiola, that decision came one year into the relationship with her partner Paolo. Although they were already parents — Paolo has two beautiful daughters, aged 17 and 12, and a 5-year-old son, and Jasmine has a 13-year-old son Mio (who is now cancer-free after being diagnosed with acute lymphocytic leukemia at 5 years old) — the prospect of another baby brought joy to the couple. 

In 2015, the dream came true when Jasmine gave birth to daughter Amelia Roux, who is now in her terrible twos. Says Jasmine, "She is such a darling and literally brought the most joyous of joys to our hearts. From the time I carried her in my womb, I was radiating sunshine and had a glow that my daughter now [also] emanates."

But their dreams of building a family didn't end there. "Last Christmas was our second and final attempt to add the icing to our very big cake," she relates.

ADVERTISEMENT - CONTINUE READING BELOW

Jasmine conceived as planned, making them a family of seven. She was already thinking of having a ligation after she gives birth although her ob-gyn advised against it.

"I had a feeling that getting pregnant past the age of 35 will take a huge toll on my body, having a history of a split disk and mild scoliosis. True enough, my third pregnancy wasn't a walk in the park compared to my two previous pregnancies," Jasmine recalls, citing instances of joint pains and spotting in her first trimester. Overall, however, she found no reason to worry since all ultrasounds and other tests were normal.

On her 38th week of pregnancy, Jasmine became restless waiting for the baby to arrive. "On the day of my routine check-up, September 12, I even had a morning meeting before going to my OB's clinic. Finally, I was 4 centimeters dilated. We were instructed to go about the rest of the plans we had for that afternoon and check myself in at 5 p.m. I was finally giving birth that evening."

CONTINUE READING BELOW

Recommended Videos

In between grocery shopping and picking up their hospital bags at home, Jasmine even remembers replying to an email — almost ominously — regarding a proposed meeting. "I'm on my way to the delivery room. Can I get back to you tomorrow if everything goes smoothly and let you know if I'm up and about by then?"

Jasmine recalls she felt confident that the childbirth would be a piece of cake, just as it was with daughter Roux two years prior. After all, she had the same team of ob-gynes taking care of her. 

What other parents are reading

"In my groggy state, I recalled a heavy feeling in my chest until I vomited. I felt scared because I never had a heartburn in my life, and to have it while giving birth didn't seem like a good way to start my 'push.' 

"I remember having chills and doctors asking me if I felt cold. They checked back after they put heat under my blanket. Finally, I felt Paolo's hand on my face; he was smiling with a camera in his hand. I saw the excitement in his eyes as he kissed my forehead.  

"At 9:16 p.m. I heard him cry, our Pablo Pascal. He was born via normal spontaneous delivery with a birth weight of 6.4 lbs. and was immediately laid on my chest for our first touch before he was lifted off."

What other parents are reading

Then, suddenly, the operating room was filled with more doctors, all seeming to be in a state of panic.

"I looked up and saw Paolo's eyes filled with worry and unbelievably in tears. I was told that my uterus wasn't contracting and I was losing a lot of blood, so they needed to take it out. I had the strength to ask, 'What does that mean?' I was told, 'Wala ka nang matres, hindi ka na pwedeng magka-baby ulit,' which I easily dismissed and thought, 'Okay lang 'yon, that was the plan anyway.'

ADVERTISEMENT - CONTINUE READING BELOW

"But Paolo kissed me again and said, 'Be strong, babe, dito lang ako.' I felt that he was scared, so I smiled back and joked, 'Basta beb ikaw na bahala.'" Jasmine had no idea what a bad joke that was at the time. 

When Jasmine woke up the next day, she found herself hooked to several tubes. "I had a catheter to monitor my output and see if my kidney was working fine. My abdomen was covered as expected [from the operation], my back felt heavy and glued to the bed. My arms were swollen up to my fingers. I needed at least three good lines to run blood, fluid, and medicine. I occasionally needed oxygen, too. After 12 hours, I was told that instead of our room, I had to be put in the Intensive Care Unit because I had an acute kidney failure."

What other parents are reading

Because she needed medical attention herself, her newborn had to stay at the Neonatal Intensive Care Unit (NICU), surviving on pasteurized breast milk. "I was growing more impatient. Top that with the horror of our hospital bill shooting up to six digits, that did the trick. My blood pressure was back up to normal two days later."

Jasmine was transferred to a progressive care unit the same night. One by one, as she started to feel better, the tubes came off.

"The third day was when the magic began. I was down to just one intravenous line and managed to poop in the toilet the same afternoon. That meant my kidney was fine, except I had breathing lapses, so they wheeled in a portable X-ray machine. Later on, they found a bit of water in my lungs.

ADVERTISEMENT - CONTINUE READING BELOW

"That day was a roller coaster of sorts, but I pulled through with my last blood transfusion, the twelfth in three days. That night, I was finally transferred to a regular room on the maternity floor, and I immediately requested for Pablo to be roomed in.

"I was finally able to hold him in my arms. I was frustrated to have a flimsy pair of boobs yet to fill up with milk, but holding Pablo felt like a surge or energy helping me to get better. I was eating normal food [soft diet] and enjoying the jello. That morning, after the OB team changed my bandages and checked with nephrology, hematology, and pulmonology to clear me for discharge with promises that I will rest, I was out of the hospital by 5:00 p.m. with a brand new baby, two days earlier than they expected me to recover."

Having surpassed such a life-changing episode in life, Jasmine has so much to be thankful for: Friends who donated breast milk for Pablo when she still had issues with her milk supply; her Pablo who is a happy, healthy baby at 2 months old; her team of doctors who kept her alive; and a partner who wouldn't let her give up. 

ADVERTISEMENT - CONTINUE READING BELOW

"My official operation records state that I actually had three operations: a normal delivery, a minor cervical laceration, and the emergency hysterectomy. I see a scar on my belly and only feel gratitude for the doctors who saved my life that night. Paolo would still tear up when he is asked how I am, and I can't bear the thought of how afraid he must have been.

"Our savings are gone, and plans have been narrowed down. But more than regret or pain, I feel grateful that our plans [still] seem to be falling in place at the right time."  

What other parents are reading

  

Celebrate your pregnancy milestones!


Enter your details below and receive weekly email guides on your baby's weight and height in cute illustration of Filipino fruits. PLUS get helpful tips from experts, freebies and more!

You're almost there! Check your inbox.


We sent a verification email. Can't find it? Check your spam, junk, and promotions folder.

Trending in Summit Network