We Love This Mom's Reaction When She Found Out Her Baby's Gender

Surprise! This mom couldn't believe it, and her photo inside says it all.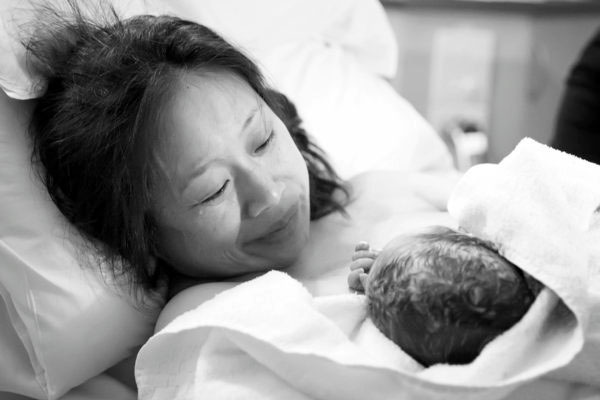 While doctors need the ultrasound to check on a baby's health, the parents-to-be rely on it to know whether it's a boy or a girl. As early as 14 weeks into the pregnancy, some doctors can already definitively say if, say, dresses should be included in your future shopping list.

Sonograms get the gender's baby right, at least 98 percent of the time, so say the experts. It still depends on the the timing of the ultrasound and the baby's position in the womb. Plus, there is still a 2 percent chance your doctor gets it wrong because the ultrasound wasn't revealing all. That's exactly what happened to this mom.

Australian-based Koto Nakamura was told that she was having a baby girl after an ultrasound 20 weeks into the pregnancy. This was their first child, and so she and her husband Sina Niakansafy already picked out a beautiful name, Hinata. They had a baby shower where they and their little one were gifted cute and pink baby gear.

Then delivery day arrives, and Koto was in for the surprise of her life--and her birth photographer Jessica Jackson, of Itty Bitty Photography, captured her reaction.

ADVERTISEMENT - CONTINUE READING BELOW

"The priceless look on a mama's face who was told she was having a baby girl but received a baby boy!! Talk about a big surprise!!" she captioned the now viral photo when she shared it on her Instagram.

"It was a roller coaster of emotions in just a few short minutes: pure shock, disbelief, excitement, happiness and relief," Jessica told Today Parents.

CONTINUE READING BELOW

Recommended Videos

What other parents are reading
The birth photographer snapped the photo at the exact moment Koto looked at her to check if it was true; she thought it was a joke. "I lost words and I couldn't believe it until I saw his bottom," the new mom said. Just moments before in the delivery room, the midwife told her a story of a woman who was expecting one gender but gave birth to the opposite. They were all joking and trying to imagine how the mother must have felt.
For Koto, it was a brief moment of shock, but then after a few minutes, her newborn's sex didn't matter anymore. The new parents were bursting with happiness upon their little one's arrival that they started discussing baby boy names. Koto and her husband named their son Taiga, a Japanese name meaning "big and gracious." Now that's one cool and amazing birth story to tell the little boy when he grows up.
ADVERTISEMENT - CONTINUE READING BELOW
The lesson: If you're planning for a babymoon, a.k.a. baby shopping spree, schedule an ultrasound at a much later week into the pregnancy. "The accuracy of the ultrasounds increases as gestational age advances," says OB-gyn Bart Putterman, M.D., in Houston, Texas. That, or maybe stick to gender-neutral clothes. 
What other parents are reading

Trending in Summit Network