My Birthing Story: Princess Velasco

The ASAP Sessionista had to be hospitalized twice during her pregnancy--but it was all worth it.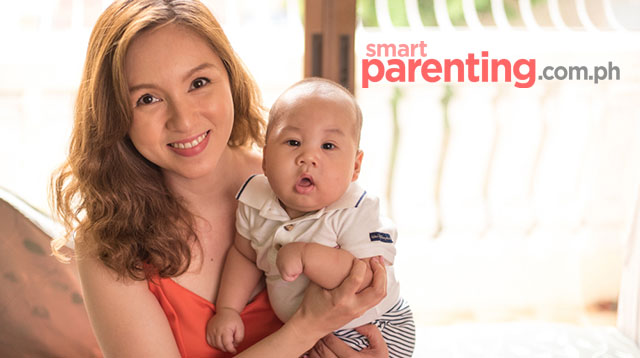 Princess Velasco
Wife to Mark Herbert "Bistek" Rosario
Mom to Marcus Jacobo ("Kobe"), 5 months 


SP: Was your pregnancy planned? When and how did you find out you were pregnant?
Princess: I was regularly going to my OB-gyn because I had endometriosis and an ovarian cyst. Plus, I was also taking meds to make sure I get my period every month. My OB said, "If you want to get pregnant, tell me so we can switch meds." We got married in December 2013 and we decided to try for a baby around eight to nine months after.

I found out I was pregnant in October last year. My period was delayed and my OB told me to take a pregnancy test. The first time I took it, it was negative but there was a faint line. She said to take the test after three days if I still don't get my period. 

On the third day, medyo excited kasi ako. Haha! I woke up early. When I saw it was positive, I woke up my husband. Of course. Sa sobrang tuwa namin, nag-impromptu breakfast date kami, as in 'di pa kami naliligo. Haha! We didn't tell anyone yet except my doctor. It was fun to have a little secret between us for a time.


SP: How was your pregnancy like?
Princess: I didn't get morning sickness—it was an all-day sickness. I was really averse to food and some smells in general.

Whenever I'm at home, nagkukulong ako sa kwarto kapag naggi-gisa and then I spray something so mask the smell. I cook, but I couldn't cook when I was pregnant because I really hated the smell. I love coffee, but when I was pregnant, the smell of coffee made my stomach turn. I guess my body was telling me "Bawal ka kasi dyan e." Haha! I really couldn't eat. I lost weight during my first trimester. I can only eat crackers, and rice with a not-so-tasty viand. Sobrang malakas akong kumain, but during my first trimester, the joy of eating was gone. As in pinipilit ko lang kumain for the baby.

ADVERTISEMENT - CONTINUE READING BELOW

My appetite was back around the 6th month of my pregnancy, and it came back with a vengeance. Sobrang takaw ko. That was summer time and it was so hot, lahat ata ng halo-halo sa Metro Manila kinain ko. And also dinuguan, na tinatago ko kasi sabi nila, "Iitim baby mo!" Dinuguan ng Via Mare -- I couldn't sleep just thinking about it. And I like ice cream, too!

My doctor only allowed me to exercise during my third trimester. I used to do yoga occasionally before. Other than that, wala, not even walking kasi bawal. I had to be on bed rest for a while.

What other parents are reading


SP: What happened that you had to be on bed rest?
Princess: The first time was around October. When I found out I was pregnant, we already had a scheduled Bohol trip and my doctor allowed me to go. But when we came back and I had an ultrasound, they found a sub-chorionic hemorrhage. I had to be on bed rest for a month and I was taking pampakapit meds. During that time, I felt really sad. So I just slept. I would wake up, eat breakfast and then sleep. Then, wake up to eat lunch, and then sleep, and then eat dinner and then sleep.

The second time I was on bed rest was in December last year. I had another ultrasound and they detected contractions in my uterus. I didn't feel anything but my uterus was contracting, and it was dangerous for the baby. My doctor had me confined for four days. They gave me meds to stop the contractions. I was throwing up and I was crying because I thought I was going to lose the baby. The diagnosis was threatened abortion, because the baby was less than 12 weeks old. But whenever the doctors would check on his heartbeat, it was strong naman. After four days in the hospital, I was on bed rest again.

ADVERTISEMENT - CONTINUE READING BELOW

Recommended Videos


SP: Would you consider that the greatest challenge of your pregnancy?
Princess: It was. I feared for the safety of my baby. I would talk to him, kahit na hindi ko pa alam yung gender at that time. "Please hold on. I will take it slow. Promise, 'di na pasaway si Mommy." Thankfully, malakas yung kapit ng baby ko. Plus, my husband is a doctor so medyo bawas praning. Whenever I would feel something, he was always there to reassure me.

Other than that, it was okay. During the latter part of my pregnancy, I just felt really big. Surprisingly, wala ako masyadong mood swings. I just really felt hot because it was summer time. Usually, lamigin akong tao. Kahit na mahina yung aircon, nakakumot ako. But at that time, nagpalit talaga kami ng pwesto ng asawa ko at tumapat talaga ako sa aircon. Haha! Masarap na kumain. I was chill.

ADVERTISEMENT - CONTINUE READING BELOW


SP: How did you prepare for your new baby?
Princess: I was online most of the time, 'yon yung ginawa ko in between eating and sleeping when I was on bed rest. I never got to read What To Expect When You're Expecting. I was just really excited to give birth na. Haha!

We're lucky because a lot of people gave us baby stuff. Most of the things we needed, meron na. And then I had a baby shower pa. The only preparations we did was where I was going to give birth.


SP: Take us through what happened on D-day.
Princess: I had a scheduled CS. At 36 weeks, I had a checkup and ultrasound, and it showed that my baby was large for his gestational age. He was already 38 weeks in size but I was only at 36 weeks gestation. Lahat ng sinasabi nila Mommy na "'Wag kang kumain ng malamig at ng matamis, lalaki yung bata"—nagkatotoo lahat! My OB suggested to schedule the CS. She said, "If you wait, at the rate you're going, aabot ka ng 40 weeks. And by that time, the baby will be larger. So CS ka talaga kahit mag-labor ka. If you want, schedule na lang natin." My husband said, it was better to do an elective CS, so we scheduled it on June 8.

I would have wanted a normal delivery. I cried when I found out I had to give birth via CS. My mom gave birth to me and my 3 siblings via normal delivery, so there was pressure sa sarili ko na dapat kaya mo, I guess. But my husband said it doesn't matter how the baby comes out. I didn't regret it. It was perfect for our situation.

ADVERTISEMENT - CONTINUE READING BELOW

We were admitted to the hospital on June 7 and we even watched a movie that night. Haha! I gave birth in Makati Med where my husband had his residency training. We watched San Andreas, which is not a feel-good movie.

I couldn't sleep that night because I knew what was going to happen, what time — I was scared. I thought "Will I be able to breastfeed?" because I really wanted to, masakit, I'm going to be cut open—all those things. I was also scared for my baby—"Is he going to be okay?"

What other parents are reading

That morning, they woke me up at 5 a.m. and I only had a couple of hours of sleep. I asked if I could do my eyebrows first. I was preparing for our first family picture. Haha! It felt surreal when they were wheeling me in the delivery room. They warned me it was going to be cold, that I was going to have chills because of the anaesthesia. Actually, parang ang bilis ng mga pangyayari. When the doctors were there—ang dami nila and they all knew my husband—chikahan silang lahat. I was so scared and then they were talking about the pinakamababaw stuff. Even when they were cutting me open already, chikahan pa rin. Haha!

My OB and my son's pedia were both our ninang sa kasal, so we were in good hands. My doctor even said, "O, Princess, I'm gong to make your cut bigger ha kasi ang laki ng ulo ng baby mo." I answered groggily, "Okay," as if naman I had choice. Haha! I also heard her say, "Tulungan niyo ako, ang hirap hilahin. Hawakan niyo!" I think I felt six of the nurses or doctors hold me down as she pulled my baby out of me. Umaalog yung buong table. Then, I heard, "O my God, ang puti. Pero kamukha mo, Bistek!" Haha! I was waiting to hear him cry, and before ako ma-praning, after a few seconds, umaalingawngaw na yung iyak niya sa buong room. I think he was angry because he was sleeping when he was yanked out of my womb. When I heard him cry, I thought to myself, "Oh my God, yes, okay tapos na."

ADVERTISEMENT - CONTINUE READING BELOW

Nakakaiyak yung feeling, totoo pala. For the longest time, I wanted to hold him and I was talking to him and he's here finally. He was wrapped in a blanket and he latched on me for a few seconds, we had our family picture, and then, they let me sleep. The next time I saw him was in the recovery room to breastfeed. It was incredible. He's so small—actually he's big, 8 pounds! Haha!


SP: How was your CS recovery?
Princess: When I gave birth, the next day, ang tapang ko, wala akong naramdaman because I was on morphine pa pala at that time. The following day, ang sakit! After 24 hours, you have to start getting up, you know, trying to walk, and I said it was impossible. I felt like everything was going to fall out. Ang hirap pero pinilit ko. The first two weeks, and I was on pain meds 24/7. 'Pag inoperahan ka mahirap na nga tapos iisipin mo pa mag-breastfeed. Instead of thinking of the pain tapos hindi ako makapag-breastfeed, I'd rather take pain meds para makapag-breastfeed ako. I just made sure that what I'm taking is safe for breastfeeding.

The thing is, when the baby latches and feeds, may uterus contracts—and my God, it was really sobrang painful kasi may tahi ka doon. Mapapaiyak ka talaga sa sakit.  Of course, titiisin talaga. I just thought, "I just have to get over this because I would have to continue breastfeeding my baby, and if I don't, then the milk will stop. And I don't want to give my baby formula because I have milk naman, sayang.

ADVERTISEMENT - CONTINUE READING BELOW

Nakakatuwa na nakaya ko. Until now, I'm breastfeeding My goal is to breastfeed for six months. Now parang kaya ko na siguro ang one year kasi nakuha ko na yung routine.

What other parents are reading


SP: So, you didn't have a hard time breastfeeding?
Princess: I had a lot of fears about breastfeeding, but it was okay. I think it helped that I knew what to expect coming into it, that it's not easy. It is natural, but you have to really prepare yourself for it for the problems that could arise.

When I was in the hospital, we had no problems at all. But when we came home, Kobe would just sleep the whole day! When it's time to feed, he would wake up for a while, suck few times, and then he would sleep. I was crying. I thought, "He's not eating. How is he going to survive?" Then when my milk came, my breasts got engorged. In the breastfeeding seminar, they said don't pump during the first month because it should always be direct feeding. But Kobe would latch and then fall asleep., so they advised me to pump after he feeds, and then store the milk just so the milk would keep on flowing. I did that for about seven to 10 days, and then okay na.




ADVERTISEMENT - CONTINUE READING BELOW

 

SP: You named your child Kobe?
Princess: Marcus Jacobo. I really wanted Kobe, so I looked for a name that would fit his nickname. I was the one who would present names to my husband and he would just say yes or no. His name is Mark Herbert, so I also wanted a name with 'Mark' in it. When I suggested Marcus Jacobo, it was the only time that he didn't say no. He would deny it but he's a fan of Kobe Bryant. But it's not the reason behind our son's name. He would always say, because his nickname is Bistek, si Kobe is Kobe-beef. Yeah, he's corny that way. Haha!


SP: Did you do anything to lose the post-baby weight?
Princess: I'm lucky.  I only gained 27 pounds, which is mostly baby weight. When I weighed after I gave birth, I already lost 22 pounds. I just had five pounds to go. Swerte lang talaga. No diet or exercise. I think breastfeeding really helped, and the binder, too, although I only used that for a month because it was very restricting.

What's good is I eat a lot now, parang mas marami pa than when I was pregnant because I'm breastfeeding. I'm hungry all the time. As in I'm hungry every three hours. Whenever I feed Kobe, I would be hungry. That's also one of the things that encourage me to breastfeed longer, because I can eat a lot. And I love eating.

ADVERTISEMENT - CONTINUE READING BELOW

What other parents are reading


SP: How are you now, four months into motherhood?
Princess: We're co-sleeping with Kobe which makes it easier to breastfeed. He wouldn't even cry to ask for milk. Kasi mababaw lang ang tulog ko, kakalabit lang siya, then latch na agad. Then, he would fall asleep, and I would also fall asleep. After that, we change sides. I really haven't had continuous sleep since I gave birth, but I wake up at night just a little lang naman to breastfeed. During the first few months, siyempre Kobe would pee and poop a lot, so I wake up my husband so he could change our son's nappy. Kobe sleeps longer now. He cluster-feeds at night, and then 'pag medyo busog na siya, he sleeps almost five hours straight.


SP: Any tips for new moms?        
Princess: Before you give birth, do your research. And then, trust your instincts. A lot of people will give you advice and a lot of people will have conflicting advice. Do what you think is best for your baby, and whatever works for you, because not all families are the same. 


SP: Are you planning on having more kids?
Princess: Yes. We want two. We want to have a baby girl, but if the second baby is also a boy, okay na kami. When I just gave birth, nung sobrang sakit ng CS ko, parang ayoko magkaanak ulit. They're going to cut me up on the same spot, no! But now, okay na pwede na ako ulit mag-baby—but I want to enjoy taking care of Kobe muna.

ADVERTISEMENT - CONTINUE READING BELOW


SP: What are your songs for Kobe?
Princess: When I was pregnant, I used to sing to him the Cinderella theme song"A dream is a wish…" Now, I sing to him nursery rhymes in Tagalog. I also sing to him "Uguy ng Duyan". He likes it when I sing in a high-pitched voice.

Actually, Kobe started laughing on the day I took him with me to a gig in Laguna. I brought him so I can breastfeed. When we got home, it was already late. I was tired and Kobe was tired and cranky, too. Before I took a shower, I took out the camera and took a picture of him, I was so surprised na tatawa-tawa na siya. When I started singing and talking to him, he was giggling, laughing, as in squealing. It was the first time and I caught on cam! 

 

Interview by Rachel Perez. Photos by Lai de Guzman. Hair and makeup by Anne Castaño.




What other parents are reading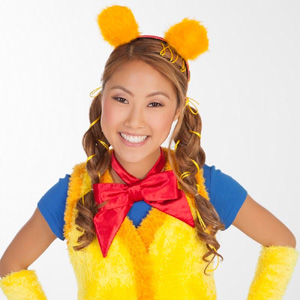 ADVERTISEMENT - CONTINUE READING BELOW
Celebrate your pregnancy milestones!

Enter your details below and receive weekly email guides on your baby's weight and height in cute illustration of Filipino fruits. PLUS get helpful tips from experts, freebies and more!
You're almost there! Check your inbox.

We sent a verification email. Can't find it? Check your spam, junk, and promotions folder.

Trending in Summit Network