3 Practical Tips To Help You Lose Your Post-Baby Belly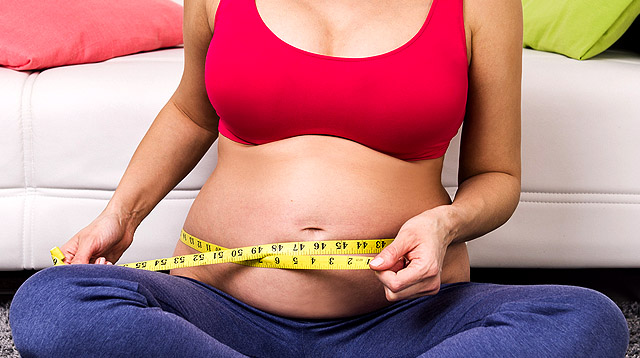 We will never stop being amazed at how Kate Middleton, the Duchess of Cambridge, can step out of the hospital to present her newborn to the media mere hours after giving birth. That is why it is frustrating when people notice her belly pouch and ask, "Why does she still look pregnant?" (Her sister-in-law, Meghan Markle, the Duchess of Sussex, also sported a bump two days after she gave birth and introduced her baby boy.)

A lot of women have called out these comments and posted their own postpartum body with a message: give new moms a break! After childbirth, it's typical to still have a pregnant pouch even weeks after welcoming a baby into this world.

Your weight gain isn't just your baby

The weight you gain during pregnancy is not all baby. Obstetrician-gynecologist Dr. Geraldine Mendoza of Makati Medical Center explained a pregnant woman's unborn baby accounts for only 29% of the pounds she gains. Eight percent of comes from the amniotic fluid and six percent is from the placenta — all of which you expel during childbirth.

The rest — 57% — is the increased fluid and blood production, which primarily helps supply oxygen and other nutrients to your baby and your organs. The pregnant body also stocks up on fat, protein, and other nutrients that will help produce breast milk.

Weight gain is typical, but it shouldn't be excessive because not only can it cause complications during pregnancy and how you deliver your baby, but it also affects your postpartum recovery. Experts recommend that a pregnant woman gain only about 25 to 35 pounds throughout her nine months if she had a healthy body mass index (BMI) pre-pregnancy. Ideally, preggos who are underweight may pack more pounds while overweight or obese women should put on less weight when pregnant.

ADVERTISEMENT - CONTINUE READING BELOW

What other parents are reading

Let your hormones do its job post-birth

Hormones will continue to play a part after childbirth. The moment you give birth, hormonal changes happen will again happen to your body, this time to get back, or at least as close to its pre-pregnant state. It took nine months for your body to be a home to your baby, so it's going to take some time. Patience is key.

When you were pregnant, your uterus and the skin on your abdomen were stretched to accommodate your growing baby. The organs in your abdomen were also rearranged to make room for your baby. Like your post-pregnancy pouch, some common pregnancy symptoms such as having that dark vertical line on your tummy, called linea nigra, also doesn't go away the moment you deliver your baby.

How long will it take to get rid of the post-baby belly?

How long you will have the pouch depends on your genes, body type and size, how much you gained during pregnancy, and how active were you. Some women look like they are still five months along. Some women go home from the hospital after birth without a visible pouch (trust us, it's there!). The size of your post-baby belly will most likely depend on the amount of weight you gained.

Typically, it takes about a month or so to get rid of the pouch. All women who have just given birth vaginally or via C-section need time to heal internally. It takes at least six to eight weeks for a pregnant woman's uterus return to its average size. Your hormones will help you get rid of the extra fluids your body produced during pregnancy. You will experience postpartum bleeding called lochia — this is the vaginal discharge containing blood, mucus, and uterine tissue after giving birth. Lochia discharge typically continues for four to six weeks after childbirth. The rest of the extra bodily fluids will be released through urine, vaginal secretions, and sweat.

ADVERTISEMENT - CONTINUE READING BELOW

Recommended Videos

What can you do to help your belly get back to its shape?

While you can get rid of your post-baby-belly naturally in about a month, it may or may not still feel the same as before. It's harder to get your tummy back in shape if you've been pregnant and had given birth more than once. Here's what you can do to help:

Wear a binder

Women who delivered via C-section are automatically given abdominal binders to keep their sutures in place. Many moms, even those who gave birth vaginally, now use these abdominal or postpartum binders as a shaper, guiding their tummy back into its pre-pregnant shape, and they swear it can work wonders.

Many moms might find it challenging to carve time in between breastfeeding and nappy changing to sweat out the extra weight. A lot of moms, however, have done so with great feedback not just about weight loss but for self-care – which is essential – and they said it makes them generally feeling good, too!

Breastfeed your baby

Not only is nursing your baby best for your little one but for you as well. It enables you to burn off the excess fat that you gained during pregnancy and helps your uterus contract. You will continue to have increased appetite and eat more, but like in pregnancy, don't eat for two. A nursing mom only needs about 300 to 500 calories more to produce milk her baby. As long as you stick to a healthy breastfeeding diet, it should not add to more to your body weight.

ADVERTISEMENT - CONTINUE READING BELOW

Get back to working out

Exercising helps get rid of the post-pregnancy weight. Doctors will usually allow you to go back to working out after your uterus has healed or six to eight weeks postpartum. Until that time, lay off any strenuous activity and heavy lifting — do not lift anything heavier than your baby or you know puts a strain on your lower body. Always ask your doctor before doing any type of exercise after giving birth.

Some women, however, may need special abdominal exercises to bridge the gap of roughly 2.7 cm or greater between the two sides of the rectus abdominis muscle called diastasis recti. During pregnancy, your growing bump "causes the connective tissue between your rectus abdominis (or your ab muscles) to stretch," prenatal and postnatal fitness specialist Mindy Lagdameo explained. "The bigger the bump or the more you gain weight, then the more the muscles get stretched. This will dictate how big the diastasis or separation will be between the muscles after the baby is out," she added.

What other parents are reading

Celebrate your pregnancy milestones!


Enter your details below and receive weekly email guides on your baby's weight and height in cute illustration of Filipino fruits. PLUS get helpful tips from experts, freebies and more!

You're almost there! Check your inbox.


We sent a verification email. Can't find it? Check your spam, junk, and promotions folder.

Trending in Summit Network