5 Real-Life Birthing Stories: 'My Uterus Wouldn't Stop Bleeding'

Every birthing story is different and special, but here are a few worth telling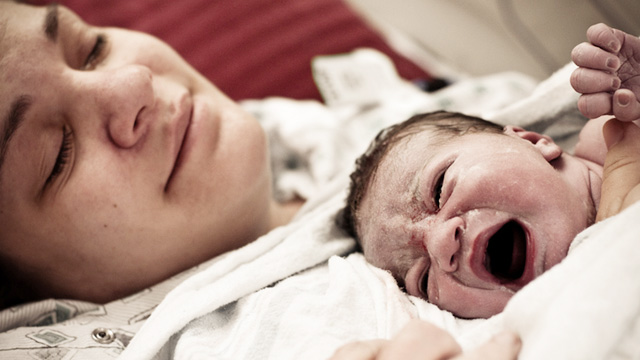 You never really know what to expect when you're about to give birth, which can worsen your anxiety. We hope these birthing stories, plus sound advice from our experts, can help prepare you for your delivery day.

"I wanted a drug-free delivery."
When Joan Ongtenco, mom to Ellie, 3, and Caleb, 1, decided to give drug-free delivery a try, she read up on it and took a childbirth class. During labor, her ob-gyn was very encouraging, reassuring her that the baby was okay and that she could take her time. In the Lamaze room, Joan practiced all the techniques she learned from her childbirth class while her husband coached her. At nine centimeters dilated, she was given an enema, making the contractions more intense.

"I thought I was going to pass out. They offered to give me pain relievers but I turned them down because I knew the pain would be over soon."

However, it took a while for Joan's baby to come out. "I was so drained by then that I didn't have enough energy to push anymore," she recalls. "But I was so freaked out by the thought of Ellie's head getting stuck down there, so I gave it all I had. Then pop! Out she went. I was up and about when they wheeled me out of the recovery room. It was as if I didn't give birth at all. No pain and chills, no sweating, and no catheter!"

ADVERTISEMENT - CONTINUE READING BELOW

Drug-free birth: What doctors say
Dr. Patricia Kho, an ob-gyn at Makati Medical Center, says Joan did right by attending a childbirth class. "Remember that pain is not a disease. It's normal and it lasts for only one minute then it subsides. During actual delivery, you will no longer feel the pain," she says.

Dr. Rebecca Singson, chair of the Department of Obstetrics and Gynecology at St. Luke's Medical Center Global City, with clinics at Makati Medical Center and Asian Hospital Medical Center, stresses the importance of knowing the different stages of labor "so you know how to address and handle the pain when you encounter it."

At a childbirth class, "you are taught what to expect and what the role of the father is." However, she adds that the classes "can prepare you for everything but the pain."

What other parents are reading

"My uterus wouldn't stop bleeding."
After Shelli Tomacruz gave birth to her now 3-year-old daughter Mantha, her anesthesiologist gave her a tranquilizer, telling her she needed to rest. As her eyes closed, she remembered overhearing the doctor ask her husband, "Should I take out the uterus?"

"What happened to me happens in about one in 5,000 births. "

"I kept bleeding because my uterus wouldn't contract," Shelli explains. "It was behaving like an open wound. I lost 30 percent of blood circulating in my body. I had to undergo blood transfusion. It was very dangerous."

The anesthesiologist suggested using a breast pump to make her body release oxytocin so her uterus would contract, and that's when Shelli finally stopped bleeding.

Postpartum bleeding: What doctors say
Dr. Singson says, "Nature is so perfect that once you put the baby to the breast, the oxytocin will cause the uterus to contract. That's why it is crucial that we put the baby to the breast immediately after birth."

What other parents are reading

"I had a vaginal birth after Cesarean (VBAC)."
After delivering her firstborn via C-section, Jenny Medina, mom to Jaden, 3, and Manilla Jaydn, 1, hoped for a normal birth. "The key to my next delivery was prayer," she reveals. "I prayed for a natural, vaginal birth. My husband and I also researched greatly on medical interventions and hospital policies. We also discusses possible scenarios."

ADVERTISEMENT - CONTINUE READING BELOW

"My husband's hands were hurting because I was clutching them too tightly."

When it was time to deliver, Jenny says, "The pain was so intense. My contractions lasted 30 seconds, and their intensity was way over the monitor. We checked into the birthing room when I was four centimeters dilated, and it took around four hours to push my baby out. It was a very empowering experience to give birth to a baby the way God intended — without surgery or human intervention!"

Vaginal Birth After Cesarean: What doctors say
"Find an ob-gyn who is willing to do a VBAC. Also, it is important to give birth in a hospital because there might be complications such as a chance of uterine rupture," advises Dr. Kho. "A VBAC would be more successful if the baby isn't too big."

Dr. Singson adds, "If my patient wants a VBAC, the first thing I do is to control her diet. She's not supposed to gain more than 25 pounds. I remove all the junk — no chemicals, no sugar, no preserved meat."

ADVERTISEMENT - CONTINUE READING BELOW

What other parents are reading

"I wanted a water birth at home."
Joy Kawpeng, mom to Tomas, 13, Elias, 10, Adrianna, 7, and Seb, 3, wanted a total water birth at home for her fourth child. "I thought being in the water would help and it did, but it made the birthing process slower. It was really hard and I had to push more than I [normally] would because I didn't have the help of gravity."

"I wanted to deliver my baby by myself. That is something very special."

But what Joy loved about her water birth at home was how empowered she felt afterwards. "The feeling of being able to do that is truly amazing," she recalls. "A lot of women I know go through postpartum [depression], but that can be alleviated by really feeling empowered as a woman by solely giving birth to your child."

Water birth: What doctors say
Dr. Kho says the Philippine Obstetrics and Gynecology Society (POGS) and the Department of Health (DOH) do not recommend a home birth. "If you do plan to have one, it is important to have your doctor's go-signal and be monitored well. Maternal problems or illnesses such as heart disease or hypertension and a high-risk pregnancy  should be ruled out," she says. At the same time, Dr. Kho stresses the importance of having an ambulance on standby and being within 10 minutes away from a hospital in case anything goes wrong.

ADVERTISEMENT - CONTINUE READING BELOW

Dr. Singson adds, "I don't believe a water birth is for everybody. It's for the mother who wants control over her childbirth experience. With a water birth, the doctor is [on call] in case you encounter trouble or are bordering on danger. It is the mother who is in control of the experience."

On having a home birth, Dr. Singson says, "It's not advisable for a first-timer because you don't know if you'd successfully deliver vaginally or you'd need to undergo a C-section. It is an ideal birthing experience for a second-time mom only if you've experienced a normal birth before because there's a high chance you would have a vaginal birth [again]. But even a second baby can end up in trouble at the last minute. You must have a very good midwife monitoring your labor."

Dr. Kho adds that a fourth or fifth pregnancy may not be good for a home birth either because "the woman may have massive vaginal bleeding, so it's not that safe."

ADVERTISEMENT - CONTINUE READING BELOW

What other parents are reading

"I had a painless birth in a lying-in center."
Chat Jandayan, mom to twins Annalise and Therese, 5, Lois, 3, and Adam, nine months, gave birth in her parish church's lying-in center. "In a birthing clinic, you can bring anyone with you. My daughter Therese watched me give birth to Adam," she says. "We had a midwife and doctors on call for emergency cases." You are allowed to walk around the church and you give birth on a birthing stool.

Chat focuses on what she calls "God's way of giving birth." She also practiced spiritual affirmation deep breathing while in labor.

"I welcome the pain because the pain is good and helps the baby go down."

Though her first two labors were painful, she did not feel any pain during her last one. When her midwife told her that painless childbirth was possible, she researched and prayed over it. "It was easy because I dwelt on being joyful when I gave birth," she says.

When it was time to give birth to Adam, Chat felt her stomach tighten, but she didn't feel any contractions. "When my stomach would tighten, I would squat. But when I already felt like pooping, we did an internal exam and learned I was already eight centimeters dilated," she recalls. "So I went to the birthing stool. My water bag broke, and I pushed twice for the baby's head and once for the body to come out. Every time I felt the tightening, in my mind, I was opening up. I didn't stop what I was feeling and that helped a lot." Unlike her past pregnancies, this time around, Chat didn't fight the pain. 

ADVERTISEMENT - CONTINUE READING BELOW

Delivery at lying-in centers: What doctors say
Dr. Kho stresses the importance of a fully-equipped lying-in center. She says to make sure that the midwives are properly trained and that there is an ambulance on standby. Also, it requires an uncomplicated pregnancy. "It is not a good idea to give birth in a lying-in center if your baby is premature, or you have medical problems, or your baby has a congenital anomaly."

When it's your turn to give birth, trust that everything is going to work out. Instead of worrying, look forward to the fact that, in time, you, too, will have your own heartwarming story to tell.   

This story first appeared in the June 2012 issue of Smart Parenting magazine. Minor edits have been made by the Smartparenting.com.ph editors.

Trending in Summit Network