A Mom Shares Her 'Safe' and 'Gentle' Water Birth VBAC Experience

It was a beautiful and positive childbirth, but this breastfeeding expert was also honest about the physical pain she went through.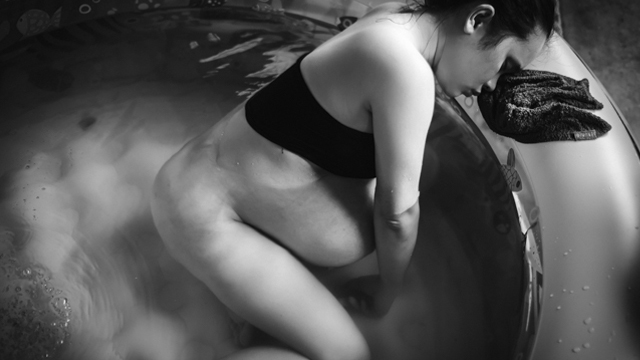 Editor's Note: Medical professionals caution against home birth because of the risks involved. A hospital is the safest setting for childbirth, especially when a life-threatening complication develops, which can happen without warning. Many doctors also consider vaginal birth after C-section (VBAC ) even in a hospital extremely risky. In the event a problem occurs during a home birth, the need to transfer the mom and the baby to a hospital means delayed care, which could put both their lives at risk. Women have the right to make an informed decision about where they prefer to deliver, but always consult a doctor to understand the risks.

Our baby's birth was an answered prayer. I was in great physical pain for days but, incredibly, there was never a doubt in my mind that we could do it. I was at home, surrounded by my family and caring midwives dedicated to give me a safe, gentle, positive birth experience.

Our healthy baby boy was born in the water weighing more than 8 lbs at 41 weeks. It was a successful VBAC (vaginal birth after cesarean).

I believe every birthing mom deserves the same. This is my birthing story. 

We've been eagerly anticipating the signs of labor since week 37 of my pregnancy and finally had the bloody show on week 40.

On a Wednesday, I started feeling mildly painful but irregular contractions. I used a mobile app to time them and reported it to my midwife, Deborah "Deb" Gustafson. It was important to keep her updated with my progress so she could assess and decide when to come over. Deb had to remind me a couple of times to get more sleep, but it's hard to snooze when you're both excited and anxious! She also said I should eat and drink, and go about my day as usual. 

Over the next three days, contractions would go from menstrual cramp-like pain to toe-curling intensity. But it was not as regular and frequent as we needed them to be. In the previous weeks, I was doing exercises that aimed to put my baby in a better position (my little boy's head was against my back or in posterior position) and help speed my labor. So I was doing the Spinning Babies, and Deb suggested we do the Miles Circuit as well. 

ADVERTISEMENT - CONTINUE READING BELOW

What other parents are reading

The birthing team
When Saturday evening came, the contractions became very intense and kept me up all night. The midwives decided to come over on Sunday morning. Deb's husband, Darren, drove Deb, Ate Lornie Bagro (another trusted midwife at Shiphrah Birthing Home), and Isabell Steinart (whose photos you see here), all the way from Rizal to Laguna.

Our family and birthing team enjoyed my Dad's signature sinigang and adobo for lunch. My brother-in-law and sister-in-law-to-be were there for the day, too. I was still able to eat, talk, and laugh with everyone between contractions. Laughter was good because oxytocin is released when we're happy. (According to Childbirth Connection, oxytocin "stimulates powerful contractions that help to thin and open the cervix, move the baby down and out of the birth canal, push out the placenta, and limit bleeding at the site of the placenta.")
 
In the afternoon, we did another round of Spinning Babies exercises: the rebozo, forward-leaning inversion, and side-lying release. Contractions became even stronger. I didn't get a wink of sleep that night. 

The next morning though, I was still very much pregnant. Itay (my husband) helped me eat breakfast before doing another round of exercises. I was in so much pain that I could not eat a full meal anymore. I was grateful that my birthing team -- Itay and the midwives -- took turns massaging my lower back for pain relief. Deb gave me small, frequent servings of power foods including boiled kamote, saba, and buko juice.

CONTINUE READING BELOW

Recommended Videos

What other parents are reading

The soon-to-be-ate, Mayumi, our 4-year old, was also a great help. She understood that her Nanay was giving birth. She tried to help by kissing me, stroking my hair, and giving me massages (I could practically feel the oozing oxytocin!). Deb also asked her to latch on my breasts to help stimulate stronger contractions. Mayumi weaned herself a few months ago, but she obliged and it worked! In a matter of minutes, I felt the contractions getting even stronger and more frequent.

I went into the water soon after that. Itay had set up the inflatable pool in the kubo beside our house. Little Ate wanted to swim, too, so she put on her swimsuit, and we let her swim in the pool with me.

After three hours of laboring in the water, Deb suggested we do the exercises again. I think the warm water may have calmed the contractions. I went back to the bedroom and fell asleep while doing the first part of the Miles Circuit. It was already dark when I woke up.

After a quick dinner, I had to continue the exercises. Truth be told, I was dreading doing them this time. Enduring the contractions while trying to resist the overwhelming urge to push was already painful. Doing the exercises while having painful contractions was agonizing. "Kaya mo. Kaya mo," Deb chanted again and again.


Deb then remembered a technique from her mom, who is also a seasoned midwife (see above). She used my baby wrap as support to lift the underside of my belly and then tied the fabric ends around my neck to keep my belly "tucked."

It must have worked. A few minutes later, as I was on my knees leaning against the sofa, I gave a strong push and heard a pop. My water broke and gushed all over the floor! Itay and Ate Lornie had to work double time to refill the pool with clean warm water.

Our little ray of light
A full moon in the cloudless sky greeted me as I went back to the kubo and into the water again. It was a reassuring sight! I believe it was a sign that God was blessing and welcoming the birth of our little ray of light, our baby Sinag.

The warm water was soothing against my tired and aching body. It helped me through another two and a half hours of pushing. Itay stayed beside the pool, massaging my back during contractions. Little Ate was there too, stroking and kissing my head while patiently waiting to see her baby brother. Ate Lornie was behind me, pouring warm water onto my back.

ADVERTISEMENT - CONTINUE READING BELOW

What other parents are reading

Deb was on my other side, coaching me to breathe and push properly. I was so relieved when she checked and confirmed that she could feel baby's head crowning. When she asked me to touch it, I said I didn't want to. I didn't know why, but I felt a bit scared to do it at first.A few pushes later, I mustered the courage to reach down and touch my baby's head. I was glad I did because it gave me renewed strength to continue.

Itay, the midwives, and Isabell cheered me on as I pushed as hard as I could. I felt like I was going to explode! I didn't care anymore even if I tear. Finally, my baby's head was out. Another few pushes, and Deb pulled my baby to the surface of the water straight into my arms.

It was surreal. I hugged him, closed my eyes, and said a silent prayer. Baby was alert, his eyes open, taking in this strange new world. He was intently looking at the camera. We wrapped him in a towel and kept his body submerged in the warm water as we waited for the placenta. I asked Itay to remove some water from the pool so I could hold the baby down to my breast and latch.

The little Ate was ecstatic. She went beside the pool to admire and touch her baby brother. "He's cuuute!" she said. My Dad and brother went in to see the baby, too.

ADVERTISEMENT - CONTINUE READING BELOW



After the placenta came out, we transferred to the bamboo bench, and my baby continued to breastfeed. Deb cut a chunk off the placenta, washed, and cut it in small pieces. Itay made a mug of placenta and ice cream smoothie for me and then froze the rest for the following days. It was supposed to help me recover better.

It was past midnight, almost two hours after the birth, when we went to the house. Ate Lornie clamped the umbilical cord and then Itay got to cut it himself.

I finally had a good night's sleep (albeit not without interruptions) with my newborn tucked by my side, my firstborn at the other, and my husband in the far corner of the bed.

Armi Anastacio-Baticados is a LATCH Philippines breastfeeding peer counselor. She helped establish LATCH Los Baños to further the breastfeeding advocacy in the area. She is nanay to two delightful kids and mompreneur at MayumiandMe.com.

Photos by Isabelle Steinert Photography  . This story originally appeared in Go Breastfeed.

ADVERTISEMENT - CONTINUE READING BELOW

What other parents are reading

Celebrate your pregnancy milestones!


Enter your details below and receive weekly email guides on your baby's weight and height in cute illustration of Filipino fruits. PLUS get helpful tips from experts, freebies and more!

You're almost there! Check your inbox.


We sent a verification email. Can't find it? Check your spam, junk, and promotions folder.

Trending in Summit Network