This Preggo Packed Her Childbirth Essentials in Two Suitcases and a Bag!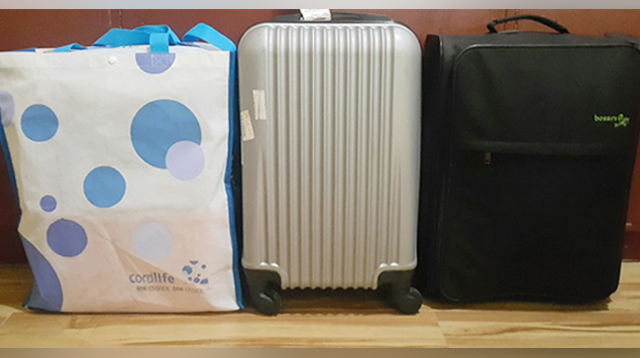 In a previous SmartParenting.com.ph article, Aurelin Fernando, a certified doula from Gentle Hands Birthing clinic recommended that preggos prepare three hospital delivery bags instead of one —  baby's bag, mommy's bag, and daddy's bag (or the labor support's bag) — to contain all the essentials you'll need for your hospital stay. And we're glad many of you seem to follow the suggestion, including one soon-to-be mom in our Facebook group, Smart Parenting Village, who prepared not just bags but two suitcases and a huge eco bag in preparation for her childbirth!

Melay Almazar, who's due to give birth to her first baby between the second and third week of July, shared a photo of her delivery bags to our Facebook group. She admits a bit sheepishly, "Medyo napadami yata ako ng na-i-pack pero mas mabuti nang may mga extra para mas safe."

Here's what she prepared in each bag.

What other parents are reading

Mommy & Daddy bags:




ADVERTISEMENT - CONTINUE READING BELOW

1 pouch for toiletries; 1 pouch for maternity underwear, maternity pads, nursing bras and pads, nipple cream, and postnatal tummy band; 1 pouch for pajamas, socks, sweater, blanket, towels, and change of clothes

Baby bag:




1 storage box for baby's toiletries containing a couple of individually packed disposable diapers, washcloth, water wipes, newborn cleanser, baby oil, nappy rash cream, and cotton balls; side-tie tops and pajamas, onesies, sleepsuits, bonnets, mittens, booties, hooded towels and receiving blankets, swaddles, burp cloths, cloth diapers, more disposable diapers, going home clothes

What other parents are reading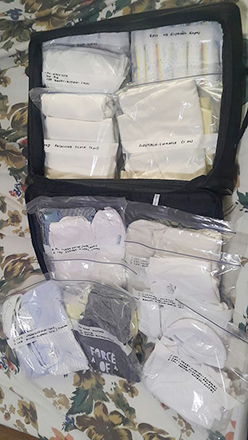 Melay made sure to place each of baby's essentials in zippered or resealable plastic bags and labeled it properly. "Para madali i-endorse sa mga support persons ko and sa mga nurses," she said in her caption.

In the comments section, the excited mom expounded that she chose a suitcase because it would be easier to carry, and she could easily organize the things inside. "It will also give me peace of mind kung may nawawala bang gamit ang baby ko. Parang inventory na rin!" she said.

Aside from the three bags, Melay said that her personal bag contains an envelope with all important files and documents: copies of her birth plan and info sheet, photocopies of documents (SSS form, Philhealth form/receipts, and valid IDs), prenatal book with lab test results and prescription notes. (Read up on the important documents you should bring with you to the hospital here.) Her personal bag will also hold her valuables like gadgets and her wallet.
What other parents are reading
While we were amazed already at her organizational skills, Melay asked our Facebook group if there were more items she needed to add. And there were more suggestions — these moms are super prepared!

One mom suggested rubber slippers, so preggo moms won't get wet while changing, as well as a timba and tabo. "Sa bidet, malamig pa rin ang tubig [kaya] mas maganda na medyo maaligamgam [ang tubig] for comfort and hygienic purposes. 'Yung timba sa hospital hindi naman napapalitan 'yun sa bawat patient," the mom said.

Another mom suggested switching maternity pads with adult diapers. "Mas madali rin magpalit!" Another recommended bed pads to keep the sheets clean.
ADVERTISEMENT - CONTINUE READING BELOW
What other parents are reading
Other must-brings included extra pillows and blankets, an extension cord (if the hospital allows it), a power bank, a changing mat for baby, and a water bottle so moms stay hydrated.

Another interesting suggestion was to bring aromatherapy oils or massage oils. Melay, who attended a class on postpartum care by Jennica Uytingco, said that clary sage essential oil supports healthy contractions and should only be used when in active labor, while black pepper essential oils can be used for massaging a mom's back if painful. Eucalyptus essential oil may also be used as a relaxant.

Bringing three bags with you to the hospital may sound excessive but preparing in advance will bring less stress to you and your hospital companions once delivery day comes. And again, preparedness is key: Doula Fernando suggests to pack your bags by your sixth month or as soon as you enter your third trimester. Good luck!
What other parents are reading

Trending in Summit Network