When Should You Rush to The Hospital to Give Birth?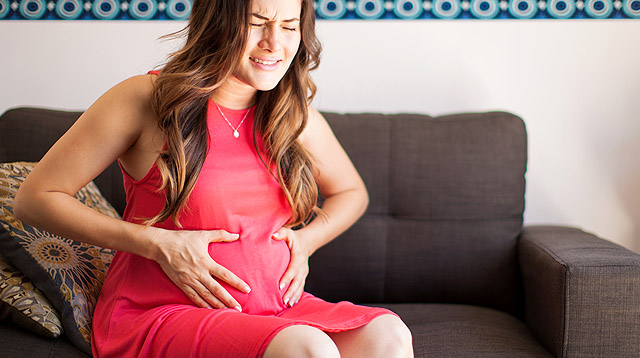 In the movies, couples are shown hurrying to head to the hospital when the pregnant woman begins to feel pain in her tummy, suggesting that she's about to give birth. In real life, it's the complete opposite of what a pregnant woman did, when she waited and even took steps to delay her labor and delivery to finish the physicians' board exam. Many expressed their opinions about her actions–and she did admit she took a risk, one which resulted in her newborn getting an infection. Needless to say, her case was an isolated circumstance.

It begs the question, then: When should a pregnant woman head to the hospital to give birth?

Smartparenting.com.ph reached out to Dr. Therese Guinto, M.D., a mom and an obstetrician-gynecologist in First Cabuyao Hospital and Medical Center in Laguna, to shed light on the topic. Below, we tackle each of the common labor signs, and if preggos indeed need to abandon everything and head to the nearest hospital when they manifest.

What other parents are reading

You're having contractions.

"We usually tell pregnant women to come to the hospital when contractions occur regularly," Dr. Guinto said. Having contractions is one of the vital labor signs as it helps to dilate the cervix and usher in childbirth. But having contractions can be confusing, especially for first-time moms who may not recognize the difference between false labor (Braxton Hicks) and true labor contractions. 

For your contractions to be considered real labor contractions, Dr. Guinto suggests to take note of the following:

ADVERTISEMENT - CONTINUE READING BELOW

Interval. The contractions should be occurring at least every ten minutes.
Duration. The contractions should last for about 50 seconds or longer.
Intensity. The contractions should be moderate or strong in intensity. 

If your contractions have all of these three characteristics, head to the hospital as soon as possible. If the contractions are only starting to become regular, longer, or stronger, it's best to just go to be sure. There is no harm in going to the hospital only to learn that it's a false alarm and be sent home. Interval and duration of contractions are easy enough to track, but intensity can be subjective and may vary for each pregnant woman. 

You see bloody discharge on your liners or undies.

A blood-tinged mucus, or a bloody show, is your mucus plug detaching from your cervix. When you see blood on your underwear without any other accompanying labor signs, it may not be a cause for alarm. "When in doubt, maganda na magpunta na lang din sa hospital so a doctor can properly assess the patient," Dr. Guinto said, citing that some women may have high pain tolerance and not feel at all that they're already having contractions. 

If you're at full-term pregnancy or at least 38 weeks and have no history of placenta issues (like placenta previa where the placenta is blocking the cervix), then having a bloody show is a sign that a pregnant woman is about to go on labor. Head to the hospital when you start having regular contractions.

ADVERTISEMENT - CONTINUE READING BELOW

Recommended Videos

If you notice bleeding that's more than just a tinge of blood and it's accompanied by a sharp, intense pain, Dr. Guinto warns that it's crucial to get to the hospital as soon as possible. Go to the nearest hospital, too, if you're not yet full term, was diagnosed with placenta previa, or have had a previous C-section. You could be experiencing pre-term labor. 

Your water bag broke.

"If a pregnant woman's water bag has ruptured, even if it's just leaking, she shouldn't waste time anymore. She needs to go to the hospital, and she will surely be admitted para mas ma-monitor ang heartbeat ni baby," Dr. Guinto stressed. "Antibiotics should also be started as soon as possible," she added.

Your amniotic sac, or water bag, not only cushions your unborn baby from accidental bumps, but it also has a crucial role in protecting your little one from bacterial infections. If the water bag remains punctured or ruptured for an extended amount of time, bacteria typically found in the vagina can move up to the uterus, and this can result in you or your baby developing an infection such as chorioamnionitis, an infection of the placental tissues and amniotic fluid. 

You don't feel your baby moving.

Counting your baby's kicks is common practice once you're in your third trimester. Dr. Guinto suggests counting kicks at least an hour after a meal. Ideally, your baby should register ten kicks within 20 minutes or during a whole day when your little one is most active. Start observing your baby's waking and sleeping hours towards the latter part of your second trimester.

ADVERTISEMENT - CONTINUE READING BELOW

"If totally walang perceived movements, go to the hospital na para ma-check. Better to be sure," Dr. Guinto emphasized. At the hospital, doctors can conduct an ultrasound or a nonstress test (NST) to confirm that the baby is well, or check for any red flags and ensure you and your baby's health moving forward. 

At any point in the pregnancy, Dr. Guinto added that pregnant women should also go to the hospital if they're experiencing the following: elevated blood pressure, severe headache, blurred visions, and vomiting. These are not typical labor signs but are symptoms of possible pregnancy complications, such as preeclampsia, which warrants immediate medical attention. 

What other parents are reading

Celebrate your pregnancy milestones!


Enter your details below and receive weekly email guides on your baby's weight and height in cute illustration of Filipino fruits. PLUS get helpful tips from experts, freebies and more!

You're almost there! Check your inbox.


We sent a verification email. Can't find it? Check your spam, junk, and promotions folder.

Trending in Summit Network