Why Doctors Hope for Vaginal Birth, Especially for First-Time Moms

Every pregnancy is different, and so is every birth.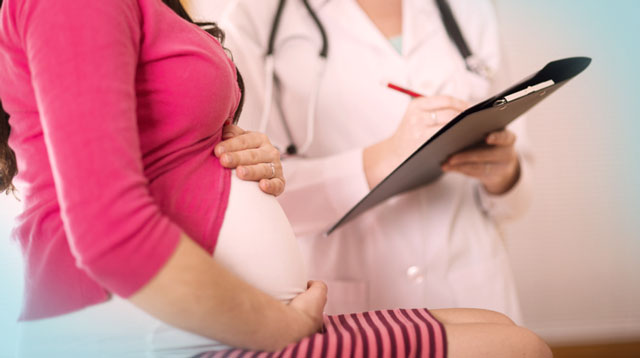 It's every pregnant woman's right to have a say on how she gives birth to her baby, but it needs to be an informed decision that she makes with her doctor. Make a birth plan, yes, but you need to trust your doctor when she says the birth plan may not go as planned. She wants to deliver a healthy baby, just like you.

The woman's body has been created to sustain a fetus for nine months and deliver a baby. "But we want to be ready for any complications," Dr. Maynila Domingo, M.D., a board member of the Bayside Council of Obstetrics and Gynecology and a clinical associate professor at the University of the Philippines-Manila.

"The experience of one pregnant woman may be different from another. Even from one patient, yung kada pagbubuntis niya ay iba-iba," she added.

At the Smart Parenting Convention last June 2019, Dr. Domingo discussed the birth options available to pregnant women today.

Doctors hope for vaginal birth because it's the safest

Dr. Domingo listed the reasons doctors aim for their patients to have a vaginal delivery. "Kasi safest, faster recovery, shorter hospital stay," she said. (It's more affordable as well!)

When the baby passes through the birth canal, he is exposed to the vaginal bacteria and fungi that can help improve his immune system. This may mean fewer respiratory tract, gastrointestinal, and ear infections.

As the baby goes through the vaginal canal, his lungs gets squeezed, which helps remove the excess amniotic fluid in his lungs (your baby's oxygen in your womb). The same process enables the baby to produce the hormone epinephrine (adrenaline), which stimulates the heart and allows for better breathing.

ADVERTISEMENT - CONTINUE READING BELOW

There are two types of vaginal birth:

Natural vaginal birth

It means no pain medication, and it uses other techniques such as Lamaze, Bradley method, and even water to relieve labor pain.

Medicated or assisted vaginal birth

The preggo receives pain medication or her doctor uses forceps or vacuum to help extract the baby. "May rason kung bakit yung gagawin ng OB ninyo [ang medicated vaginal birth," Dr. Domingo stressed.

A natural vaginal birth is not for all women

Dr. Domingo echoes the recommendations of the World Health Organization (WHO) that encourage doctors to let labor progress on its own unless there is a risk to the health of the mother and the child. Some studies show that preggos who receive unnecessary medical interventions (intravenous drip, pain medication, fetal monitors) increase the risk of a C-section.

A water birth has its benefits: the buoyancy of the water helps relieve pain, and the water stimulates the baby's environment in utero, among other things. "Pero kung may infection sa vaginal tract, o kaya si baby nakapupu na ng marami, hindi na good choice yung water birth," Dr. Domingo explained.

Doctors induce labor when the preggo has an existing medical condition such as hypertension, heart or respiratory problems, the womb environment is no longer conducive for the baby's growth, or the baby is overdue or post-term.

When it comes to home birth, may indications sino lang yung pwedeng mag-home birth," Dr. Domingo said. "If this is your first time to deliver a baby, it is safer to deliver in the hospital or a lying-in center, where if the need arises, they can perform an emergency C-section," she added.

ADVERTISEMENT - CONTINUE READING BELOW

Recommended Videos

A C-section should only be done when there is a need for it

A C-section is a major operation, and as such, there are risks of bleeding infection, bladder and bowel injury, and it entails a longer recovery time. "CS moms stay in the hospital for two to three days. Their wound on their skin will heal in a week, but the tensile strength of the uterus needs at least six months to completely heal," Dr. Domingo said. It's also more expensive.

Ideally, CS should only be done when indicated or when there are complications to the mom's health or the baby's health and CS would be the safest option for both of them. But can you request for a CS? "Right niyo yun, but you just have to know and discuss properly with your doctor the advantage and possibles complications. Philhealth will not cover for CS per request," Dr. Domingo shared.

There are two types of C-sections:

Elective or scheduled CS

This happens for women who have complications that were identified before labor starts. What are some of the reasons doctors perform scheduled CS? The baby's position isn't head down towards the birth canal, the placenta is blocking the vaginal canal so going into labor will cause bleeding, or the mom has existing medical conditions such as cardiovascular or high blood pressure. If you're having triplets or more, you also need to have a planned CS.

Emergency CS

This is usually done if two of the vital components of labor does not happen: the cervix doesn't dilate fully, or the baby doesn't descend.

ADVERTISEMENT - CONTINUE READING BELOW

On vaginal birth after CS (VBAC), Dr. Domingo says, "A pregnant woman can't do VBAC if she has a history of uterine rupture or surgery in the uterus; complications that prevent vaginal birth such as heart and respiratory diseases, hypertension, placenta previa; and if her previous CS cut is transverse."

Dr. Domingo adds, "Vertical incision sa uterus, hindi na pwede VBAC. Mataas yung rate ng rupture, as high as 19 percent, so we want to avoid that."

Work with your doctor on prenatal care

"Having a safe delivery starts with proper prenatal care," stressed Dr. Domingo. Be healthy, which means proper diet, exercise, no smoking or alcohol and stress management.

"You need to have to choose and discern the information you take in," Dr. Domingo said of the many souces today like blogs, news, and social media. "Your obstetrician-gynecologist is your partner. You should have a good relationship with your doctor, dapat nagkakaintindihan kayo, aligned yung plans ninyo," she added.

When you understand the process with the correct info, you can make better birthing decisions. "Childbirth is your greatest achievement; it should not be a source of your fear. It's not easy, but you can still have a positive experience in giving birth." 

What other parents are reading

Celebrate your pregnancy milestones!


Enter your details below and receive weekly email guides on your baby's weight and height in cute illustration of Filipino fruits. PLUS get helpful tips from experts, freebies and more!

You're almost there! Check your inbox.


We sent a verification email. Can't find it? Check your spam, junk, and promotions folder.

Trending in Summit Network