7 Mom-Recommended Baby Food Makers That Steam, Blend, And Re-Heat Meals

Many of these multitasking kitchen assistants can do the job in 15 minutes or less!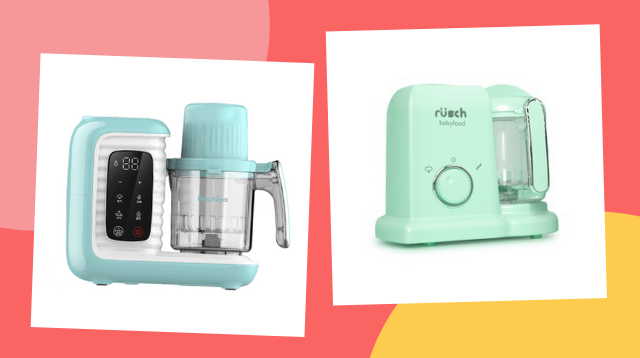 A lot of moms now choose to feed their infants fresh, homemade purees instead of processed baby food available in grocery stores.

Pros and cons of making baby food at home

There are many advantages to preparing your own baby food. First you get to use fresh, whole food with more nutrients intact compared to processed options. You can also be sure there are no salt, sugar and other flavoring in your baby's food.

Lastly, you can introduce your baby to a diverse selection and varying combinations of food and you can be sure of what exactly is in your baby's food without having to read several nutrition facts labels.

However, making your own baby food also has some disadvantages and may require some lifestyle changes. First of all, it is time consuming and may require careful planning.

Second, you need baby food storage bowls or cups and freezer space to store the baby food you prepare in advance. The thawing and warming of frozen baby food may also pose a challenge if you don't have a warming device.

But thank heavens for multitaskers like these baby food makers that make moms' lives easier!

Mom-approved baby food makers and where to buy

In the parenting group Glam-O-Mamas, one mom asked for recommendations for fellow members' favorite baby food makers. Most of them are all-in-one devices that steam, blend and re-heat purees and more. So convenient!

Oxo Tot Baby Food Mill

Some moms prefer this small, portable, and manual food mill. It is BPA, phthalate, and PVC free, plus it's dishwasher safe.

PHOTO BY

Courtesy of Shopee

ADVERTISEMENT - CONTINUE READING BELOW

Buy it here.

Rusch Babycook

You can steam, blend, heat, and defrost food for your baby using this gadget. Each steam cycle is timed at 15 minutes and automatically stops when the timer runs out.

PHOTO BY

Courtesy of Lazada

Buy it here.

Baphiya 5 in 1 Baby Food Maker

This gadget is a steamer, blender, sterilizer, food processor and bottle warmer in one!

PHOTO BY

Courtesy of Shopee

CONTINUE READING BELOW

Recommended Videos

It has a two-layer basket that lets you steam at least two different kinds of food at once. It has a timer that will alert you when steaming is done. It also alerts you when the water tank is out of water (in Chinese, though! Note that the user manual is also in Chinese only.)

It looks very sleek and modern with a fully digital touch-type control panel. It also has a self-cleaning feature and is also dishwasher-safe.

Buy it here.

Owl Baby Food Maker

This device can blend fruits, vegetables, meat, poultry, fish and more.

PHOTO BY

Courtesy of Lazada

This 2-in-1 appliance can steam and blend food in one single container. There's a built-in timer for steaming so you can leave it to do its job and come back when it's time to blend. Each unit has a 6-month warranty.

Buy it here.

Big Brute Digital Baby Food Maker

ADVERTISEMENT - CONTINUE READING BELOW

This multifunction baby food maker is also a steamer/blender/warmer. It can cook and blend as much as 1000ml of food per batch so it's a big help for busy moms who prefer to prepare a big batch of baby food in advance.

PHOTO BY

Courtesy of Shopee

Buy it here.

Babymoov Nutribaby Food Processor

This device can be used as a bottle warmer, sterilizer, steamer, blender and defroster.

PHOTO BY

Courtesy of Oga-lala PH

ADVERTISEMENT - CONTINUE READING BELOW

It can warm and sterilize 3 bottles at a time. As a baby food maker, it has a large capacity — 1,500ml for cooking ang 600ml for blending (great for moms of multiples or those who like to prep big batches of food!)

Buy it here.

Beaba Babycook Solo

Moms love this for how fast it can cook fruits, vegetables, meat or fish from raw to any stage baby and toddler in 15 to 20 minutes.

PHOTO BY

Courtesy of Lazada

This gadget has a 1100ml graduated bowl that would allow you to prepare a big batch of baby food in advance. It has a stainless steel water reservoir, and comes with a spatula, mixing (smoothie) lid and recipe booklet.

Buy it here.

Philips Avent 4-In-1 Healthy Baby Food Maker

 

This baby food maker can steam, blend, defrost and reheat.

PHOTO BY

Courtesy of Lazada

ADVERTISEMENT - CONTINUE READING BELOW

Different from many of the models in this list, this gadget allows you to steam and blend in one container — no need to transfer the food! Philips Avent also offers recipes and weaning tips from a child nutritionist along with this device. Capacity is 1L for steaming and 720ml for blending.

Many moms also say using the steamer attachment of their rice cooker and preparing baby's food while the rice is being cooked and then mashing with a fork is enough. Others say they use the same blender or food processor they use for their table food, and that's enough.

We do not disagree! But for busy moms, foodie moms, or those who love kitchen gadgets, one of these baby food makers just might make your life easier.

Grace Bautista has had a long and varied career before deciding to be a stay-at-home mom in 2019. She's worked as an editor for print and digital media, a school teacher, a Business English trainer to French students, and a knowledge manager for a multinational company.

Out of all the roles and titles she's held, her favorite one is "Nanay." She is a homeschooling mom to three boys ages 12, 10 and 2. When she's not busy writing, Grace spends her time experimenting in the kitchen or playing word games with her boys.

Find recipes for your growing baby here and here.

Trending in Summit Network