Team No Sleep No More! 10 Online Finds For That Well-Deserved Rest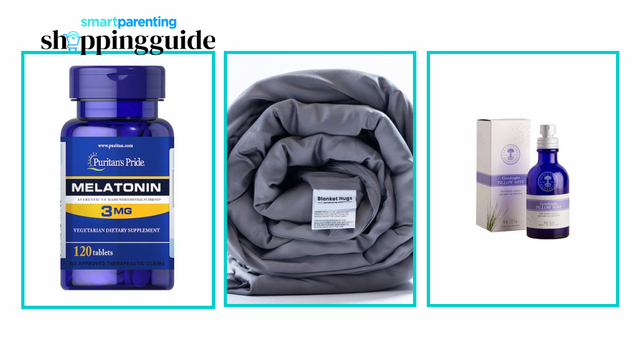 It's midnight… again. You're either tossing and turning in your bed, desperately wanting sleep to come take you; or you are finding it hard to sleep because your tummy is getting bigger; or really, you're just blankly staring into nothingness even if you're tired from all your mom and dad duties.

The bottom line is: You haven't been able to get your well-deserved rest. Sadly, your nights have always been like this. You're not alone. We've all gotten up in the dead of the night to cook instant noodles just because we can't doze off.

That said, your sleep, or the lack thereof, has been heavily affected. Your energy and productivity during the days, too. So you clicked on this article because you're having trouble falling asleep—you're also probably reading this at three in the morning—and you want this to change. You've counted loads of jumping sheep before, maybe even listened to podcasts, all to no avail. Well, you've come to the right place. Kind of. At the very least, we can help out with a list of things that can help you get those much-needed quality Zzzs. Heck, you might even feel sleepy by the end of this very long article.

You'll be hitting the snooze button in no time with these helpful finds:

10 helpful items for a good night's sleep

Sleep Balmy Body Cream from The Body Shop (P1,995)

ADVERTISEMENT - CONTINUE READING BELOW

Have you ever been touched by a cloud? Well, now you can experience (almost) exactly that. This non-sticky, non-greasy body cream can help you get your much-needed sleep, alright, but more than that it can leave your skin nourished, too. It contains 100% natural and biodegradable lavender essential oil that will help get your mind to relax after a long and stressful day at work. Use it after a long bath before getting into your pajamas.

Available on Lazada.

Premium Memory BODY Pillow from Comfort Living PH (starts at P999)

Pillows. They're where you lay your heavy weary head filled with worries to rest when it's time to sleep, so it's a given you should invest in them. You'll feel like your head is on cloud nine with this fluffy, not to mention hypoallergenic, body pillow from Comfort Living PH. Not only will you sleep well thanks to the soft cozy feel of the pillow; you'll also be able to breathe well. Oh, and you can cuddle them at night, too. Snuggle buddy, who? You're totally going to start snoozing earlier than you intended.

Available online.

Moisturizing Melatonin Sleep Blend Bath and Body Oil from Dr. Teal (P549)

Melatonin is known for being a sleeping aid; the hormone of sleep, they say. You can find it in this 260ml bottle of Dr. Teal's Moisturizing Melatonin Sleep Blend Bath and Body Oil. We can't not mention that it contains soothing lavender and chamomile essential oils, all great help in getting you to relax. Slather it on during a bath or after to guarantee a good and relaxing night's sleep.

Available on Shopee.

Melatonin from Puritan's Pride (P429)

ADVERTISEMENT - CONTINUE READING BELOW

Fair warning: These easy-to-digest melatonin tablets from this bottle can sure pack a punch. And by "punch" we mean it can be a big help in finally getting you knocked out, a.k.a. a much-deserved rest for as long as your body needs. It also helps in reducing anxiety and stress.

Available on Lazada.

Sleepy Body Lotion from Lush (starts at P875)

Your mind will start drifting off to wonderland once you slather this lotion on before slipping into your nighties. The scent of lavender, with cocoa butter, oatmeal infusion, and tonka bean absolute will lull your senses, hopefully helping prep you for the most relaxing and comforting, not to mention nourishing, trip to dreamland.

Available on Lazada.

Snooze from Wick It! (starts at P199)

Ah, candles. Lighting one up sets the mood for a time of peace and relaxation. You know they can get you in the mood—in the mood to snooze, that is, folks. This cute lavender scented candle, with hints of mint and eucalyptus, dubbed Snooze is dubbed the "ultimate crowd favorite" from online shop Wick It! It comes in adorable retro cups, and minimalist tin cans. Also perfect for the aesthetic you're probably going for in your space.

Available on Shopee.

Fluff Dotted Blankets from Kun Kun (P5,600)

ADVERTISEMENT - CONTINUE READING BELOW

When a blanket is stuffed with seven pounds of 100% fluffy cotton, like this semi-weighted blanket from Kun Kun, a cozy and comfy night's snooze time is guaranteed. It has two sides with different fabrics, so pick what kind of feel you want to be blanketed in—no pun intended—for the night: organic, highly-breathable fabric or dotted, super soft, and warm minky fabric. You can also have it in a plethora of soft colors.

Available online.

Sleep Balm from This Works (P770)

 

 

This sleeping balm is infused with lavender oil to keep you in a Zen state, plus it contains Monoi oil to keep your skin hydrated. The relaxing smell will have you boarding a trip to dreamland in no time. Apply it to your pulse points, take a deep breath, and let it work its magic.

Available on Sephora.

Goodnight Pillow Mist from Neal's Yard Remedies (P950)

 

 

This award-winning, best-selling mist infused with organic lavender, vetiver, and mandarin essential oils will help you get relaxed and ready for a peaceful night's sleep. Just spray it on your pillows and voila! Sweet dreams.

Available online.

Weighted Blanket from Blanket Hugs (starts at P6,999)

 

ADVERTISEMENT - CONTINUE READING BELOW

 

We dubbed this a "weighted blanket that will change the way you sleep forever," so you know it's legit. Weighted blankets are popular for easing insomnia. And thanks to its deep touch pressure stimulation—rest assured that you'll be feeling safe, comfortable, and relaxed—like you're being hugged as you doze off. You can feel the anxiety, stress seep from your bones and into the hypoallergenic, cooling bamboo-cotton duvet of this cozy cover.

Available online.

Or maybe you need to change your mattress? Read these parent-recommended mattresses for good sleep AND sexy time here.

This story originally appeared on Spot.ph. Minor edits have been made by the SmartParenting.com.ph editors.

Trending in Summit Network