How This Single Working Mom Is Growing A Mushroom Biz And Raising A Teen

She said, "Being a solo parent doesn't necessarily mean that you will be raising your child alone."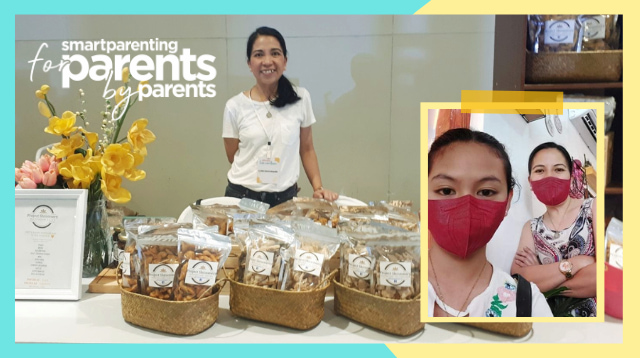 This story is part of Smart Parenting's new advocacy, For Parents, By Parents, which aims to help newbie mompreneurs and dadpreneurs promote their products and services to our parenting communities. Do you have great products or services for moms, dads, or kids and need a bit of marketing push? Email us at smartparenting@summitmedia.com.ph with the subject, "For Parents, By Parents."

There is always something good to look forward to.

This is the tagline of Project Shroomery, a mushroom chips business started by employee-slash-mom-slash-entrepreneur Onnie del Mundo. 

Onnie shared with Smart Parenting how she started this side hustle that has been helping her in paying the bills and in raising her 16-year-old daughter as a solo parent.

A good start

"Before Project Shroomery, I used to sell peanuts and sandwiches to my officemates as a side hustle. I would have like P500 to P800 weekly profit from it. It seems small, but it still helps with the monthly expenses during that time."

A friend invited her to a mushroom workshop, and after a couple of months of discerning, she finally decided to invest her savings in building her own oyster mushroom growing house. She says, it was really a big investment.

"Everyday, I'm really excited to get up early to harvest the produce."

"Yung growing house ko around 200k, yung mismong tawag sa katawan ng mushroom kung saan naggrow yung mushroom, fruiting bags. That's 25 pesos per fruiting bag. So meron akong 1000 na fruiting bags. Tapos 3 months lang yung lifespan ng fruiting bags, kumbaga 3 months lang siya mamumunga, so after ng 3 months papalitan mo na ulit."

ADVERTISEMENT - CONTINUE READING BELOW

When asked what's one thing that people don't know about mushrooms yet, Onnie reveals, it's a good replacement for meat. "Yung mga nabibili natin sa supermarket, pwede niyo siyang store ng mas matagal, you just have to blanche it. You can store it sa freezer for 2 months. I think di lahat ng tao nakakaalam na pwede yun."

She shares, what made her pursue the mushroom business was the wonder of seeing how it blooms everyday.

"Kapag nakita mo siya kung paano maggrow yung mushroom, as in kunwari gabi may spores pa lang siya, paggising mo ng morning naka-bloom na siya to mushroom. So everyday, I'm really excited to get up early to harvest the produce," she said.

Tough times

Just like with any other business, Project Shroomery had its fair share of challenges.

"There was this time when there were surplus of mushroom produce, and no one was taking it. I was a newbie, and I didn't know what to do then. I can't store all of it in my refrigerator. So I sold some of it in the office, cooked some of it as lumpiang shanghai and sold it to my neighbors and friends. Made some buko salad and replaced the buko strips with mushroom strips that I also sold to my friends."

CONTINUE READING BELOW

Recommended Videos

But just like everyone else, what Onnie wasn't able to prepare for was the pandemic.

She decided to take a pause in growing mushrooms due to the uncertainties in the market. She also stopped selling mushroom chips. Pre-pandemic, Onnie shares, she used to sell her mushroom chips during bazaars in popular malls.

Onnie said, she hasn't gone back to selling in bazaars since the pandemic started.

"Then an officemate called to order mushroom chips that she can include in her favor bags for her child's christening. That's when I decided to get back in selling again," she said.

READ ALSO: It Only Takes Minutes Now to Register Your Small Business with DTI

Getting back up

Onnie proves that even amid the biggest surprises of life, in this case a pandemic, she can still thrive. She shifted from growing mushrooms to directly selling chips made fresh by her partner processor online. 

ADVERTISEMENT - CONTINUE READING BELOW

"May partner kami na nagluluto so yung niluluto niya, pinapack namin, so yung mga reseller pwede kumuha sa akin, tapos ako nag-di-direct selling din ako."

That's on top of her regular job in advertising, and being a mom.

Every week, she accepts pre-orders, then she will pack everything on Sunday, and prepare for pick-up on Monday by courier. She said, as a distributor, she gets to earn an extra P4,000 a week. 

Onnie shifted to selling her products online.

PHOTO BY

FACEBOOK /PROJECTSHROOMERY

And if you think Onnie's plate is already full, she was able to finish a short course on Business Entrepreneurship in the University of the Philippines Open University. That's on top of all the mushroom seminars she attended. 

READ ALSO: Mom Invests P35,000 For Her Online Business And Made The Money Back In Less Than A Month

Embracing the hustle

While Onnie makes it seem so easy to sell mushroom chips, it's hard. But for her, it's fulfilling. 

ADVERTISEMENT - CONTINUE READING BELOW

"Bulacan yung bahay namin, office natin Mandaluyong. Everyday akong umuuwi. Nung mga time na nag-co-commute ako, MRT. Alis ako ng bahay 5am, dating ako 8, alis ako ng office minsan 8 or 9, dating ako ng bahay ng 11. Tulog ka lang onti tapos 4am gigising ka na ulit kasi magpapack ka ng mushroom. Onti lang tulog mo pero tiyagaan lang."

She said, her friends have been telling her to move to Manila so it would be easier for her. 

"I can say that involving your kid to your business is also a good way of training them to become more responsible and hardworking."

Her response everytime was that it's a sacrifice that she's willing to make for her daughter.

"Gusto ko yung anak ko lumaki sa probinsiya kasi mas masarap yung buhay dun, ma-experience niya pagiging bata talaga, mas fresh yung air. Kaya kahit araw-araw biyahe ka para sa work, tiniyaga ko yun kasi para sa kanya."

Onnie believes that being a solo parent doesn't mean you have to raise your child alone. "Yung mom ko nandun, hindi porket wala kang partner ibig sabihin niraraise mo yung child mo mag-isa, sure yun may support ka ng family."

Her daughter who was 11 years old when she started her mushroom business supported her.

"Siya yung tagakuha ng basket pag naghaharvest ako. Nakikipitas din siya."

The fruits of her labor

According to Onnie, these are the best-sellers of her business, Project Shroomery. 

1. Mushroom Chips

"Quality and fresh batch of mushroom chips all the time, available in 11 flavors," said Onnie. She ensures, every pack of mushroom chips is always "bagong luto." 

The must-try flavors are salt and vinegar, salted egg, and plain.

ADVERTISEMENT - CONTINUE READING BELOW

Her top-selling mushroom chips flavors are salt and vinegar, salted egg, and plain.

Each pack costs P110, and can be bought in bundles of 5, 10, and 20 to save P10 per pack!

2. No-cook, ready-to-eat Mushroom Sisig

A 175g pack contains mushroom sisig dressing, chili flakes, mushroom chicharon, and calamansi powder. No need to cook, just mix everything together. Optional: add fresh onion and siling haba. 

 

ADVERTISEMENT - CONTINUE READING BELOW

 

You can add to cart and check out Project Shroomery's mushroom products in Shopee.

And soon, Onnie shares, she will relaunch their mushroom chili garlic and mushroom bagoong products.

Growing in grace

Aside from giving her another source of income, Onnie said her business keeps her busy. 

"Masaya pag busy ka. Ang bilis ng oras. So pagtingin ko sa anak ko, 16 na siya, mag-17 na siya this year."
She adds, it also helps her in raising a child who knows and appreciates the value of hardwork and grit.

"I can say that involving your kid to your business is also a good way of training them to become more responsible and hardworking," Onnie said.

READ ALSO: Corn Dogs, Guitar Wirings, Floating Cottage: Dads Are Behind These Businesses!

"I will always give her simple tasks like assembling the box and putting labels. It also serves as our bonding time.  Of course, I see to it that I also pay her for her help so she can also have her own money."

ADVERTISEMENT - CONTINUE READING BELOW

Onnie adds, her daughter used to sell mushroom bits (crumbs from mushroom chips) to her classmates when they still have their face-to-face class. Indeed, she got it from her mama!

Not alone

She has a message to all solo parents who, like her, have been hustling double-time every day.

"Happy Father's Day. Tayo ang mother and father to our kids. Mahirap ang buhay, pero celebrate each day na nakaraos. Pag nakaraos ka today, isipin mo naman yung bukas pag nakaraos ka ulit. Be thankful araw-araw na nakakaraos ka, blessing yun."

She also tells parents who feel like they are alone in their parenting journey to be open to receiving help from other people.

"Believe that there are people in your life who genuinely want to help you. It must be God's way of answering your prayers. Being a solo parent doesn't necessarily mean that you will be raising your child alone. Your family and friends may not help you financially, but they can give you emotional support too."

And to her mom, who has been with her through it all, "She will always be the wind beneath my wings. I am forever grateful to her for all the support in helping me raise my daughter."

Onnie is proud to say that through her hard work, support from her mom, and inspired by her daughter, Project Shroomery is growing, and is open for resellers. She has resellers in Taguig, Cebu, Davao and Nueva Viscaya.

What Project Shroomery's tagline and Onnie's story tells us is this: no matter what life throws at us, there is always, always something good to look forward to. 

ADVERTISEMENT - CONTINUE READING BELOW

Inspired by Onnie's story? This mom started her fashion business with only P3,000, and is now earning 6 figures a month.

Trending in Summit Network