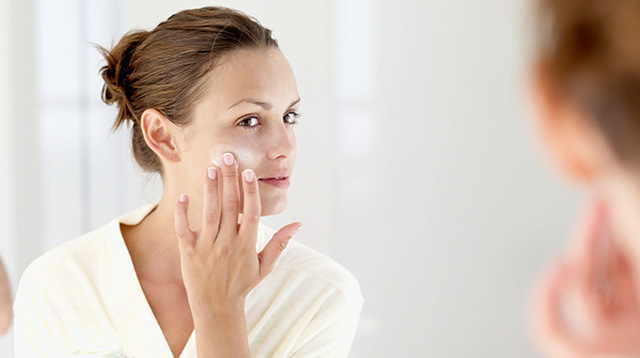 Photo from yammagazine.com

While many moms will be unanimous in saying that they hardly have time to prettify themselves (Makeup? What's that?) -- what with all the errands and parenthood duties they are expected to accomplish -- one should always set aside time for herself. After all, me-time is not selfish vanity, but a necessity. When you renew yourself, you are better able to care for the rest of your family.

Truth is, me-time does not need to be grand. You don't even have to go out of your way to make yourself feel good -- sometimes, just making yourself look good can instantly lift your mood.    

But I do have a beauty kit, you say. The one you've had for a year now, with your go-to lip color and makeup base that has never failed you.

However, acording to Georginna Desuasido, a professional media makeup artist, the products we use should change according to the weather. "The seasons greatly impact how we use makeup. When the weather is warm, it's practical not to pack it on. During summer, its best to keep your makeup light and dewy -- aside from being less of a fuss to apply, [this would ensure that the] product won't cake, crease and transfer when it's humid or when one sweats. On the other hand, during the cooler months when one isn't exposed to too much sun, the skin gets lighter and one may need a lighter shade of foundation than during the summer months."

If you could only have 7 products in your beauty kit, Georginna recommends to have the following:

1. Base or foundation
The purpose of a base is to have a blank canvas clear of imperfections like dark spots, pigmentation, redness and any other skin conditions. A base is also used for occasions that require extra coverage during the summer. Says Georginna, "For lighter coverage, use your base mixed with your favorite moisturizer, put in a small container and mix! This will give you ready-to-use base in a jiffy."
Try: Don't Get Mad Get Even liquid foundation, P999


 
2. Concealer or correctors
Want to shave off a few years from your face? Concealers can do the trick by giving you an "instant lift". "I'd recommend a concealer very close to one's skin tone with a tint of orange to cover dark circles and shadows under the eyes, naso-labial folds and sides of the mouth." Use a concealer with a yellow tone if redness is a concern, such as when you enjoyed the sun a bit too much.
Try: Eye Need A Miracle corrector, P799



3. Blush
Cream blush gives you a nice flush, and people with dry or mature skin will benefit best from this. Powder blush is easy to apply, while gels last the longest. "The problem sometimes lies in the blending, that's why it does not look natural. I suggest buffing out the product with brush until the color looks natural. A peach/pink color works well with most skin tones. Ladies with medium-to-dark skin should stick to warm peachy pink shades instead of cool pinks, as the cool pinks have a tendency to look muddy and stand out too much on dark skin.
Try: Get Cheeky with Me blush, P699



4. Mascara
Use a curler and mascara to open up the eyes. Modern formulations have thickening or lengthening fibers that really do wonders!
Try: Eye Am The One Holy Grail mascara, P899


ADVERTISEMENT - CONTINUE READING BELOW




5. Lip color
If you're in a hurry, use lip color to brighten up your face instantly. For summer days, a gloss or creme lipstick works best. For evening events, a bolder color will give extra oomph.
Try: Shut Up & Kiss Me moisturizing matte lippie, P649



6. Eyeshadows
To give a bit of color to the eyes and make it look awake a light mauve or peach color always works to make the eyes look young and fresh.
Try: All Eyes on Hue eyeshadow palette, P1,299



7. Eyebrows
For those blessed with thick brows, fill in the blank spaces with a bit of brown or taupe powder (matte eyeshadow will work) and use a brow mascara to lighten eyebrows that are too dark. For those who need help filling in sparse or over-plucked brows, use a pencil to shape and blend with a spoolie or brow brush.
Try: Eye Am Here to Stay eyebrow liner, P599



And lastly, Georginna's most important tip: "Prepare the skin for makeup. This will make your makeup look better and last longer."

Trending in Summit Network