Stretch Marks Are Beautiful: 8 Celebrity Moms That Are As Proud And Powerful As Their Postpartum Tiger Stripes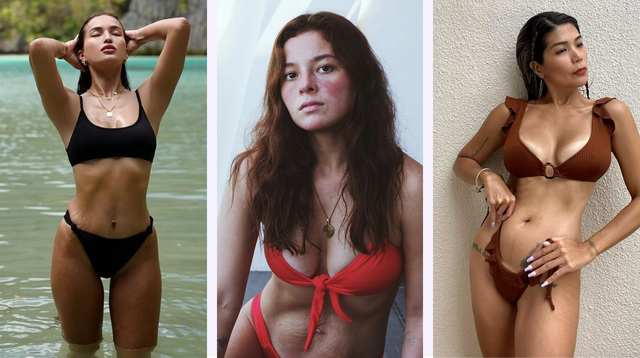 Motherhood changes us in ways we can't even count. We suddenly become emotionally sensitive yet tough when needed. We suddenly forget a few things but never anything about our kids and husband. But maybe the most excruciating (for lack of a better word) change we go through is the change in our physical body: from pregnancy, hormones, morning sickness, swollen feet and nose, to a belly like a watermelon, up until breasts that leak milk. And if those are not enough, we forever carry a reminder of what our body went through -- stretch marks.

It's like our very own battle scar that says, "A human being once lived here, and it will be never be the same again!" Most of the time, we feel like it's not "beautiful" and we do everything to hide and remove it.

Contrary to concealing stretch marks, these celeb moms shouted, "Who cares!" and decided they will no longer hide their badge of motherhood, but will only be proud of it!

What Celebrity Moms Have To Say About Their Stretch Marks

Here's what they said:

1.

Sarah Lahbati

"Took me some time to realize that my stretch marks are my best tattoos. A reminder that I am a strong and resilient woman whose been through a lot but most importantly, I've given birth to my two dearest sons, Zion and Kai. My angels.

"I am loved, understood & cherished by my husband. I couldn't ask for anything more.

ADVERTISEMENT - CONTINUE READING BELOW

"This may sound dumb to you, but I just wanna let you know that you are enough and beautiful. I'm grateful to be alive, to be loved, messy, and to be fully myself.

"Wouldn't have it any other way. Took awhile for me to get here. But here I am. Proud.
Cheers to all of you, women."

RELATED: Sarah Lahbati On Her Pregnancy Stretch Marks: 'A Reminder That I Am Strong And Resilient'

2.

Coleen Garcia

"We are more than what we see in the mirror. Our bodies are designed to serve a purpose far beyond ourselves, and that's the kind of beautiful you'll never be able to physically see in your own reflection. Quit trying to prove yourself to other people and to yourself because honestly it's not healthy motivation.

"Embrace it for what it is and accept that you can't always change things or be in control. Whether it's your body, your baby, your parenting—you may not be the best and you know what, you don't have to be."

ADVERTISEMENT - CONTINUE READING BELOW

Recommended Videos

RELATED: Coleen Garcia Shares Unfiltered Photos Of Her Stretch Marks: 'I Accept My Body More'

3.

Andi Eigenmann

2018: "My appearance hasn't really changed, I'm very much aware of that. I admit to still having insecurities like everyone else. What changed is that I just got tired of hating my body. Now, I have come to accept myself for the way I am. Freckles, scars, stretch marks and all."

ADVERTISEMENT - CONTINUE READING BELOW

2020: "..but I'm aware that it will never actually go away. Maybe with the right angle and good lighting, it sometimes seems like it isn't there. But I've had them since having Ellie, and I know that as much as they may become less obvious over time, they will never really go away. But just because we have these belly marks, doesn't mean we aren't allow to wear your favorite cropped tops and bikinis anymore! I've grown to be more comfortable and proud of them because hey! This body has done amazing things. It carried my 2 beautiful girls for 9 months, and gave birth to them safely too! I hope you guys will realise that too!"

RELATED: Andi Eigenmann On Her Stretch Marks: 'I've Grown Comfortable And Proud Of Them'

4.

Lara Quigaman

"When I had children, it wasn't just my body that changed, my whole life did. Most of the time I am exhausted, I am tired, sometimes I cry (parang ngayon, parang tanga, umiiyak habang nagtatype ????) there are times when I feel like I can't do it anymore... I look in the mirror and I see messy hair, walang ligo, my tummy covered in stretch marks so deep you can play 'sungka,' skin so loose, you can probably make a bag out of it, my breasts -- well you my fellow moms know what these two looks like now -- and then I look at my sons and they look back, one smiles back and the older one tells me 'your tummy is so squishy mom, I love it... ???? and even though I feel insecure about my body, I am not going to complain.

ADVERTISEMENT - CONTINUE READING BELOW

"Kung ang kapalit naman ng lahat ng sakripisyong ito eh ang mga ngiti ng mga anak ko, okay na okay na ako. I will be grateful to God everyday for the gifts He has entrusted to me.

"To mommies, nanays, mamas reading this- it may be hard right now, but it's all worth it and know that soon, our babies will grow up and we will miss their littleness, their hypernessness and the noises and messes they make and our bodies will remind us that we once carried them and nurtured them.

"You are Strong, You are Amazing, YOU ARE NOT ALONE. You may feel unappreciated but God sees you, knows you and what you're going through and He loves you. Smile na, He's got us... Tara Sungka tayo!"

RELATED: Stretch Marks, Squishy Tummy: Lara Quigaman Gets Real About Changes Motherhood Brings

5.

Ina Raymundo

"I'm a mom of 5 and I have (severe) stretch marks on my belly. I used to hate them but I've realized that all I need is a good.....tummy tuck!???? #battlescars #nofilter #momof5"

ADVERTISEMENT - CONTINUE READING BELOW

RELATED: Mom Of 5 Ina Raymundo Proudly Shows Off Stretch Marks

6.

Geneva Cruz

"Don't be fooled by what you all see on social media. No mommy who has given birth has perfect skin or body while pregnant and after giving birth. My stomach, thighs, and abdomen are not as tight as it used to be, but it is stronger and more beautiful because of what it has been through. The #tigerstripes, #looseskin, #lineanegra, and #cellulite go hand-in-hand with pregnancy, but I wouldn't be who I am today if not for those warrior marks. This is why moms in all shapes and sizes should support, not bash one another because we all fought the same while carrying our most precious gifts from God: our children."

RELATED: Geneva Cruz On Her Body: 'Don't Be Fooled By What You All See On Social Media'

7.

Denise Laurel

"And yes, I'm a mom. I got folds and stretch marks its ME. :)"

ADVERTISEMENT - CONTINUE READING BELOW

RELATED: Moms Kylie Padilla, Denise Laurel Proud Of Their Tiger Stripes

8.

Cheska Kramer 

A conversation with her daughter Scarlett:

S: Mommy, I have something to tell you that I have never told you before. Mommy, I don't want you to have your tummy fixed. I like it that way.

M: Thank you, Scarlett! Even if my tummy is kulubot na?

S: Yes, mommy! It looks beautiful! Don't have your tummy fixed because it's a reminder we came from you.

RELATED: 'Don't Have Your Tummy Fixed:' Scarlett's Sweet Message For Cheska Is A Reminder For All Moms

May it be stretch marks, belly pouch, saggy arms, Caesarean stitch -- let's all embrace our battle scars.
It's our forever reminder of how powerful our body is!

What other parents are reading

Celebrate your pregnancy milestones!


Enter your details below and receive weekly email guides on your baby's weight and height in cute illustration of Filipino fruits. PLUS get helpful tips from experts, freebies and more!

You're almost there! Check your inbox.


We sent a verification email. Can't find it? Check your spam, junk, and promotions folder.

Trending in Summit Network