'Being A Parent Should Not Be A Hindrance To Have Fun, Sing, Or Dance,' Says Sunshine Cruz To Age Shamers

The celeb mom makes it clear that growing old is actually a privilege denied to many.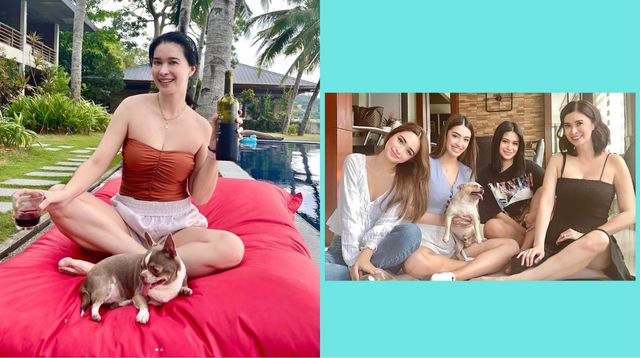 Sunshine Cruz is already at the midpoint of her 40s. The actress-singer has been in the industry for exactly three decades now and has since become a mother to three girls—Angelina, Sam, and Chesca—all of whom take after her beauty. If someone were to make a list of people who've aged ever-so-gracefully, she would certainly be amongst the top.

And yet, there are still those netizens who just can't help but remind her of her age, as if it's something that should stop her from living her best life. By now, we all know that Sunshine never takes mean comments and bashing sitting down. She'd agree with us when we say that the only thing getting old is the idea that someone's age dictates what they can and can't do anymore. Here's a roundup of all the times the celeb mom handled ageist remarks like a pro.

4 Responses That Sunshine Cruz Gave Her Age Shamers

ADVERTISEMENT - CONTINUE READING BELOW

1. "Basta happy at confident, go lang po!"

TikTok dances are a form of exercise for the celeb mom, and on one occassion, she busted a move while wearing a crop top and shorts. One Facebook user seems to think that people her age can't wear OOTDs like that anymore, commenting: "Aywan katanda na ang attire parang teenager..."

"At 44, I am happy and healthy," she declared.

Sunshine rebutted, stating that, "I don't think may chart ang attire according to age. Basta happy at confident, go lang po!" In a follow-up post, she implored her followers to wear whatever clothes bring them joy. "Ladies! Wear clothes that make you happy and feel pretty. That's all that matters. Women should empower each other instead of being so hateful, envious of one another," she also said.

READ: 9 Clothes To Pack For Traveling To Colder Climates, According To Celeb Mom OOTDs

2. "Let's not make it seem na ang pagtanda ay dapat ikalungkot at ikahiya."

One thing Sunshine's made clear whenever she deals with age shamers is that growing old is actually a privilege denied to many. She made mention of this after certain Facebook users called her "lola" and "tigulang" on her page.

"Tbh, I'd rather be a lola than be you," she once clapped back at a basher who wrote, "Lola yung buto mo ingat ingat din baka mabalian ka."

"Let's not make it seem na ang pagtanda ay dapat ikalungkot at ikahiya," she replied to one basher. According to her, getting older shouldn't be seen as something negative, since living a long life can be considered as a blessing. Sunshine is 100% "proud of her age," and no one can make her feel otherwise.

READ: Son Ye Jin Will Be A First-Time Mom In Her 40s! Is It A Risk?

 

3. "Kahit nakabalot o gown pa kami sa beach may mga bastos pa din."

ADVERTISEMENT - CONTINUE READING BELOW

After posting some vacay snaps in a swimsuit, some netizens once again saw the need to police her. "Wala ka na sa edad para mag-post [nang] ganyan," one of them said.

To this, Sunshine reinforced that, "Wearing clothes that make us feel pretty, happy, and confident is never a sin." She knows well enough that fashion has no age limit, and whatever clothes she puts on her back isn't anyone else's business. "If my posts or my/our clothes bother you, kindly unfollow po for your own peace of mind," she capped off her response.

ADVERTISEMENT - CONTINUE READING BELOW

4. "Being a parent/ mom/ dad shouldn't be a hindrance to have fun, sing, or dance."

Sunshine's latest joust against an ageist remark came when someone asked her to stop posting dance videos just because she's already a mother. As polite but firm as she always is, the actress said: "Being a parent shouldn't be a hindrance to [having] fun, [singing], or [dancing]."

READ: Moms Deserve To Have Toys, Too! Here Are Isabelle And Ava Daza's Pleasure Products From Jellytime

This story originally appeared on Preview.ph. Minor edits have been made by the SmartParenting.com.ph editors.




Trending in Summit Network