Dani Barretto In Her Self-Care Era: 'Nung Nakabawi Ako Sa Sarili Ko, Bawi Talaga'

Plus, shops where you can buy quality yet affordable clothes online!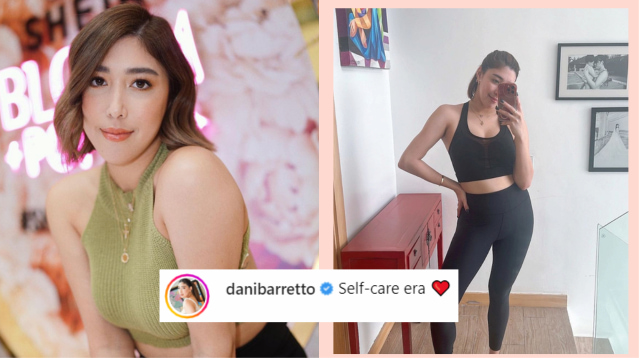 Dani Barretto is determined to staying true to her promise of becoming the "best version of herself" in 2023.

In an exclusive interview with Smart Parenting, the mom of one opened up about her weight loss journey. She mentioned that it took her three years to make a significant change in her body.

"I had a hard time at first, like kasi the first year, I was trying to breastfeed pa. Talagang I didn't hold back, if I needed to eat, I would eat. On the second year, I tried my best, nag-workout, pero di talaga kaya at that time. And then I had a little help," Dani said during the SHEIN Pop-Up launch in Glorietta 2 last March.

Seeking help, she approached Dra. Vicki Belo to address her concerns about her double chin and arms.

"We are already a mom. That's never going to change. You're a mom forever. Pero yung para sa sarili mo, yun ang dapat hindi mo kalimutan." --Dani Barretto

"Nakatulong siya, but then tumaba na naman ako. Kinain ko na naman lahat," she confessed.

However, before her daughter Millie turned 3, Dani vowed to take her weight loss journey seriously. She followed a calorie deficit diet and cut down on junk food. "Nung nag-change ako ng lifestyle, nag-change talaga lahat."

ADVERTISEMENT - CONTINUE READING BELOW

She emphasized the importance of self-care and putting oneself first, even as a mother. "We are already a mom. That's never going to change. You're a mom forever. Pero yung para sa sarili mo, yun ang dapat hindi mo kalimutan."

She said she experienced having low self-esteem, to the point that she doesn't want to see herself in the mirror. "So ngayon nung nakabawi ako sa sarili ko, bawi talaga! As in binalik ko yung old self ko na mahilig magbihis."

Dani maintained, "Nababalik ko na yung Dani and also Dani being a mom."

Why moms should invest in looking good too

Recently, she shared how she's keeping up. "After my 360 lipo for my arms and double chin at Belo Beauty, I really changed my lifestyle. Started eating better, having a proper diet, and now incorporating work outs too. Took awhile for me to reach my goal weight, so now it's all about consistency and maintaining it."

She mentioned that she has scheduled Pilates twice a week, work out session, treatments like Emsculpt and V-contour at Belo Bauty. She also eats twice a day, with less carbs and more protein.

"Mindset talaga. There really has to be a discipline between you and your mind na, you're going to do this. You're going to focus in losing weight," Dani told Smart Parenting.

Dani reminds moms to also do something to feel good about themselves. "There's a spark in you when you feel good about things. When you feel good about yourself, when you feel good about the way you look."

"And sometimes it's a luxury most especially for moms kapag nga nakakabihis na tayo eh, when were made up."

Where to buy affordable and trendy clothes for moms

1. SHEIN

The mid-year sale is upon us, and isn't it the best time to refresh our wardrobes with some classy and preppy pieces? There's no excuse because you can easily shop using the SHEIN app or their website.

ADVERTISEMENT - CONTINUE READING BELOW

Dani said, "I love that it is super affordable and kahit anong trend, kahit anong fashion meron si SHEIN and they also have sizes for everybody. They have intimates, pajamas, mga twinning posts namin ni Millie - SHEIN."

2. Black Chili

If you are looking for chic, comfortable, and affordable coordinates, check out what Smart Parenting video producer Cherrie Julian recommends. "What I love about Black Chili is that nasusuot ko siya ngayon na malaki pa ako, pero kung pumayat ako soon, magagamit ko pa rin siya."

ADVERTISEMENT - CONTINUE READING BELOW

PHOTO BY

SHOPEE /BLACK CHILI

Cherrie loves that the fabric is comfy and presentable, and easy to mix and match. A set of coords starts at Php 450, the mom of one recommends it to those who are starting their weight loss journey. "Hindi siya tulad ng mga damit na pag nag-change ka ng body shape, mega palit ka ng wardrobe." She added, "For keeps ito."

ADVERTISEMENT - CONTINUE READING BELOW

Shop Black Chili on Shopee here

3. Valianne's Trends

For first-time moms who want to also flaunt their mom bod and breastfeed in style, Valianne's Trends is one of the leading local sellers of fashionable nursing clothes.

PHOTO BY

SHOPEE /VALIANNES TRENDS

Owner Jilianne Roylence Ramilo Francia created this clothing line with breastfeeding moms in mind, with the belief that motherhood doesn't mean that you will automatically lose yourself and become losyang.

ADVERTISEMENT - CONTINUE READING BELOW

Shop Valianne's Trends on Shopee here

4. Love, Bonito

Shop up to 70% off over 3000 styles and pieces from Love, Bonito, a Singapore-based clothing brand that champions confidence through fashion.

How to start your self-love era, according to Dani Barretto

Dani encourages moms to prioritize self-love and invest in their appearance. "So make it a point na parang, have date nights with your husband, or with your friends, barkada. Take the time din naman na enjoyin mo yung sarili mo by dressing up."

ADVERTISEMENT - CONTINUE READING BELOW

"You looking good is subjective iba-iba naman yan. Yung iba just to pamper themselves, by getting a new hair color."

"But ako kasi it's really dressing up. Like I really find joy in dressing up kasi it's also self-expression. Nalalabas ko yung personality ko, how I feel, kung ano yung mood ko that day, nalalabas ko yun minsan to my outfits," she said.

Trending in Summit Network